Reader rehana asked the following question in the Ask Lucky forum:
I have seen quite a few offers allowing you to purchase a higher status in many hotel chains? How is this done and is it legal? I have seen a lot of hhnors in particular. Has anyone has any experience with this?
It's not uncommon to see airline or hotel status for sale on Ebay, Craigslist, etc. For example, at the moment there's even more opportunities than usual to purchase Hilton Diamond status on Ebay, mostly for under $100.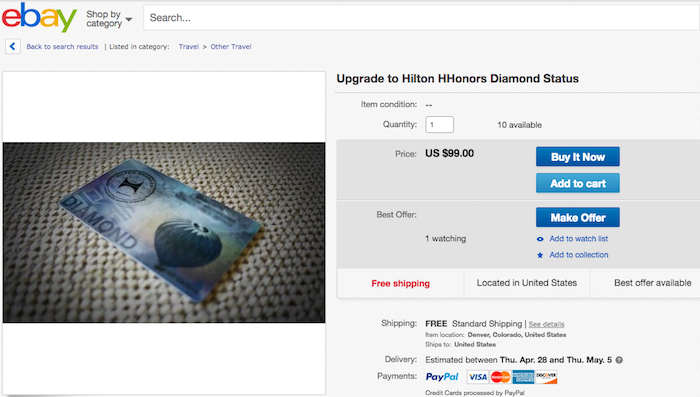 To start, I should say that buying airline or hotel status isn't illegal. However, much like selling miles, it violates the terms & conditions of just about any loyalty program.
How is it that some people are able to sell airline and hotel status? I'd say these status opportunities fall into two general categories:
status which is earned within the program terms but sold in violation of the program terms
status which is earned and sold in violation of the program terms
Selling legitimately earned status
Let's talk about the first category. For example, Delta Diamond members can nominate someone to Gold Medallion status. Through the American Airlines Business Extra program, points can be redeemed for an AAdvantage Gold status nomination. IHG Spire Elite members can nominate someone else to IHG Platinum status.

On top of all that, there are plenty of corporate travel departments which get status nominations as part of a contract, so in theory it's possible that people are selling those.
While these benefits are earned within the rules, once the member sells those perks, they're violating the rules. I'm guessing that represents a minority of these types of "sales," though.
Selling illegitimately earned status
This is probably the more common category of status available for purchase. For example, you'll see tons of opportunities to purchase Hilton Diamond status on Ebay right now, like this one. Here's how it's described:
Hilton Diamond Status 03/2018
This will be processed and may take up to 7-10 business days to be completed.

In order to upgrade your card to diamond status, you need to provide me with first name and last name, email address with HHonors, and account number .After successful upgraded, your account will be diamond. Unlike other sellers on ebay, there is no need to merge two accounts.

To obtain the actual membership card, please log in to your account, click on "edit your profile" to request for the actual card and reset your username, password,etc.The membership card will be shipped to you directly from Hilton.Buyer assumes all responsibility for this listing.
I suspect what's going on here is that the person selling these status matches is faking status credentials and then submitting them for status matches. It's easy enough to modify the text in a web browser to change what a webpage says, so once they have the name of the person who is buying the status, they simply create a screenshot which shows them as having status with a competitor. They submit a status match, and voila.
The terms are the same as the status match offer as well — status is valid through March 2018, and it can take up to 10 days for the status match to be processed.
Bottom line
While there are plenty of people out there selling airline and hotel status, it's never legitimate. Even if a status nomination was legitimately earned, reselling it isn't permitted. But for most it's even worse than that, as the status isn't even legitimately earned.