The past few years Starwood has published a "Year In Review," whereby they share some fun statistics with member highlights.
There are the facts that seem believable. For example, the Sheraton New York Times Square was the most popular hotel that members redeemed Starpoints at in 2014:
And 86 is the most number of SPG properties visited by one member this year:
In terms of slightly more shocking statistics, one member earned over 21 million Starpoints this year (I'm guessing they spend a lot of money on credit cards, but even so, that seems high):
But perhaps the most painful statistic? Someone earned 230,000+ Starpoints through (the now-defunct) Crossover Rewards, whereby elite members earn one Starpoint per dollar spent on Delta: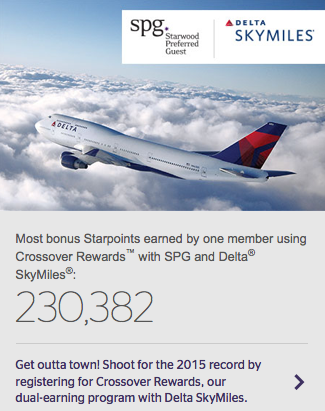 Spending $230,000+ on Delta in a year? Ouch!
(Tip of the hat to Mac)