Saint Helena is a remote island in the South Atlantic Ocean, about 1,200 miles off the coast of Africa. The island is a British Overseas Territory, and is known as the place of Napoleon Bonaparte's exile and death.
Up until recently it could only be reached by ship, so as you can probably imagine, it's a pretty isolated place. For the past several years an airport has been under construction on the island, though scheduled commercial service at the airport was delayed significantly. The airport ended up getting commercial service in October 2017, about 18 months late and with a smaller plane than expected due to wind shear issues at the airport.
Presently Airlink operates a once weekly flight between Johannesburg and Jamestown, Saint Helena, using an Embraer 190. The westbound flight has a fuel stop in Windhoek, Namibia, while the eastbound flight is nonstop back to Johannesburg. Presently the flight operates on Saturdays, with the following schedule:
SA8131 Johannesburg to Windhoek departing 9:00AM arriving 11:00AM
SA8131 Windhoek to Jamestown departing 12:00PM arriving 1:15PM
SA8132 Jamestown to Johannesburg departing 2:30PM arriving 9:15PM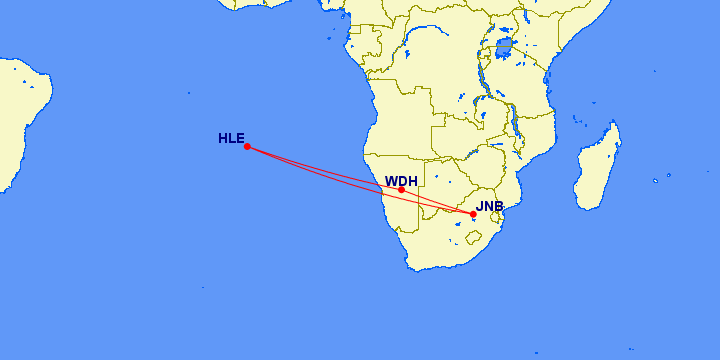 Do note that while Airlink is associated with South African Airways, unfortunately there's no way to redeem Star Alliance miles on them. You can redeem South African Airways Voyager miles, though I'm guessing most people don't have a sizable balance of that. So for most of us the only way to book the flight is to pay cash, and tickets aren't cheap, at over 500USD in each direction, or over 1,000USD roundtrip (they don't go on sale, but rather pricing seems to be mostly fixed).
I've been wanting to visit Saint Helena, partly because I'd be fascinated to see the island, and partly because I find this to be such a cool aviation geek route. It's not the only remote Atlantic route I'm interested in, as I also really want to fly Azores Airlines from Ponta Delgada to Praia.
The problem is that I simply can't justify spending a week on Saint Helena at this point. I don't want to fly there and right back, but if I'm going to spend a week sightseeing somewhere, Saint Helena isn't quite at the top of my list.
If anyone is like me and was put off from visiting due to needing to stay for a week, it's worth noting that Airlink is temporarily increasing their flights between Johannesburg and Jamestown for peak season. Airlink is adding a midweek flight, which means you can now visit Saint Helena for three days, four days, or seven days.
Airlink announced that these increased frequencies are because many of their flights in December and January are already nearly full. They say that these increased frequencies will be available for December 2018 through April 2019, for a total of 19 additional roundtrip flights.
However, best I can tell, as of now they've only loaded these additional flights for December and January, as I don't see the midweek flight in February and beyond. This was announced in May, so I'm not sure if they've rolled back the increased flights since then, or if they just haven't gotten around to fully loading them yet.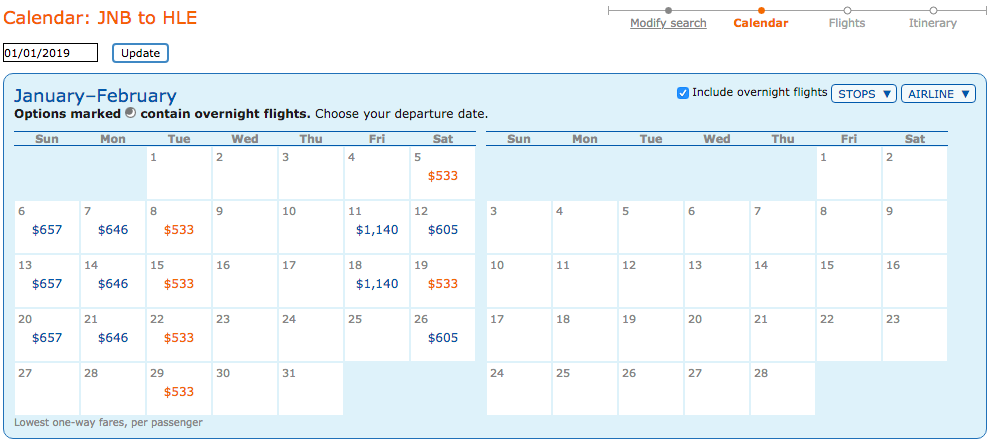 Regardless, for anyone who has been considering traveling to Saint Helena but doesn't want to go for a whole week, this does present a cool opportunity to visit for a few days. For example, here's a roundtrip that's available from Saturday through Tuesday, for a total of ~1,050USD (which is still really expensive, but…):

While I'm very tempted to book something like this, unfortunately my December and January are already quite full, so I don't think I can swing it. If they extended this through April as they initially said they would I'd seriously consider it, though.
Also, while this is way beyond what most of us are likely to do, I should also mention that Airlink has a once monthly flight from Saint Helena to Wideawake Airfield in Ascension. That's an 800+ mile flight even deeper into the Atlantic, and best I can tell there's not even a hotel that's open on the island. Besides, I'm guessing most of us wouldn't be prepared to spend a month there, so…
That flight operates on the second Saturdays and Sundays, with the following schedule:
SA8135 Saint Helena to Ascension departing 2:30PM arriving 4:30PM [Sat]
SA8136 Ascension to Saint Helena departing 11:15AM arriving 1:15PM [Sun]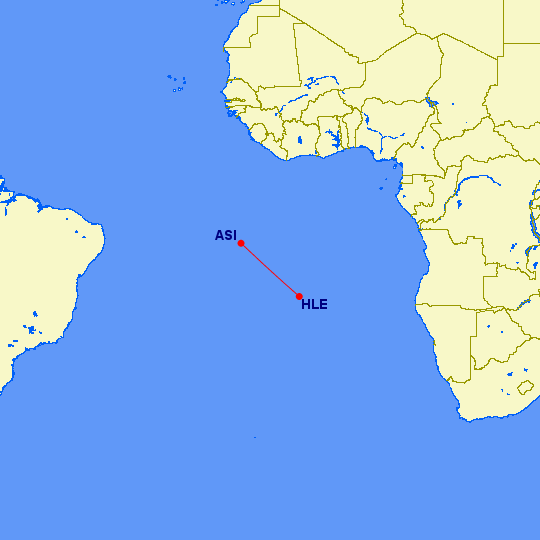 Come and think of it, since that flight is operated once monthly, I guess on that frequency you could actually fly from Johannesburg to Jamestown on a Saturday and return on a Sunday, giving you just over 24 hours there.

Has anyone visited Saint Helena, or considering doing so with Airlink's increased frequencies?
(Tip of the hat to Tom)