Last week I stayed at the InterContinental Los Angeles Century City for two nights. I needed to be in the area and the revenue rate was $279 per night, so I instead opted to burn 40,000 Priority Club points per night. Not the most amazing bargain, but I'd rather part with 80,000 Priority Club points than $600+.
This particular InterContinental used to be a Park Hyatt, and was rebranded a few years back. The outside is fairly grand, both in terms of color and the architecture of the building, compared to the rest of the area, which is fairly sterile.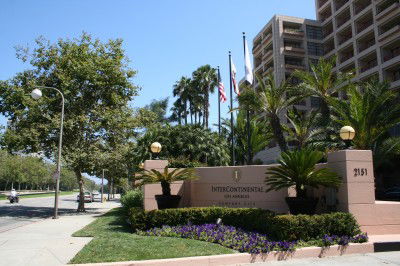 Hotel entrance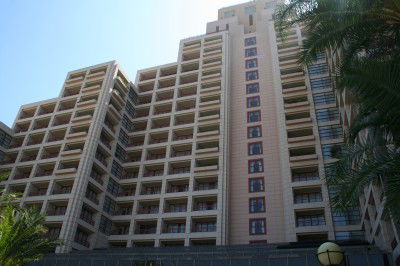 Hotel exterior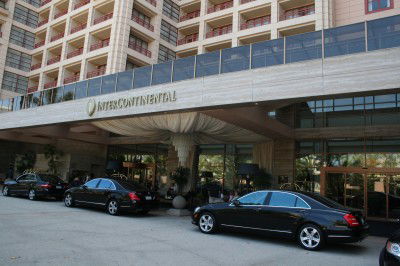 Hotel exterior
I arrived around 6PM and was promptly checked in by a friendly front desk agent who greeted me by name, explained I had been upgraded to a junior suite, and explained the rest of the Royal Ambassador benefits at this hotel. I was thankful that they honored all Royal Ambassador benefits despite me being on an award stay, which they're not required to do by the terms and conditions. The other benefits are the usual complimentary minibar beverages, free pay per view movie, and this property also offers Royal Ambassadors complimentary internet access.
I was directed to the elevators, where I went to my room on the 9th floor.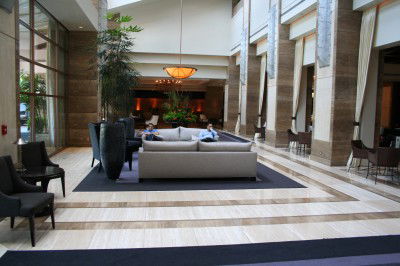 Lobby
My junior suite consisted of a small living room with a couch, a couple of chairs, and a desk, leading out to the balcony. There was a flat screen TV as well.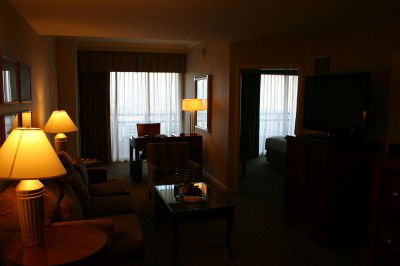 Living room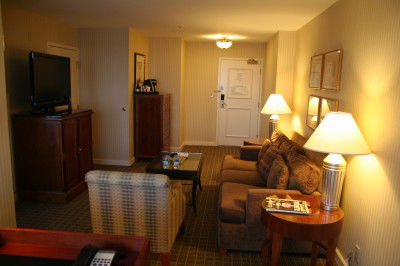 Living room
The minibar was well stocked, with a large bottle of Evian water and all kinds of sodas, juices, and booze.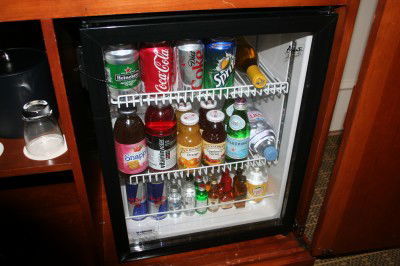 Minibar
The welcome gift on the living room table consisted of a couple of bottles of Fiji water (which were replenished on the second day) and a fruit plate.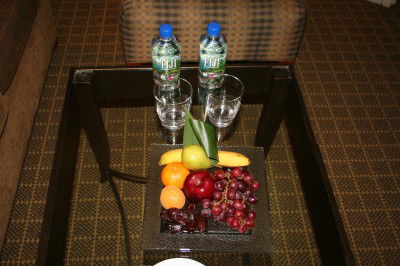 Welcome amenity
The bedroom was quite small, though the bed was very comfortable. On the side of the bed was a door to yet another balcony, boasting great views of Century City.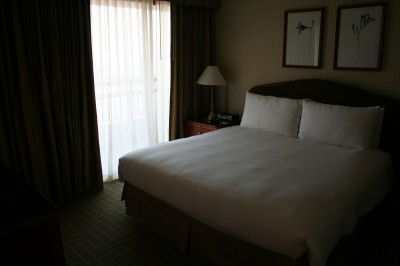 Bedroom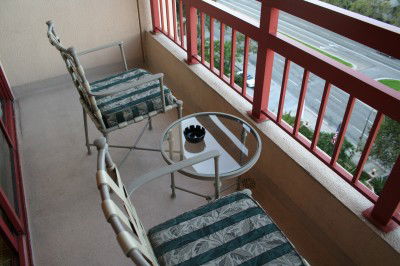 Balcony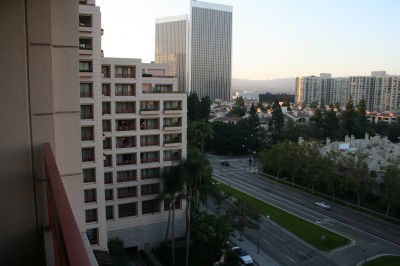 Balcony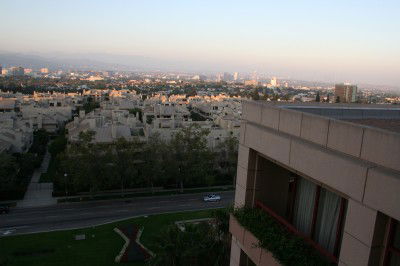 Balcony
The bathroom was quite large, with a full shower and tub. I appreciated the simplicity of the shower controls, as hotel showers have just gotten too complicated for me nowadays.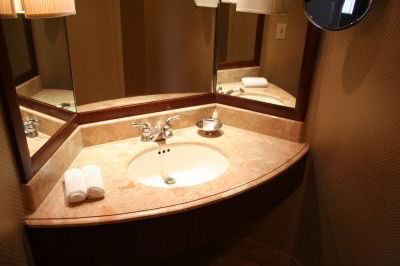 Sink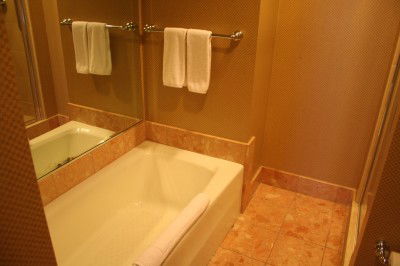 Tub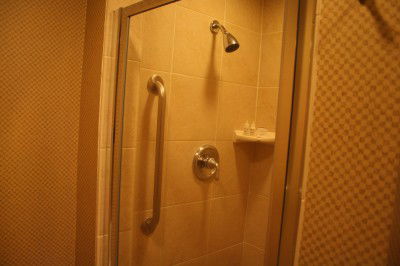 Shower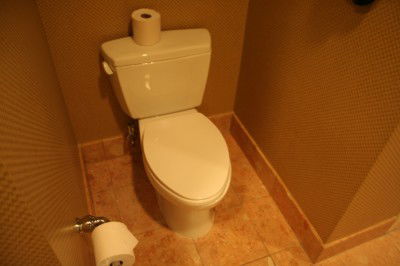 Toilet
The hotel also has a pool and fitness center. The pool is quite large with some nice cabanas, though it doesn't have any sort of views, other than over a parking lot. The fitness center had very modern equipment but felt a bit dated due to the weird hardwood floors.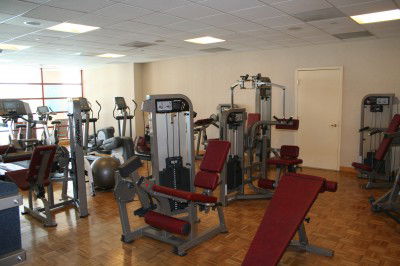 Gym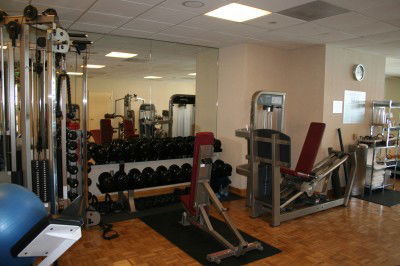 Gym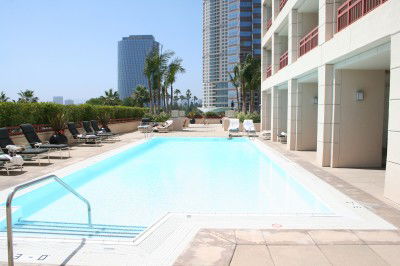 Pool
As I mentioned earlier, the hotel is in Century City, an area filled with studios. The area as such is quite sterile, without much to do in the immediate area, at least not within walking distance. There is the very nice Westfield Mall Century City, which is maybe a ten minute walk. It has some really nice shops, a movie theater, and all kinds of dining options (including Pinkberry!). It was really interesting to see the crowd there on a weekday over lunch, as almost everyone was dressed up and clearly working in the area.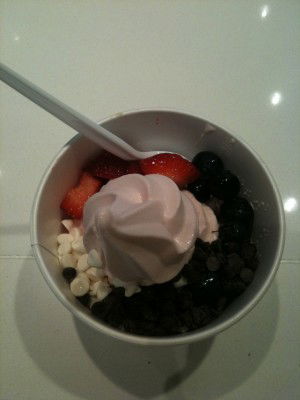 Highlight of any trip to LA!
Overall I had a great stay. All the employees I encountered were friendly, including the concierge. Unfortunately this hotel doesn't have a club lounge, which is kind of a downer. Having free drinks from the minibar as a Royal Ambassador slightly makes up for that, though. If I were in the area I'd definitely stay here again, assuming the rate is reasonable.