While the free anniversary night at a Category 1-4 hotel I get with the Chase Hyatt Visa is a great benefit (albeit not entirely free when you take the card's $75 annual fee into account), I find it both a blessing and a bit of a burden. Last year, for instance, I was able to redeem my free night at the Park Hyatt Siem Reap as part of my vacation to Southeast Asia.
However, this year my travels kept me mainly in the Americas and Europe, where Category 1-4 Hyatts tend to be less "aspirational," and I recently found myself staring down a May 31 expiration date on my free night certificate with no set plans to use it.
(As for next year's certificate, using that for a weekend in Seattle proved a challenge of its own.)
Generally speaking, quick weekend getaways can be a fantastic use of the Hyatt anniversary night, particularly in California, where Category 4 hotels in road-trippable weekend destinations like Monterey, Santa Barbara, Anaheim and Sonoma Valley abound. (There are far fewer options on the East Coast, although there are Hyatt Places in Mystic, Connecticut and Dewey Beach, Delaware which could work in a pinch.)
I was fortunate to find relatively last minute award space at the Hyatt Santa Barbara, where I was able to redeem my award for an ADA King room (which was the only available award category) on a Saturday night at the end of May. This was a terrific use of the certificate, as summer weekend room rates start at $400 and ratchet up very quickly from there.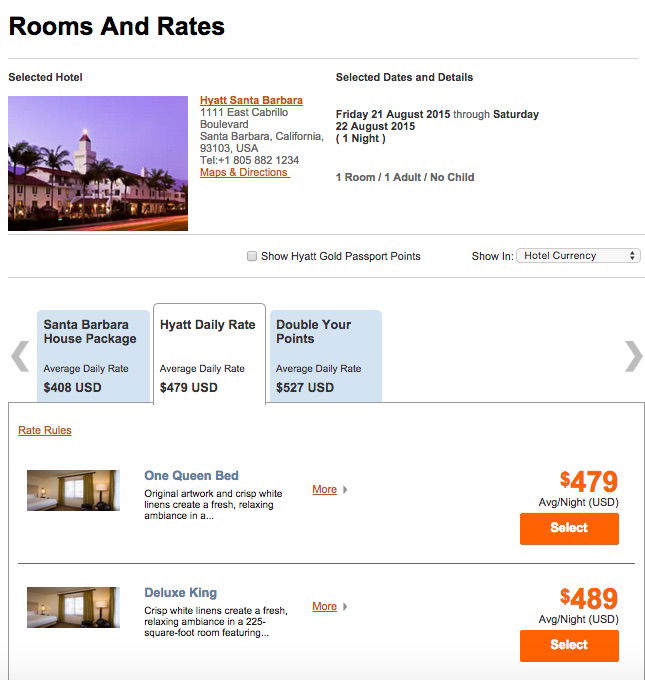 Santa Barbara is a gracious and upscale beach community with no shortage of lavish, five-star resorts, such as the Four Seasons Biltmore or the Belmond El Encanto.
To be clear, the Hyatt Santa Barbara is not such a high-end resort, nor, for that matter, does it strive to be. The city is so full of luxury accommodations, in fact, that on TripAdvisor the Hyatt is ranked #39 of 52 hotels in Santa Barbara. Truth be told, the ranking is a bit misleading. The Hyatt Santa Barbara is what I would describe as "very nice, for a Category 4 hotel in an expensive resort town."
Arrival and Lobby
We left L.A. shortly after 9 a.m. on a Saturday and got to the Hyatt Santa Barbara around 10:20, an easy drive with no traffic to speak of. Though the Hyatt faces the Pacific Ocean and busy Cabrillo Boulevard, the lobby and entrance/exit are oriented toward a quiet residential side street.
The Hyatt Santa Barbara consists of a handsome white stucco and red-tiled 1931 Spanish Colonial Mission-style main building once known as the Hotel Vista Mar Monte. (For the better part of the last 20 years, the hotel was operated as a Radisson, and was taken over by Hyatt in 2011.)

Sharing the parking lot with the main building are two dated-looking satellite structures housing a number of guestrooms. Across from the main entrance is another, much more attractive satellite building. A fourth satellite building, clearly a renovated motel, is located two blocks away, and is so removed from the rest of the complex that it's been marketed as the "Santa Barbara House" and offered at a discount rate with free onsite parking (since you'd practically need a cab to get there from the lobby anyway).
In fact the majority of gripes on TripAdvisor relate to guests whose rooms were in one of these annexes, and it's absolutely worth calling the hotel beforehand and requesting a room in the main building, as I did. I couldn't imagine checking into the Hyatt Santa Barbara only to be instructed my guestroom was in a renovated 1950s motel two blocks away, next to a railroad and within spitting distance of the 101 Freeway.
It's also worth noting that, while valet parking is $26 per night and there is no official self-parking option, street parking on the residential side streets is plentiful and unrestricted. We actually found a parking space directly in front of the hotel and mere steps from the lobby, so if the valet fee seems exorbitant to you (although it's fairly standard for resort hotels, especially in the Santa Barbara area), you shouldn't have a problem parking your car on the street for free.
The lobby of the Hyatt Santa Barbara is intimate and warm, generally decorated in the ubiquitous Santa Barbara Mission style with some modern touches. The front desk is small, with three stations for agents, and flanked by a roaring fireplace.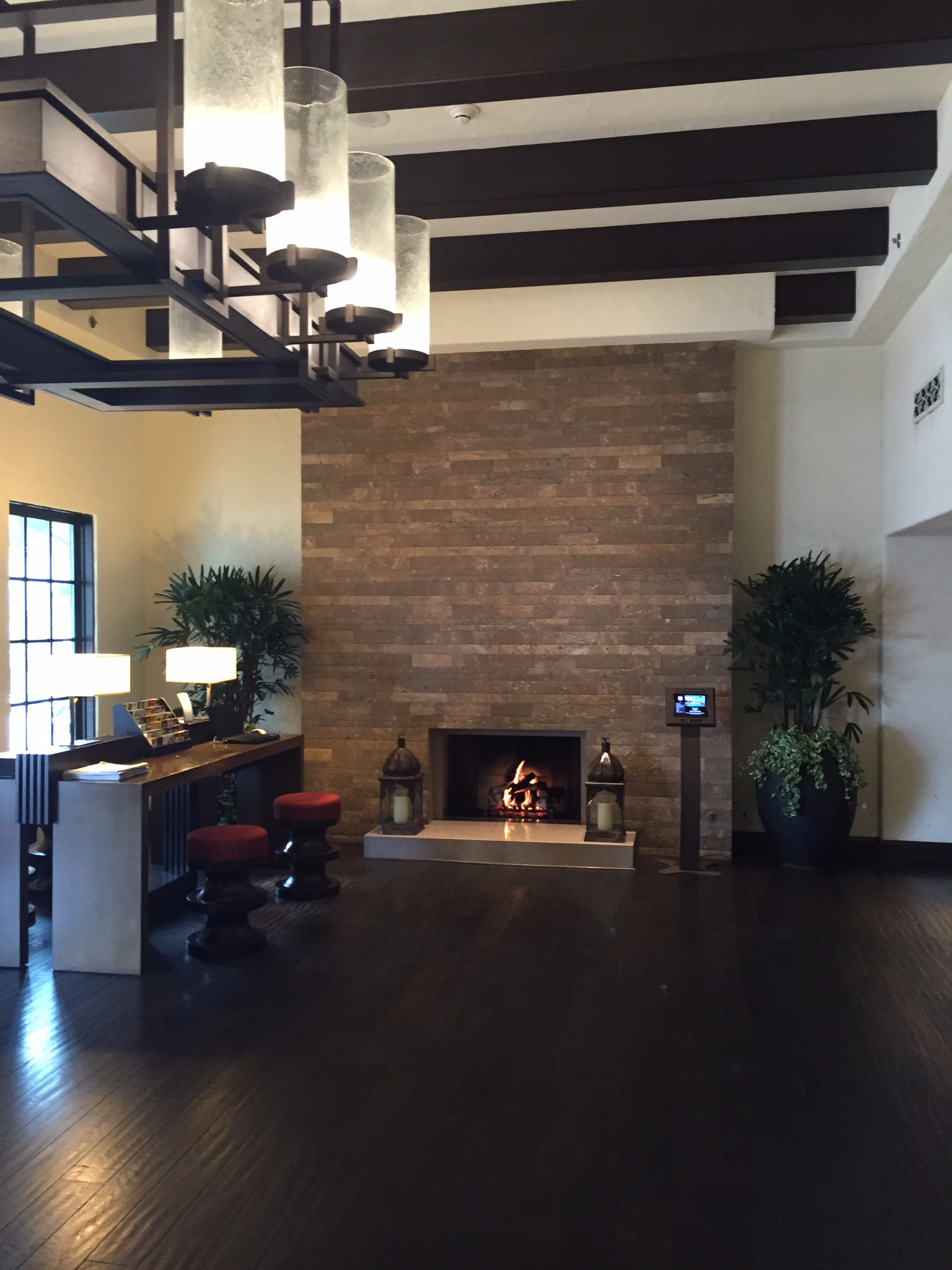 The lobby has a computer station just on the other side of the fireplace, with a well-decorated seating area opposite the front doors with a leather club chair.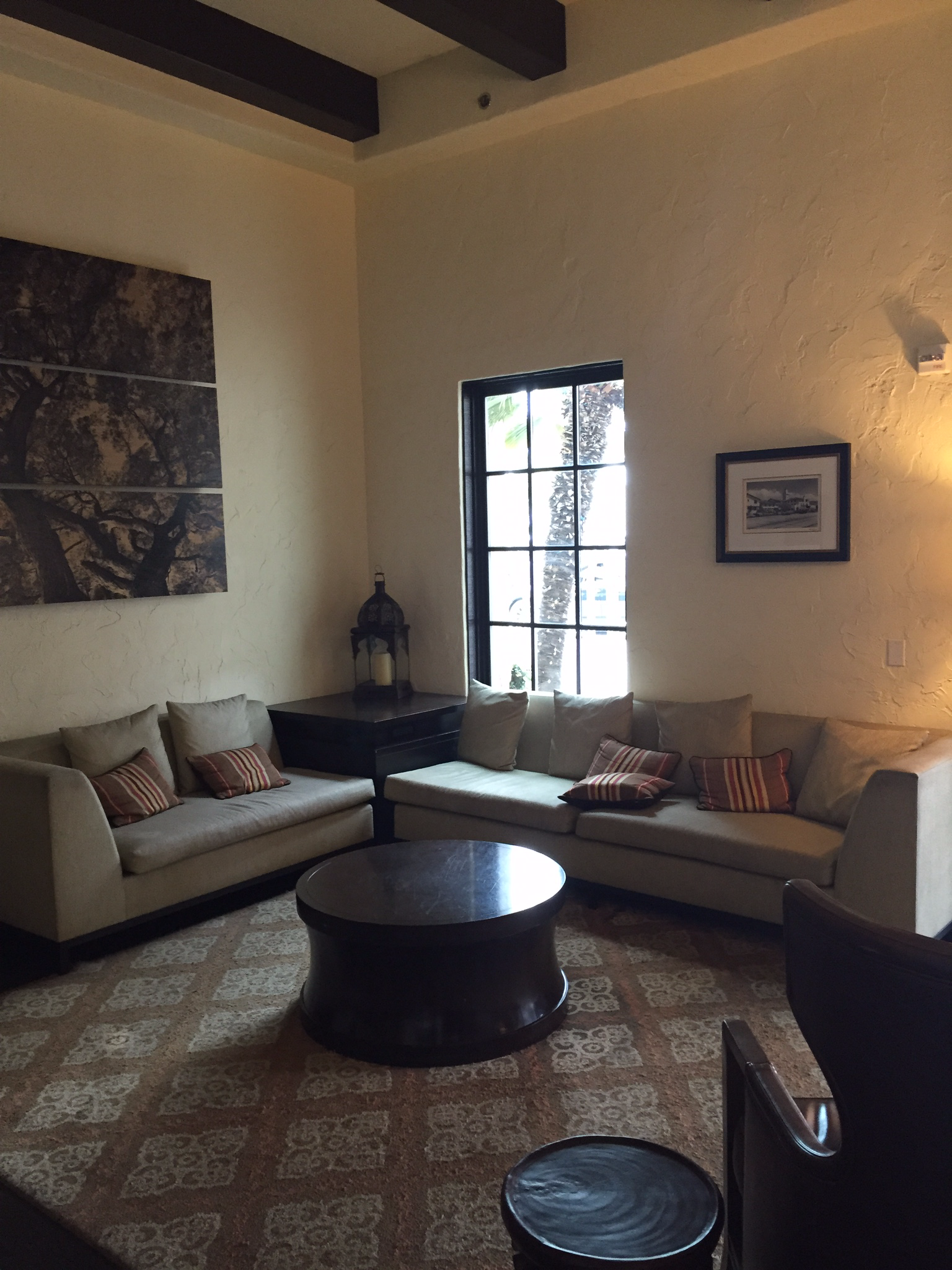 By the elevator is a complimentary coffee and ice water station, which was especially useful.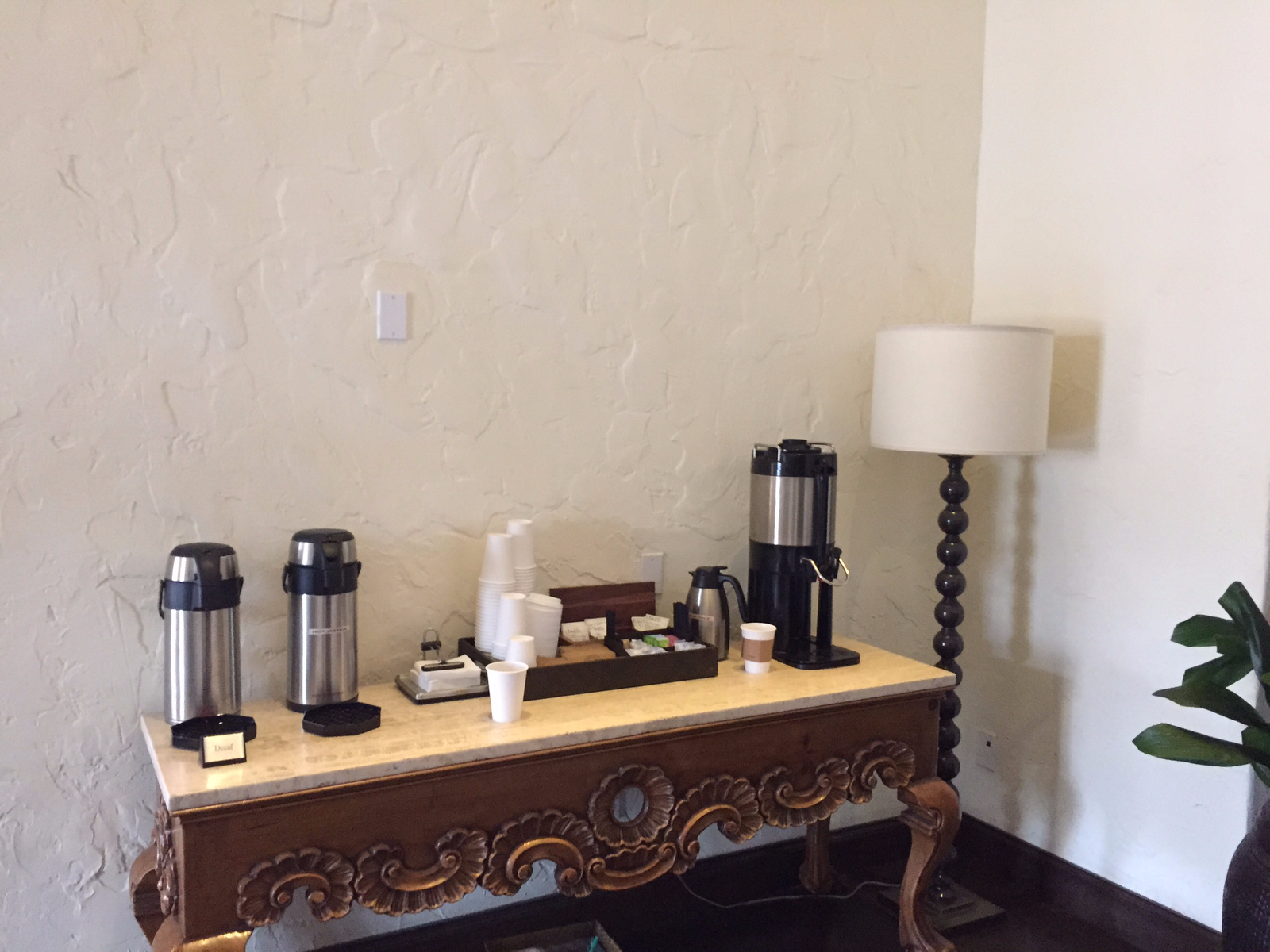 Unfortunately, the lobby is marred by a jarringly ugly and cheap-looking ATM machine among these nicer elements, which is impossible to miss or avoid. The lobby seems to be set for a refresh, as there was an "inspiration board" of sorts on display showing the various colors, fabrics and textures that would be part of the planned redecoration.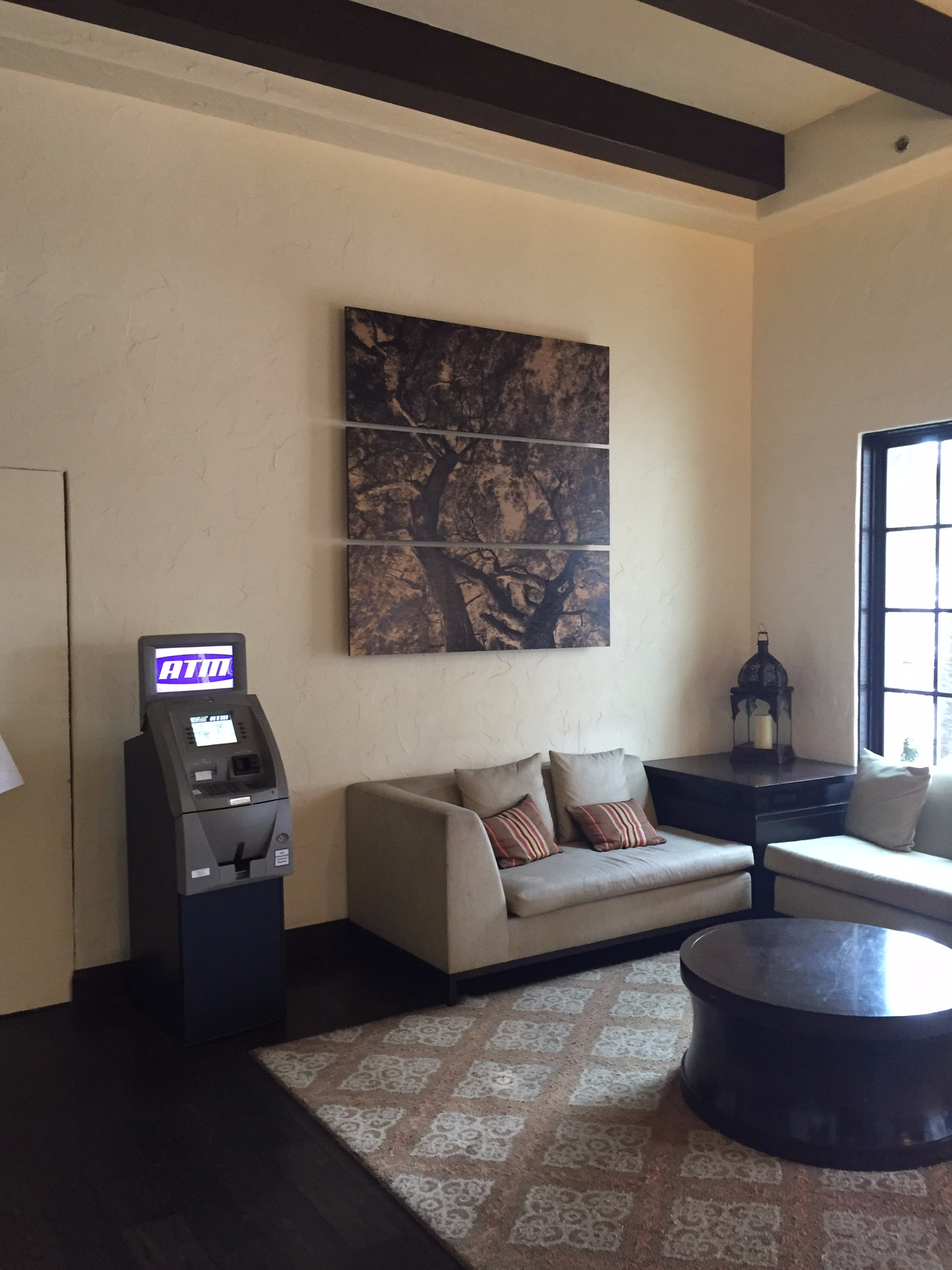 Check-in was easy, although since we had requested to be placed in the main building, which has a limited number of guestrooms, our room was not yet ready. The front desk agent took my cellphone number and promised to call when it became available. She also noted that since we had brought our two dogs with us, we would be charged a one-time $50 pet fee, which we had known about. This is actually a fairly reasonable pet fee for a California resort.
(It didn't end up being a big deal, but a few hours later we hadn't heard from the hotel and called the front desk, only to be told, "oh yes, your room is ready!" I'm not sure if we ever were going to receive a pro-active call from the front desk or not, but we were having fun walking around Santa Barbara, so this didn't bother me too much.)
The Room
Our room was located on the first floor, a few steps up from the lobby and just around the corner in a quiet hallway. This part of the main building seemed genuinely historic, and the walls of the corridor were lined with black-and-white photos capturing the resort's once-illustrious history.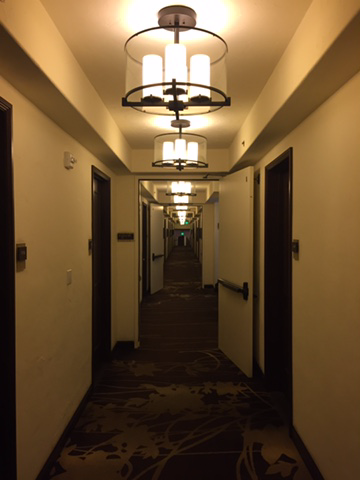 The room itself was relatively spacious, with newer carpet drawing attention away from white stucco walls that seemed quite dated. Again, the decor of the room was a sort of modernized Santa Barbara Mission style, with wood detailing and a leather club chair that attempted to call back to a more genteel era along the Central California coast. The king sized bed was large and comfortable, with an off-white wood panel serving as a sort of headboard.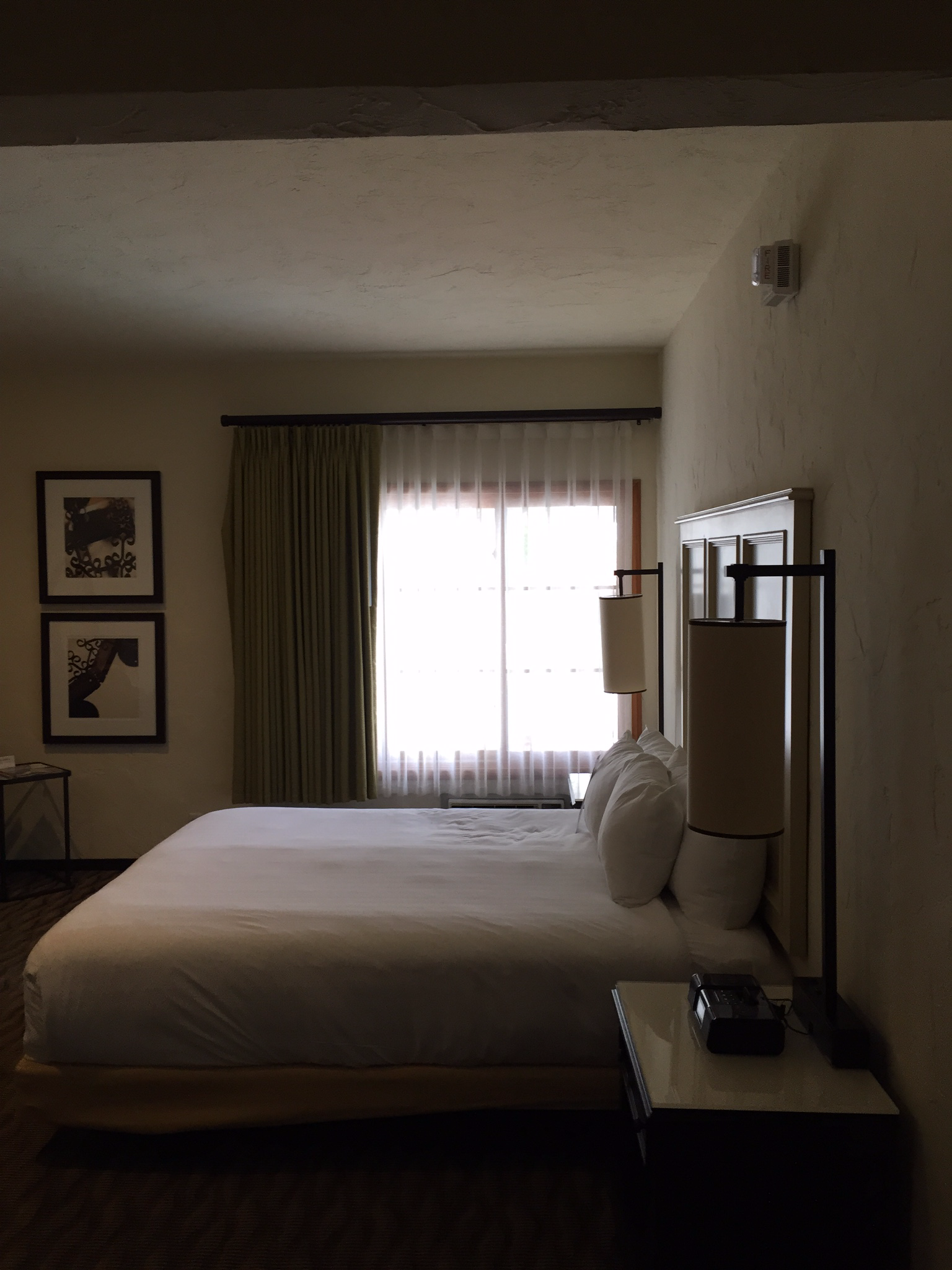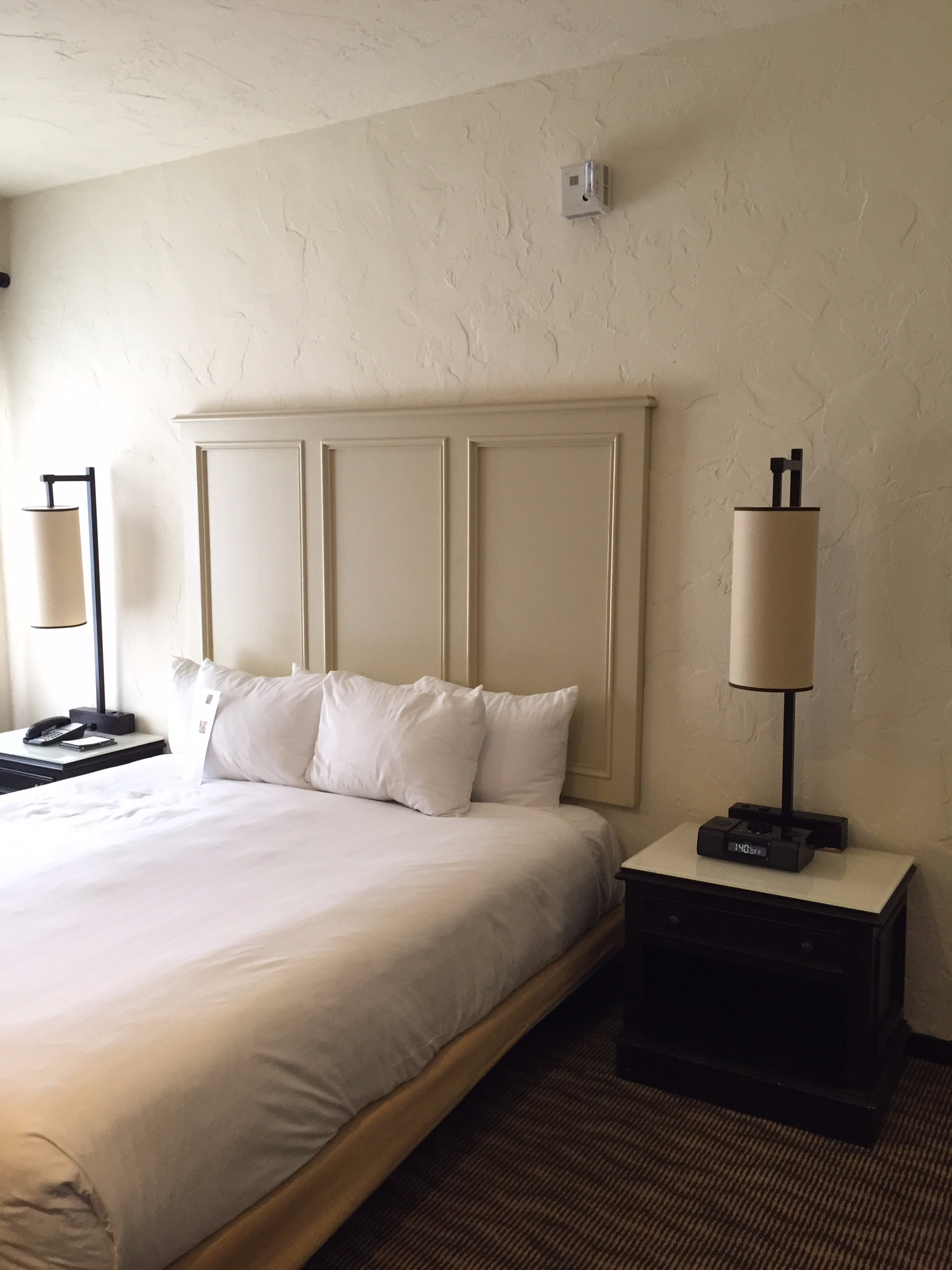 Opposite the bed was a small closet, a fairly spacious desk and work area, and a dresser with a flat screen television (which, as we discovered just before checkout, was non-functioning). Furnishings throughout were tasteful, if not especially exciting.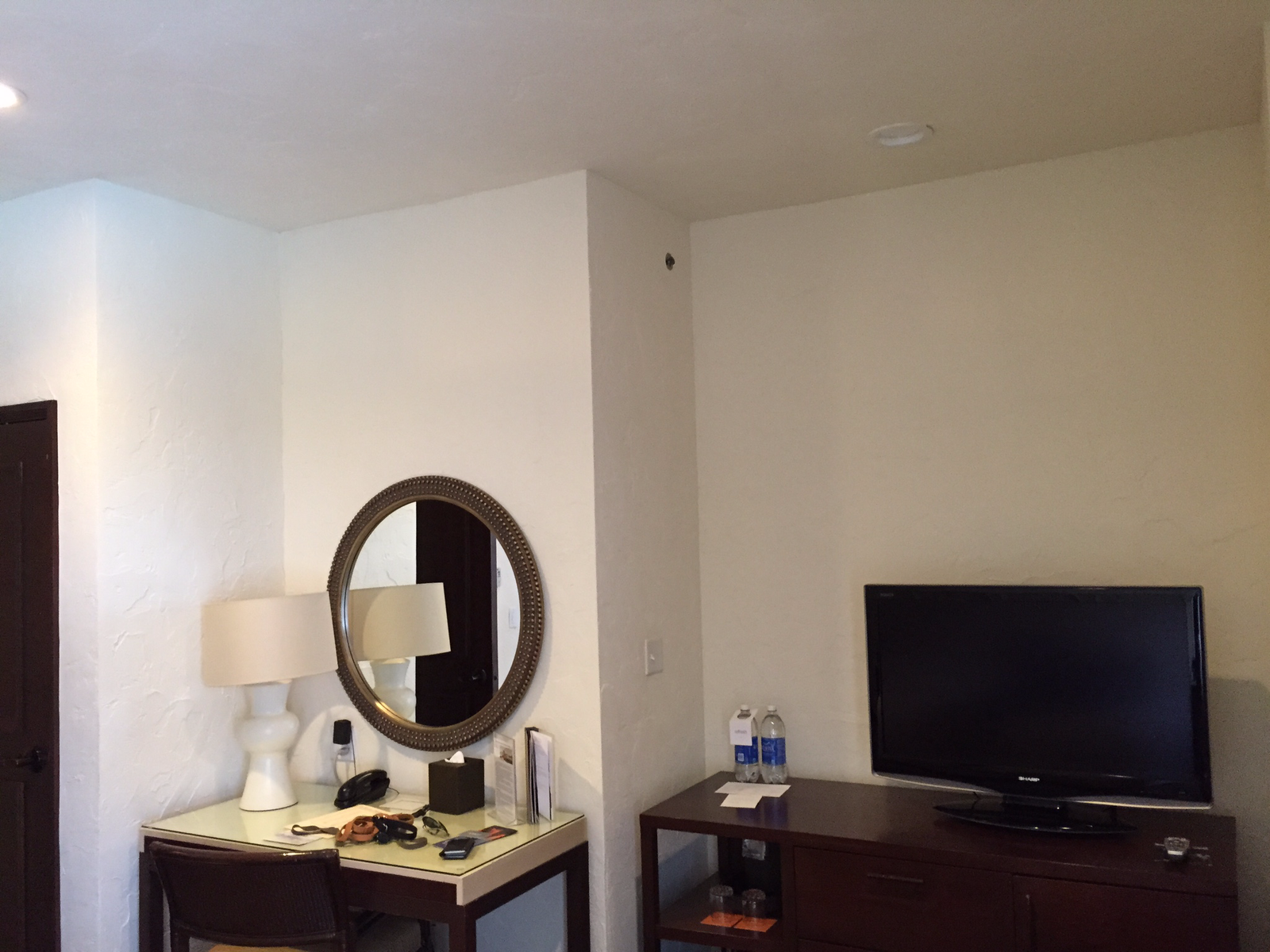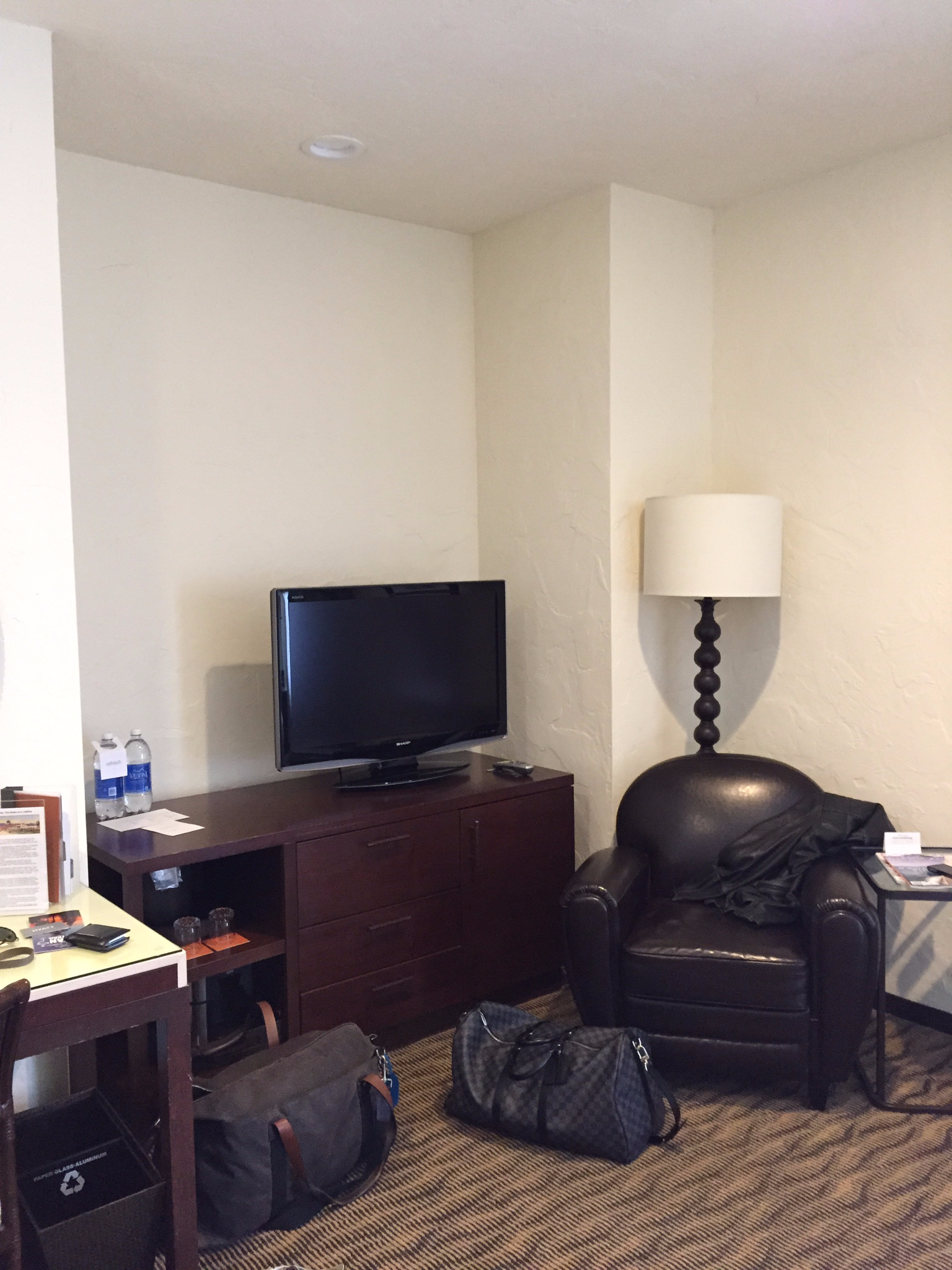 The windows had an… interesting view. On the one hand, it's undeniable that the room had a view of the Pacific Ocean, but it also looked right out onto the hot tub and pool area. And not in a pleasant way, but in the sense that if you opened the window and leaned out delicately, you could dip your toes in the bubbles of the Jacuzzi.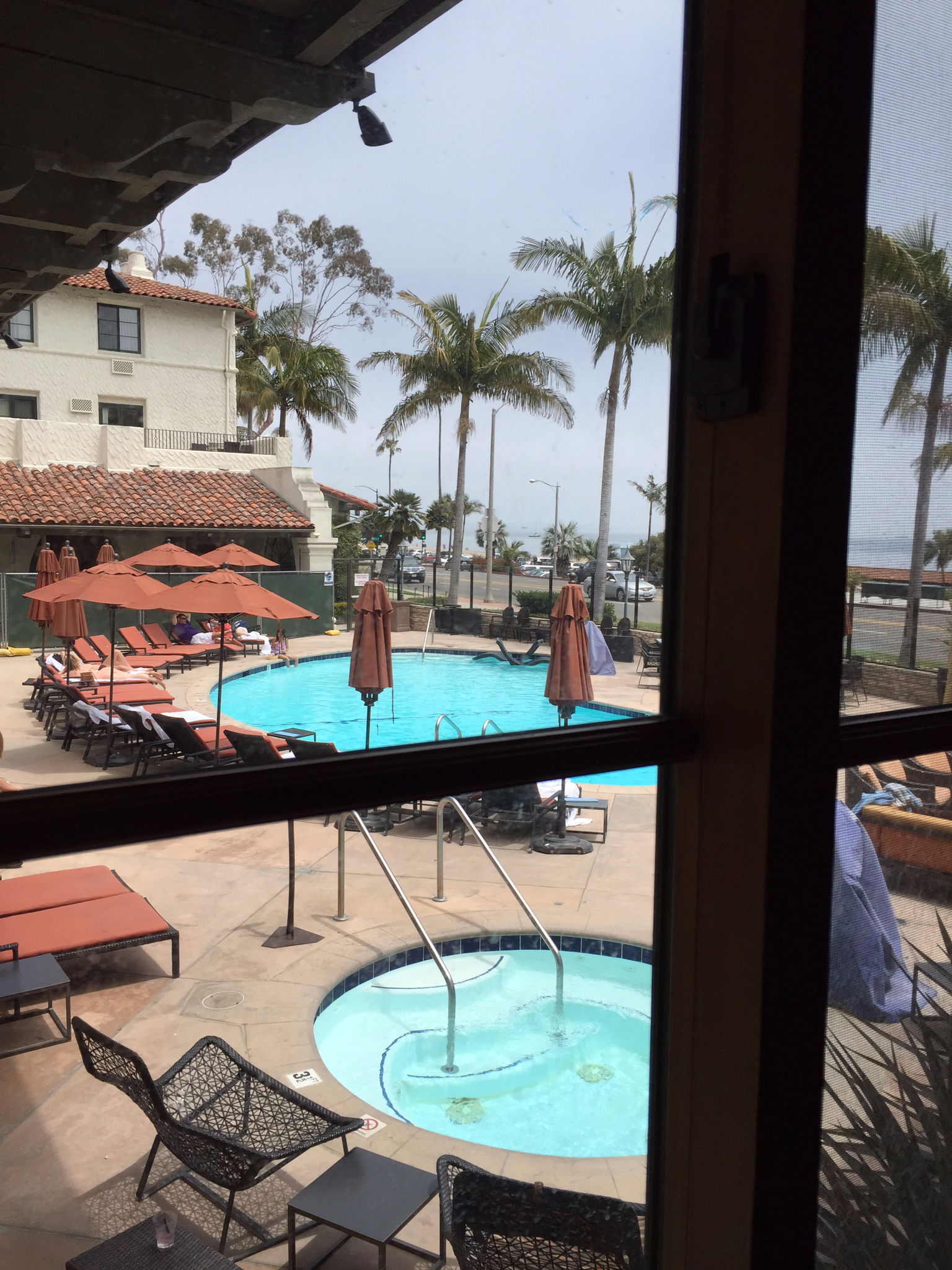 Since the weather was foggy and cool, as is often the case in May, the pool area was relatively unpopulated, but the room still lacked privacy and we felt very uncomfortable with the shades open. Given the dark tones of the interior decor, this all lent the guestroom a fairly gloomy feel, which felt especially unfortunate given the beachy Santa Barbara locale.
It was somewhat strange, too, that the curtains didn't extend all the way to the floor but rather only to the extent of the window itself. This was to accommodate an in-wall air conditioning unit below the window, which was noisy and not especially pretty to look at. The hotel has been renovated numerous times since 1931, and I'm pretty surprised no one has considered installing central air throughout.
As for the bathroom, because we were assigned an ADA King room I don't want to make any generalizations based on our room, which may have been unusual in order to accommodate the disabled and those in wheelchairs. But: boy, was it odd.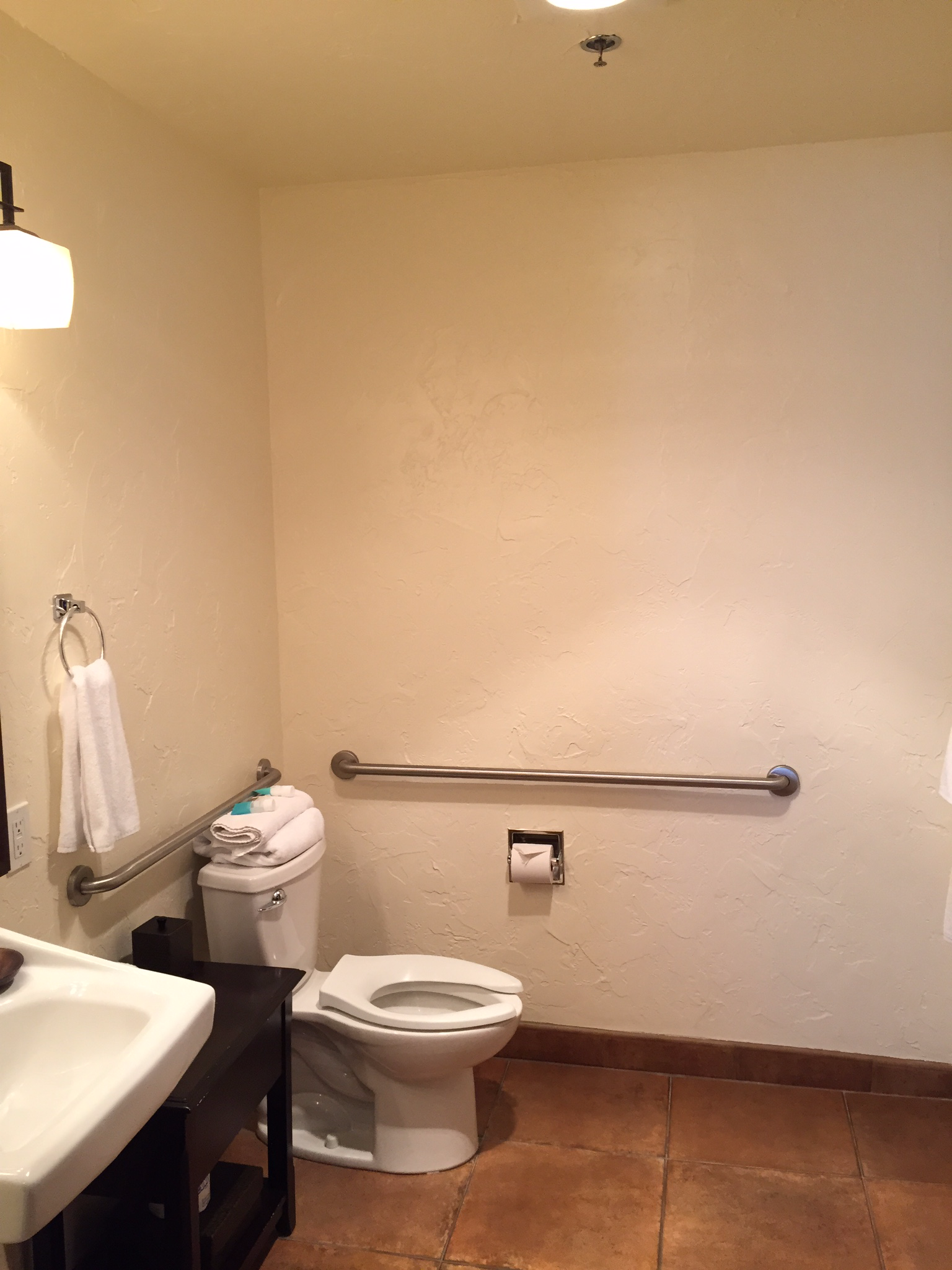 The bathroom was spacious, but strangely laid out. I appreciated the saltillo tile floors, which felt especially "Santa Barbara," but the appreciation pretty much stopped there.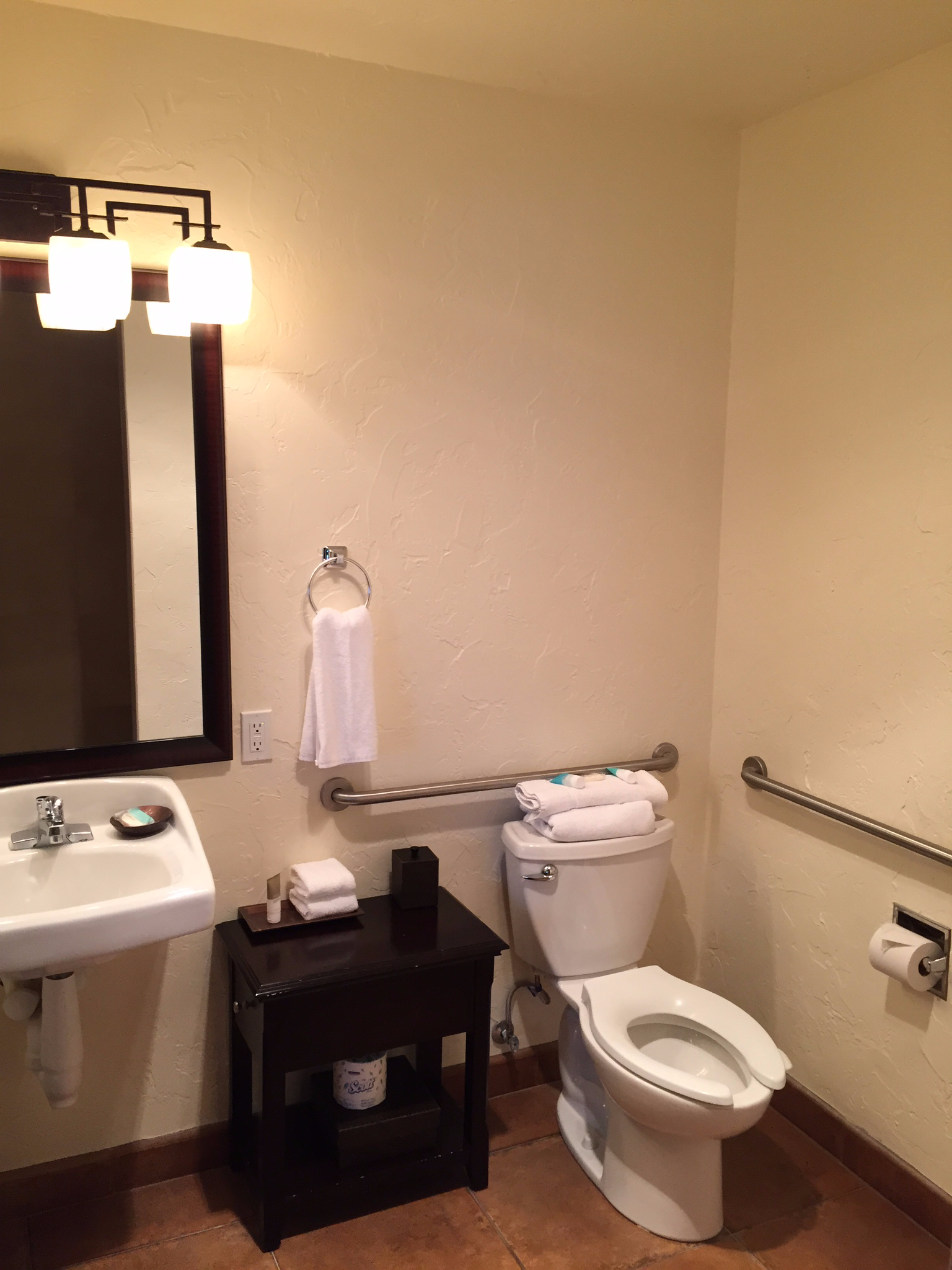 The shower was dark and had no shelf space (again, possibly to meet ADA requirements, at least as far as shelf space is concerned), and the sink was tiny.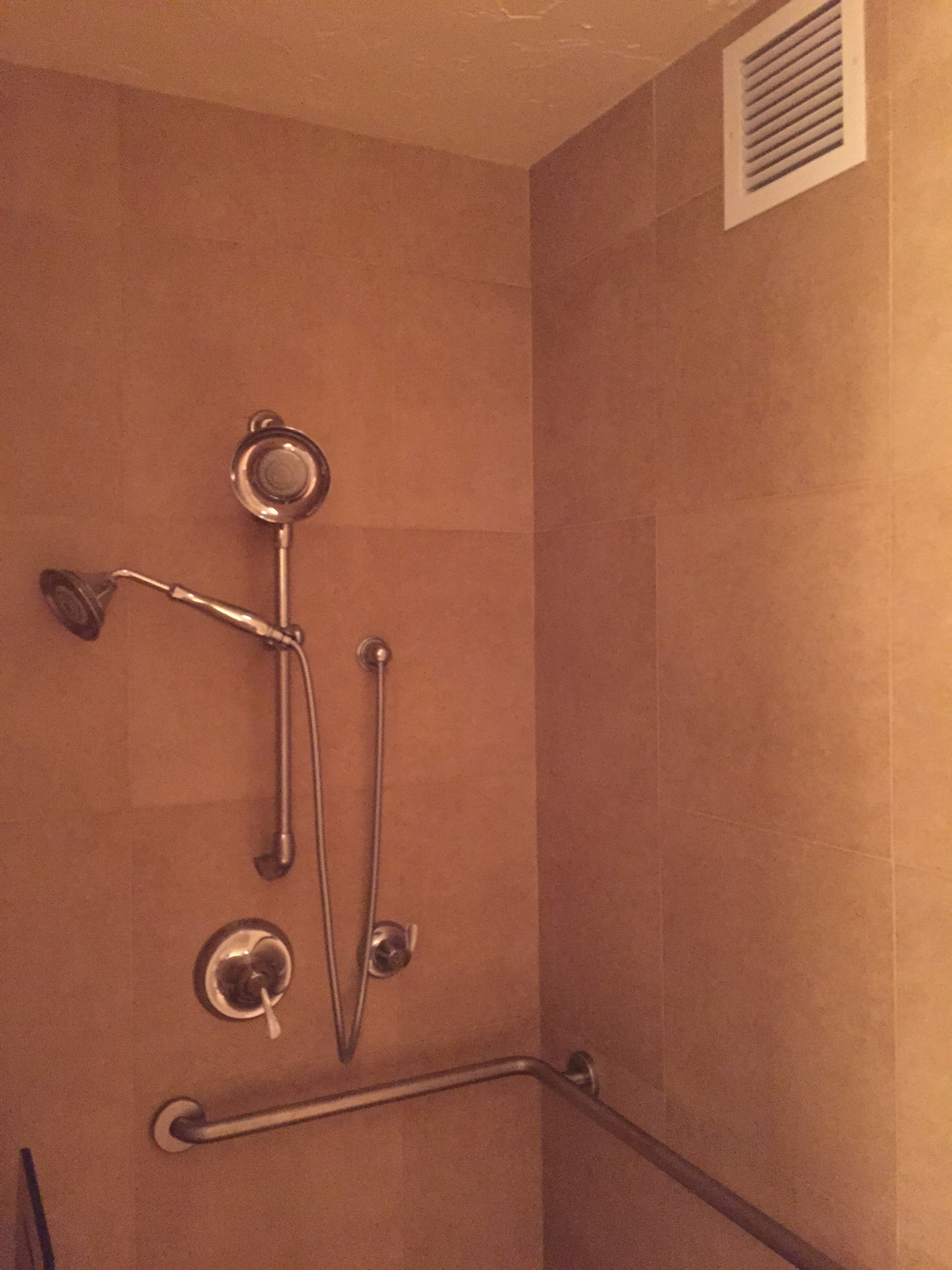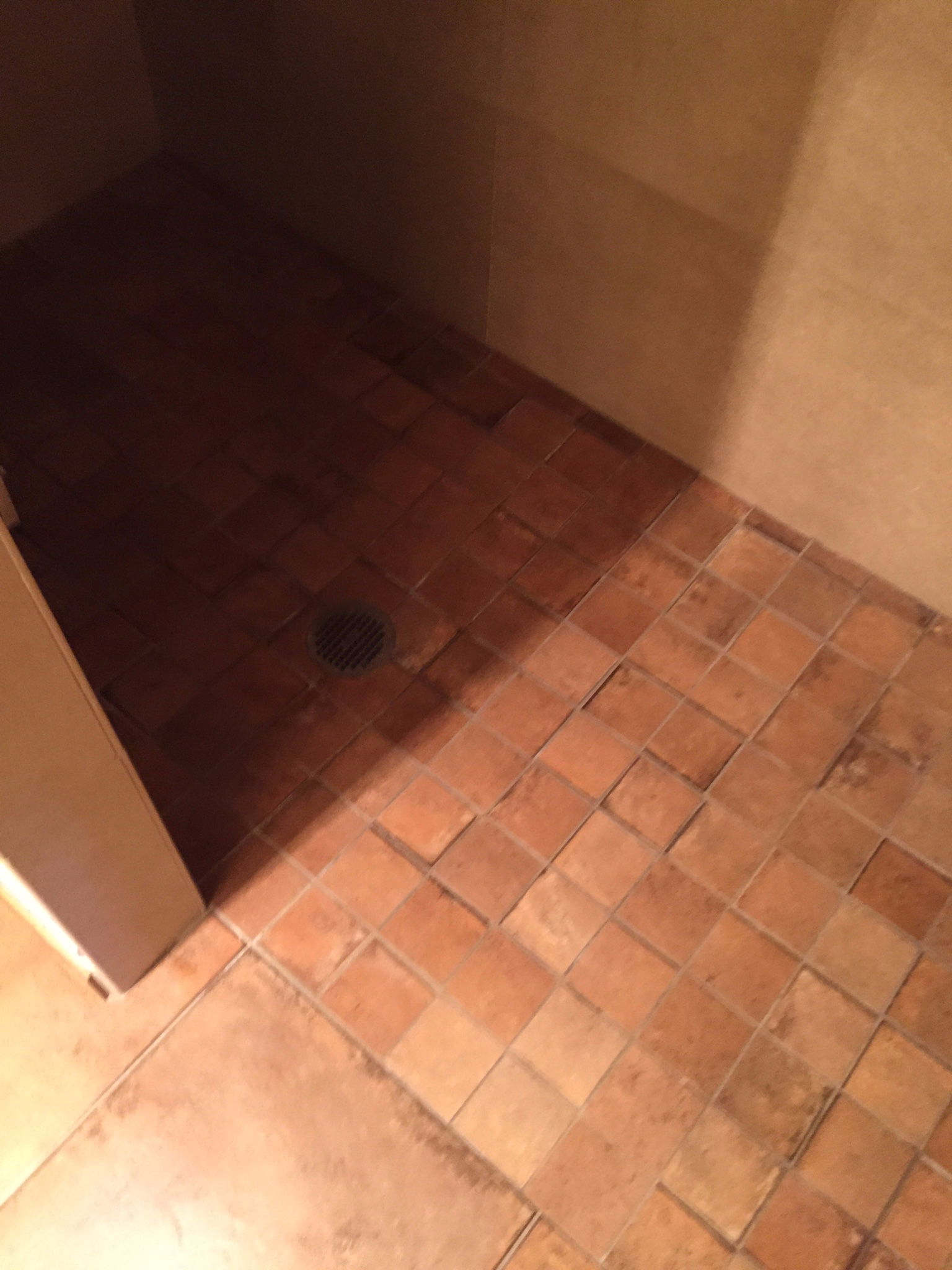 There was almost no storage space to be found, despite the relative size of the bathroom.
Toiletries were Kenet M.D. branded, and were more than adequate. The towels felt thin and not especially luxurious.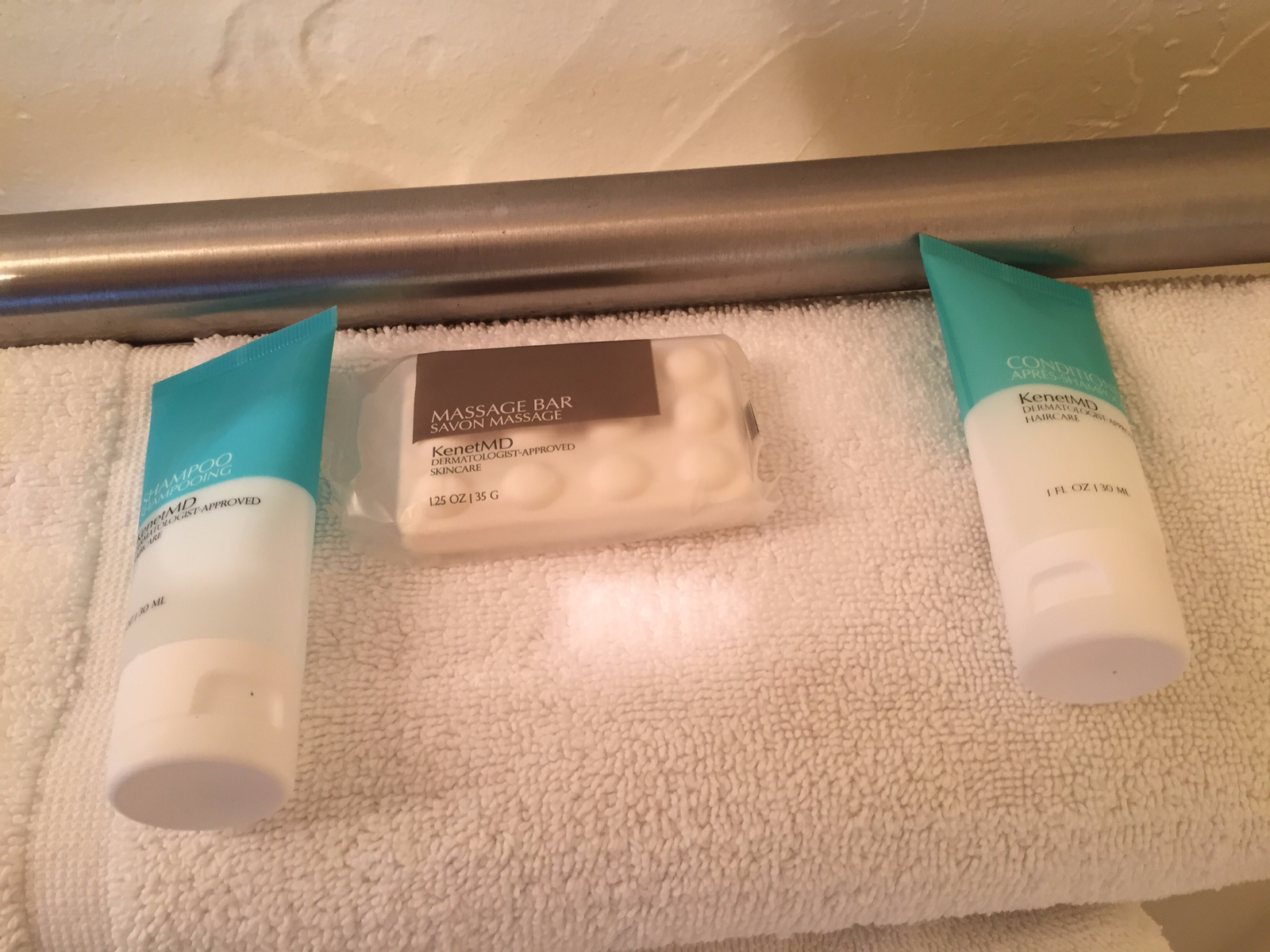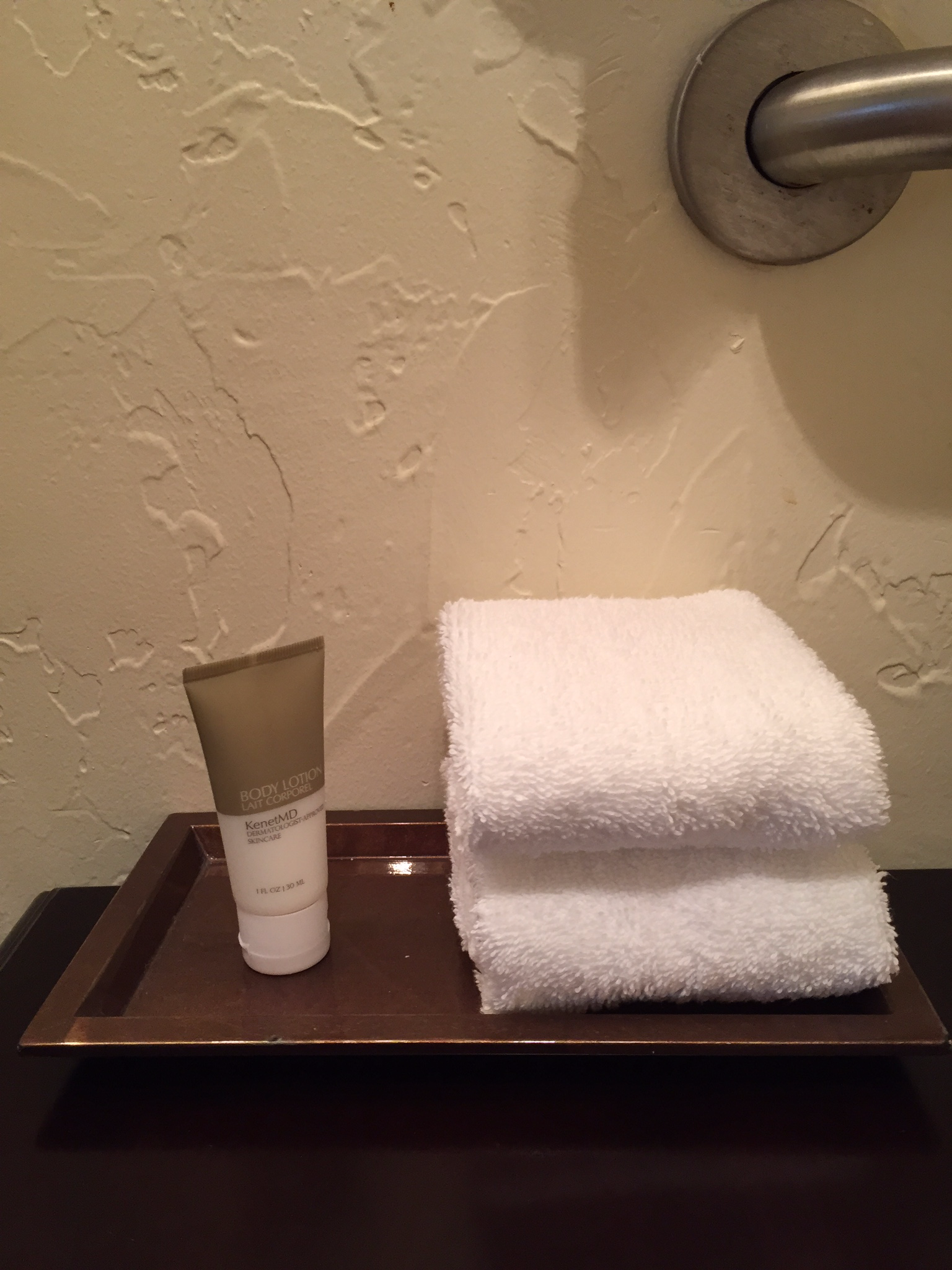 Showering was a bit of an ordeal, since the shower itself was cave-like and not especially well lit. (Again, this likely has more to do with accessibility requirements than the hotel's overall design.) Water pressure was okay, but it was definitely one of my least favorite hotel showers in recent memory.
Facilities
We didn't eat at the onsite restaurant and lounge, Bistro 1111, but I did end up checking it out. It's technically in the main building, but it's a long and labyrinthine (and not especially well-posted) walk from the lobby. The restaurant is bright, though it very much feels like a basic hotel restaurant, great for taking breakfast, maybe a bit corporate for a romantic dinner.
Between the restaurant and the lobby is the pool area, which is located in the "U"-shaped courtyard of the main building, fronting directly onto Cabrillo Boulevard. While the lounge furniture seemed updated, the pool itself was on the small side and kidney-shaped, and not particularly inviting. Of course, it was about 65 degrees out with a chilly wind whipping in from the sea, so I may have had a different evaluation on a hotter day. 😉
Just across the parking lot from the main building, in the "Santa Cruz Building" annex, is the gym, which was surprisingly spacious and well-equipped. The gym had terrific dead-on views of the ocean, which always makes me feel better about exercising.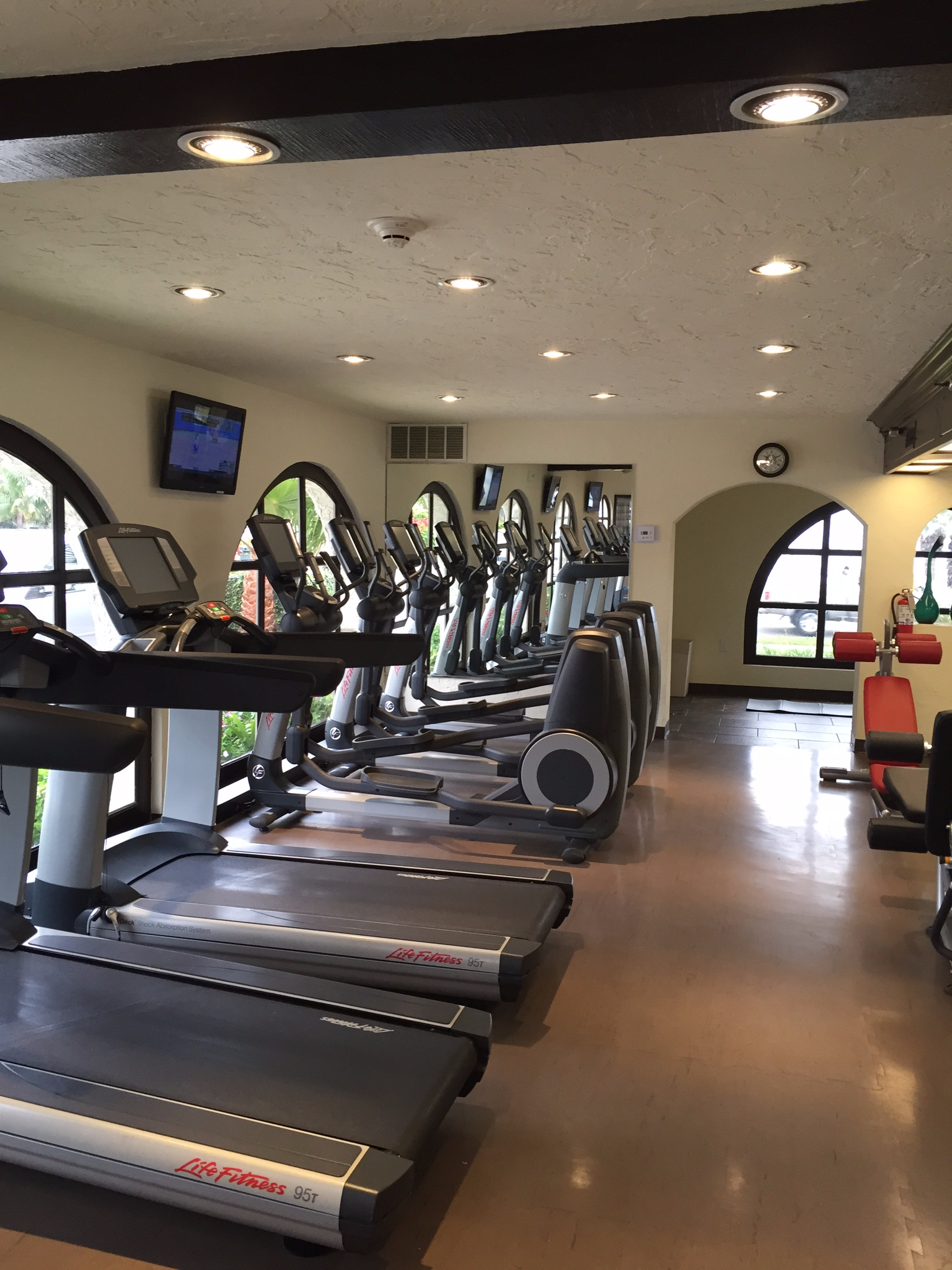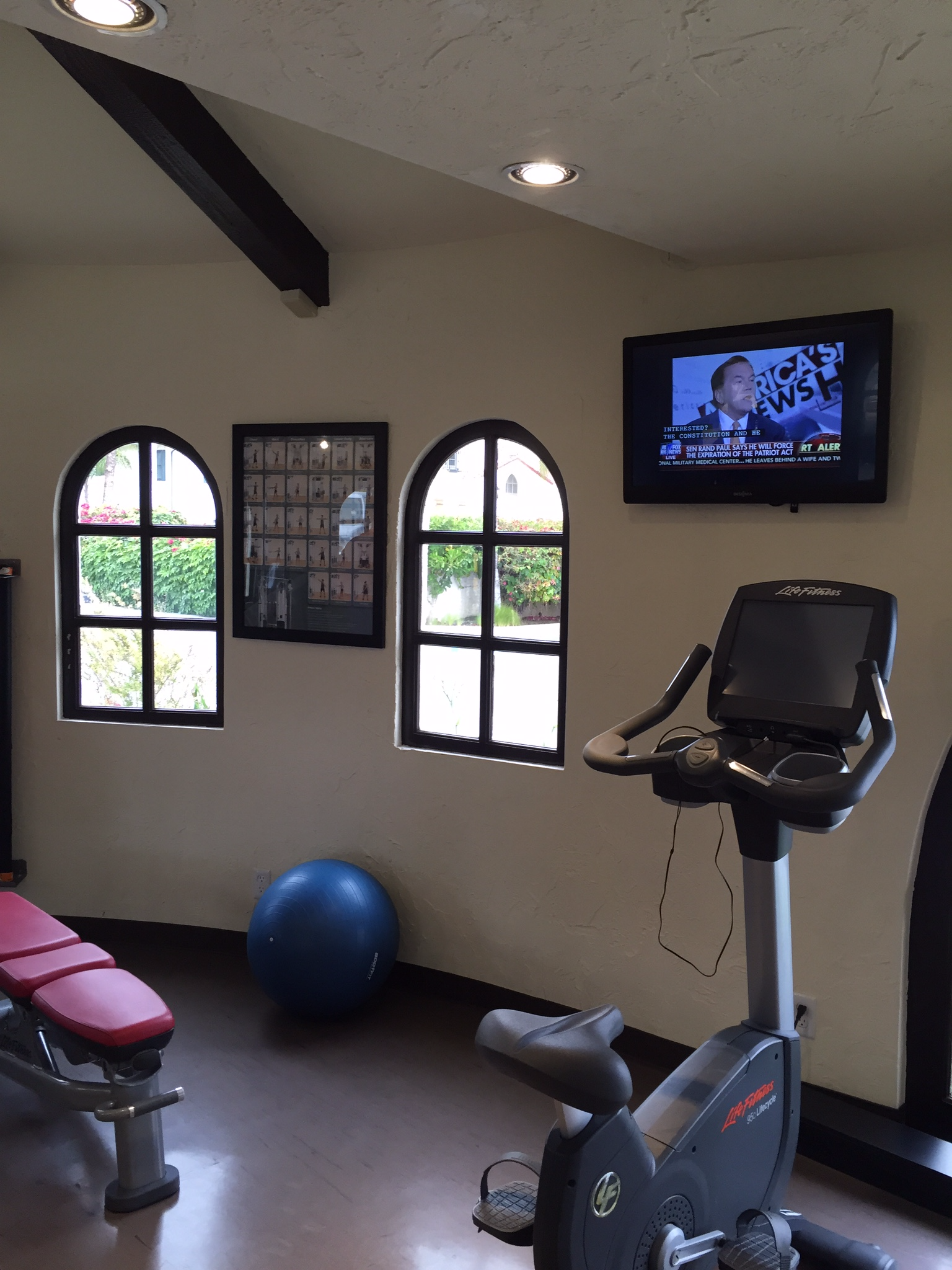 Location
Really where the Hyatt Santa Barbara shines is its location just across Cabrillo Boulevard from a prime stretch of Santa Barbara's East Beach. We were able to walk out a side door a few steps from our guestroom and access a crosswalk leading directly to the beach facilities, which was hugely convenient (and again, might have been even more convenient had there been anything resembling beach weather).
There's a beautiful, historic beachfront pavilion directly across from the Hyatt with restroom facilities and a casual bar and grill with breakfast and lunch service.
While we were waiting to check in to our room, we strolled down Cabrillo to Stearns Wharf, which was about a 20 minute walk. The wharf has a handful of seafood restaurants and a great view out onto the water, though it's undeniably touristy and kitschy.
A few blocks from Stearns Wharf is a hipster neighborhood of sorts known as the "Funk Zone," which houses a number of great wine tasting rooms, a few trendy restaurants and coffee shops, and some home design stores. It felt a bit like if Silver Lake and Williamsburg had an infant child together who didn't yet know how to walk — adorable, with such potential!
The more celebrated parts of Santa Barbara, along State Street, are another 15-20 minutes walk from there, so I would hesitate to suggest that the Hyatt Santa Barbara is "walkable" to shops and restaurants, so much as it is "strollable" on a lovely day. We ended up using Uber to shuttle around between Downtown, the Funk Zone, and the Hyatt, which was affordable, convenient and nearly instantaneously on-demand, which is one of the joys of being in a small city without traffic jams.
Bottom Line
The Hyatt Santa Barbara seems to be in the midst of a refresh, with further renovations to guestrooms and the public areas forthcoming. It will certainly perk up the hotel a bit. Personally, I didn't mind the furnishings of the guestrooms, but I did find the physical space to be dark and a bit dreary, with window treatments that felt drab and motel-like.
That all being said, the age of the main building and the tight real estate in the surrounding neighborhood limit the physical possibilities of the hotel to some extent. No matter how beautifully the hotel is redesigned, the awkward layout and the annex buildings will remain.
I found the hotel to be "quirky," but not unpleasantly so. The Hyatt Santa Barbara feels more like a mid-tier boutique hotel than a corporate chain, which ultimately (in my opinion, at least), works to its advantage. Service was perfectly warm (in fact, I noted how effusively warm and talkative the housekeeping staff was, which I thought was really special), though not tremendously memorable.
Overall, I loved the location and thought the Hyatt Santa Barbara was an efficient use of my Chase anniversary night. I think the rooms could use a thoughtful refresh to open them up a bit, quite frankly, but it seems the hotel is in the process of tackling that.
The Hyatt Santa Barbara is a solid hotel for a Category 4, especially in an in-demand area like Santa Barbara. For 15,000 Gold Passport points a night, the hotel makes a great weekend getaway from L.A. or San Francisco.
But with paid room rates pushing $500 and up on summer weekends, I would hesitate to recommend this property to someone paying out of pocket: while $500 a night may be par for the course in Santa Barbara, it's an outright fortune for a mid-line Hyatt that's "nice" but by no means luxurious.