This past weekend I had to be in Redmond, Washington, so it seemed like a great opportunity to try out the Hyatt House. Hyatt House is Hyatt's newest brand. This particular hotel used to be a Hotel Sierra, and then was rebranded as a Hyatt House earlier this year. I guess Hyatt House competes most closely with Hampton Inn, Holiday Inn Express, Courtyard, etc., given that they offer free internet and breakfast, as well as extended stay hotels, given that they offer kitchens and "studios."
Well, I was actually really impressed by the property, and found it to be a step above what the competition offers in the same "category."
The hotel exterior was beautiful, and the lobby was inviting and warm.

Hotel exterior

Lobby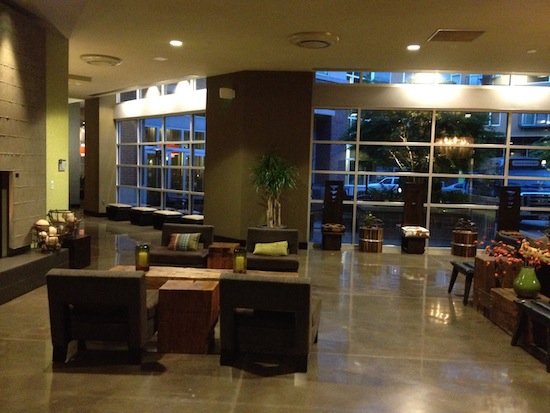 Lobby
The check-in agent was friendly though seemed to have no concept of Hyatt status, since she just stared blankly at my Gold Passport card and I wasn't offered an upgrade of any sort.
My room was on the 5th floor at the very end of the hallway, which was quite a haul. The hotel is deceivingly big.

Hallway
The room itself was the most impressive part of the hotel, though. I don't know what it was, but it just felt very "livable," something I can't even say about many high end hotels I've stayed at. It featured a desk and kitchen right near the entrance. While I'm not one to cook in hotel rooms (or at home, for that matter), I can appreciate a full size fridge.

Room

Desk and kitchen

Kitchen
I suspect part of what made the room feel so livable was how high the ceilings were and how bright the room was.

High ceilings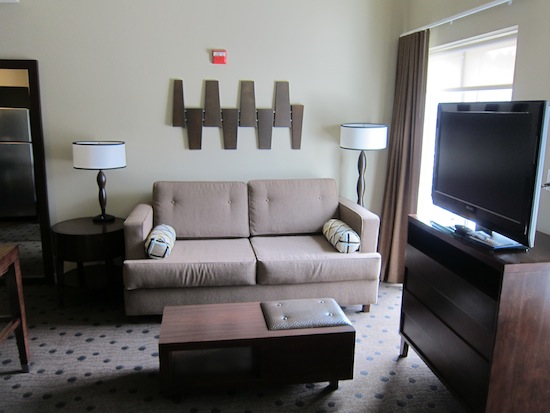 Living room
The room featured a comfy king size bed.

Bedroom

View from my room
The bedroom led into the bathroom, which featured a separate sink area and then a door leading to the toilet and shower.
Instead of having individually bottled toiletries the hotel has "pumps" with toiletries. Usually that annoys me, though these pumps actually worked and were full, which I can't say for 90% of hotels with a similar system.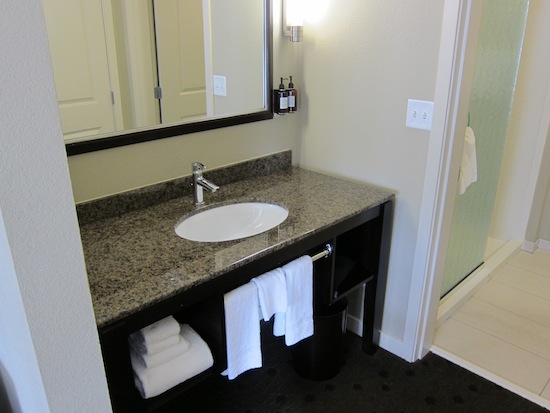 Sink

Toilet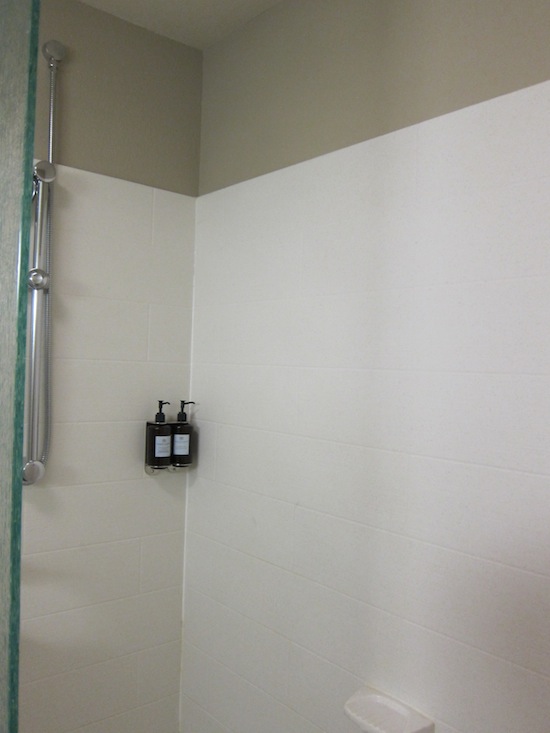 Shower
The hotel offered free breakfast for guests in their restaurant area. They had cereal, several hot options, and even an omelet station. While it was by no means gourmet, I did think it was much better than anything I've seen at other chain hotels that uniformly offer free breakfast.

Restaurant

Breakfast spread

Breakfast spread
The hotel also had a pretty basic gym which I used once.

Gym
Anyway, on the whole I was really impressed by Hyatt House. The rooms were clean and nicely furnished, the public facilities were inviting, and all the employees I interacted with were friendly. For a rate of under $100 per night, what more could you ask for?
And on a mildly unrelated note, I really love the state of Washington, especially compared to Tampa (which is filled with nothing but strip malls and strip clubs, neither of which I patronize).