Yesterday's news about MH370 has just left me heartbroken, and I'm sure I'm not alone. This is something that hits our community hard, because I'm sure most of us could have imagined taking that flight.
While it shouldn't be that way, I think there are flights we can picture ourselves on and flights we can't picture ourselves on, and subconsciously it impacts our feelings. If an Air Koryo flight out of Pyongyang goes down I'd feel horribly, but I wouldn't totally be able to relate. Because flying them seems foreign to me, while flying an airline like Malaysia Airlines feels like "home" to me (even if they're on the other side of the globe).
I've flown Malaysia Airlines several times before and have always enjoyed my flights on them. I've even flown the exact airframe that is missing, 9M-MRO, which feels somewhat surreal.
While it impacts us, I can't even imagine how it impacts anyone that was involved directly in any way. Not only the families of the passengers and crew, but also the last people to interact with them, the check-in agents working that flight, passengers that may have sat next to them on connections, the people that were apparently booked on the flight but missed it, the crew hotel they were going to stay at in Beijing (how surreal it must be to have those 12 rooms empty), etc.
There aren't words that can describe my sympathy, other than that I'm really sorry, that they're in my thoughts, and that I'm sending the best vibes possible their way.
And we're not talking "oh, you're in my thoughts" in the same way that you say to someone taking an exam or something. I literally can't get these people out of my thoughts, no matter how hard I try. I couldn't sleep for even a minute last night, and was just in bed with the lights off thinking. And thinking. And thinking. And I'm sure I'm not alone (to clarify, I'm referring to my thoughts and not my bed).
I started writing a post about Emirates offering up to a 175% bonus for flights on Virgin America. And I couldn't get myself to publish it, because who really freaking cares? Does it matter?
Miles don't matter. The best premium cabin products don't matter. Credit card sign-up bonuses don't matter. Nothing matters, other than people.
I saw the movie "Hotel Rwanda" years ago, and one of the scenes that has always stayed with me is when they show the footage of the atrocities happening in Rwanda:
Paul Rusesabagina: I am glad that you have shot this footage and that the world will see it. It is the only way we have a chance that people might intervene.
Jack: Yeah and if no one intervenes, is it still a good thing to show?
Paul Rusesabagina: How can they not intervene when they witness such atrocities?
Jack: I think if people see this footage they'll say, "oh my God that's horrible," and then go on eating their dinners.
[pause]
Jack: What the hell do I know?

https://www.youtube.com/watch?v=9Z09r1Jvavk
My reaction to this incident is kind of the opposite.
There's nothing we can do. Flying is so damn safe. This is potentially the first truly major 777 "incident" in the nearly 20 years it has been flying.
But we want to know exactly what happened, and understandably so. But at the same time it's totally out of our control, and the best we can do is be patient as the relevant authorities do their jobs.
I think what makes this the most bizarre "incident" I can ever remember is that more 24 hours after they lost contact the plane is still "lost." This isn't like Air France 447 where it went down in the most remote part of the ocean. Instead the first half of the flight path from Kuala Lumpur to Beijing is mostly over or very close to land, with the exception of a few hundred miles over the Gulf of Thailand. And if the plane was reasonably close to the Vietnamese coast (as they expect), it's an area heavily populated by fishing boats.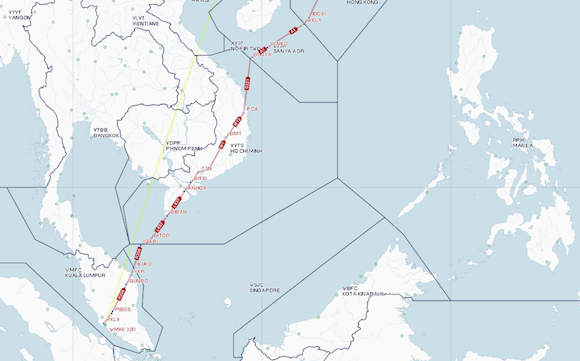 I don't even want to begin to speculate, but this truly is borderline "Twilight Zone" weird, that in 2014 a plane can not be found for so long. Hell, I can't even use the internet without being tracked, so when a 500,000+ pound plane literally disappears…
None of that is the point of this post, though.
When tragedies like this happen I always question what I do. Why would I ever get on a plane again if I can avoid it? I have parents, and I can't possibly do that to them. My oldest brother passed away in an (non-airplane) accident at a young age, so I'm extra careful for my mother's sake if nothing else.
After my Royal Jordanian flight from Bangkok to Hong Kong last year, my perspective on flying really changed. For six months I was legitimately terrified of flying. I would sweat profusely and even shake every time there was turbulence. But fortunately I recently got over that.
The Royal Jordanian flight taught me a few things that I figured I'd share in light of MH370.
Flying is incredibly safe.
We all know that. But at the same time the thing that bothers me the most about the possibility of dying on a plane isn't actually dying, but the uncertainty and second-guessing it will bring to my loved ones.
But I've gotten to the point where I'm at ease with that. First of all, I always send my parents my itineraries when flying. Always. If something were to ever happen, I don't want them having to second-guess whether I was on a flight or not. When I flew Royal Jordanian and thought I had minutes to live, I wasn't worried about dying, but was so angry at myself for not telling my parents exactly which flight I was on.
Life is about people.
My parents are the most important people in my life. I talk to my mom probably five times a day. I call her so often that if she doesn't hear from me for three hours she assumes I'm dead. One day last week I only called her once, and she told me "I feel like we never talk anymore." I guess that's a good thing?
But part of that is being on the same page as my parents. My mom used to say "I don't know what I'd do with myself if you ever died while flying." And she's not like that anymore.
She understands it's my hobby. She understands it's my passion. She understands how safe it is. And she understands that it's truly what I would've wanted to do. When she starts with "what if" scenarios, I remind her of all the danger I could have been in on the ground if I hadn't flown the three million plus miles that I have.
I don't believe in things being "meant to be," but I do believe that we only live once, and that we have to make the most of it. Flying is outrageously safe, and as far as I'm concerned the smartest thing we can do is travel as much as possible, even in light of this.
You can't take material goods with you when you die, but you can leave memories, so make the most of it. And as the popular quote goes, "the world is a book and those who do not travel read only one page."
So with this off my chest it's back to normal. Or at least on the surface.
I'll keep thinking about this 99% of the time for the near future, but I have to be more productive than that. Life must go on, and the best we can do is learn from what happened and keep those involved in our thoughts. Now it's time for more of your regularly scheduled programming, from the best ways to redeem miles to complaining about bad turndown service and shoddy bathroom cleaning on planes.
Anyway, I'm sorry this post is so long and jumbled. Again, my thoughts are with everyone involved with MH370 more than I could ever express. I just can't even imagine…
It certainly reminds me of all the things I'm thankful for, not the least the which is you guys.
Safe travels, everyone.