Here's a potentially easy opportunity that those with a Rakuten account should take advantage of (and those without a Rakuten account should seriously consider signing up at this point). Rakuten is my favorite online shopping portal, thanks to the ability to earn Amex points for online shopping.
Reward for installing Rakuten browser extension
Rakuten offers a browser extension, which alerts you if you're shopping on any sites that are offering rewards. Frankly that seems like a good thing to have in general.
Well, at the moment Rakuten is offering a $20 cash bonus (or 2,000 bonus Amex points) when you install the browser extension:
This is valid for new browser extension users only
Each eligible member can only earn the bonus once
The offer is available through November 19, 2020
It can take up to seven days for the bonus to be added to your account
When I logged into the Rakuten account I saw a banner for this.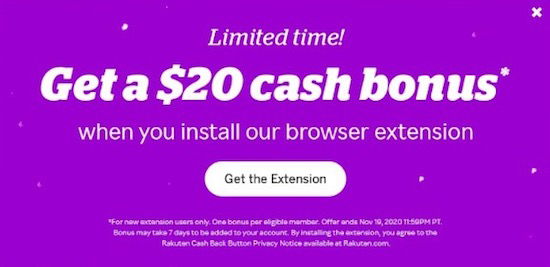 I followed the link, which brought me to the Chrome extension page.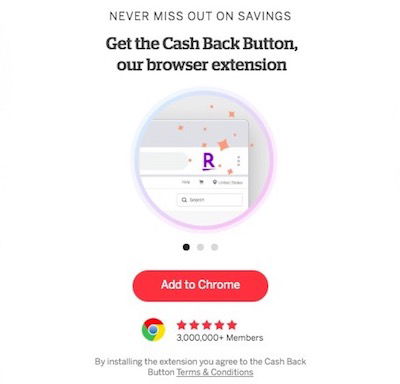 The installation took just a few seconds.

Then I logged back into my Rakuten account, and instantly saw that 2,000 Amex points had posted (which is because I have my earnings preference set to Amex points rather than cash back, since you get one point per cent).

2,000 Amex points (which I value at ~$34) for less than a minute of work? I'll take it!
Now I'd note a few things:
It doesn't appear that there's a need to actually make a purchase, and it's not clear how long the extension has to stay installed (though I'd assume there's no requirement, based on the points posting right away)
There's nothing indicating that this is targeted, though that's also not a guarantee that it isn't targeted
I would recommend logging into your Rakuten account to see if you can find the banner; if you don't, you can just try installing the extension and seeing if the points post, keeping in mind that they could take up to a week
Get $30 if you're not yet a Rakuten member
If you don't yet have a Rakuten account, you absolutely should join. At the moment you can get a $30 new member bonus after spending $30.
This is an incredible deal, especially since there are easy ways to complete that spending. For example, you can buy a $30 gift card through a partner and then get $30 back, which is awesome.
Once you're registered, it's possible that you'll also be eligible for this browser extension bonus, in which case you could receive another $20 (or 2,000 Amex points).
Bottom line
I just received 2,000 Amex points for less than a minute of work, by installing the Rakuten browser extension. I can't guarantee whether this is targeted or not, but in my case I saw a banner on the Rakuten homepage, and then the bonus points posted instantly.
Were you able to take advantage of this Rakuten browser extension promotion?