For the past three weeks or so, American AAdvantage hasn't had access to many Qatar Airways award seats. While not all flights were blocked, it seemed like a majority of flights between the US and Doha were impacted (the issue wasn't quite as prevalent for flights between Doha and other points), in both economy and business class.
I reached out to American as soon as I heard about it, and they told me that they were working on a fix. I'm happy to report that it looks like this issue is now fixed — as of today, American AAdvantage miles should once again be fully redeemable for travel on Qatar Airways.
However, do note that at times there are some discrepancies in availability between what British Airways shows online and what American agents can see over the phone, given that Qatar awards can't be booked at aa.com. When that's the case, what BA's site shows is often phantom space. However, that was also the case before this issue occurred.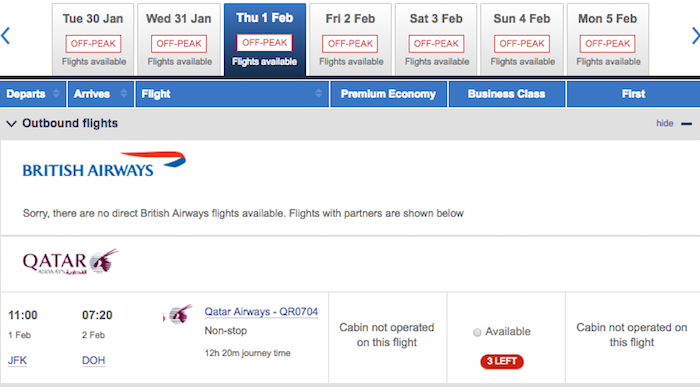 Ultimately I still don't know what exactly caused this issue. American told me it was a glitch that they were working on fixing, rather than anything intentional. I certainly give them the benefit of the doubt here, given how common these outages are among airlines.
I think a lot of confusion was caused by the fact that American and Qatar Airways are ending their codeshare agreement as of March 2018. I guess a memo went out about that, and I think a lot of phone representatives misinterpreted that to mean that you can no longer redeem American miles on Qatar. That's absolutely not the case, at least not as of now (and as usual, phone agents aren't always the best source of information).
Were you waiting to ticket a Qatar award, and if so, can American finally see the space you were looking for?