Cargo airlines operate some very interesting routes. For example, my home in Miami has a great view of the arrivals path for Miami International Airport, and nothing gets me quite as excited as seeing the Cathay Pacific Cargo 747-8 landing from Anchorage. That's not a route or plane most people would expect to see!
Qatar Airways' Controversial Nine Minute 777 Flight
There's currently controversy surrounding a Qatar Airways Cargo flight, which might also just be the world's shortest scheduled flight operated by a wide body cargo aircraft.
One of Qatar Airways' regular 777-200LR cargo routes (QR8173) is from Doha to Liege (in Belgium) to Mexico City. Liege is a cargo hub, so the route isn't too surprising, as I imagine they transport significant goods to both Belgium and Mexico with this route.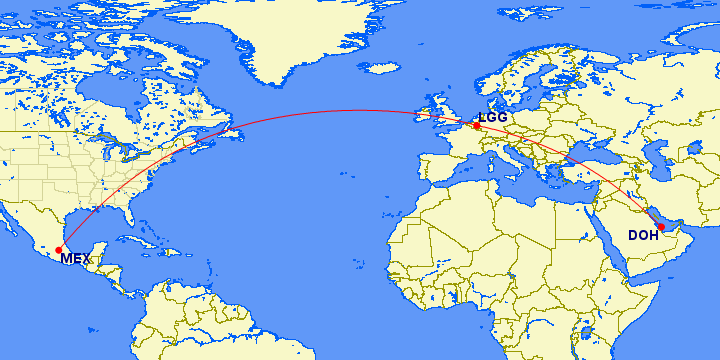 Well, on November 3 QR8173 took a slightly different route, as it flew from Doha to Maastricht to Liege to Mexico City.

The controversy arises from the fact that the flight from Maastricht to Liege covers a distance of just 24 miles, and took just nine minutes.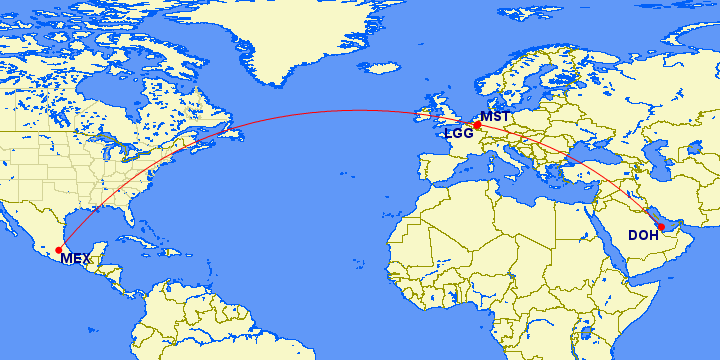 A similar flight is scheduled again in a few days.

Local politicians and environmentalists are outraged by this flight, pointing out the horrible carbon footprint of such a short journey, claiming that the cargo could have much more efficiently been transported by another mode.
So, what's the reason for this short flight? As Qatar Airways explains:
"A new Dutch client has requested us to have his cargo delivered at Maastricht Airport, for personal reasons. The runway at Maastricht, however, isn't long enough to take off and continue to Mexico. Hence, we decided to reposition the aircraft to Liege – with a longer runway – before continuing to Mexico."
Indeed, the longest runway in Maastricht is 8,200 feet, which wouldn't be long enough for a fully loaded 777 to take off. Meanwhile in Liege the longest runway is 10,800 feet.
Should Anything Be Done About This?
I feel like this is a slippery slope, as just everything seems to be nowadays (like the controversy about Facebook fact-checking ads).
In an ideal world should this flight operate? Absolutely not, it's no doubt wasteful. At the same time, presumably the customer was willing to pay extra for the plane to stop in Maastricht, so is it now on cargo airlines to decide the ethics of operating a particular route?
Furthermore, while this is no doubt bad for the environment, we ultimately don't know what they were carrying, how easily it could have otherwise been transported via other methods, etc. Presumably they paid a significant premium for this, so I imagine that decision didn't come lightly.
I'll be curious to see if pressure causes the airline to eliminate the Maastricht stop, or if it continues.
What do you make of this "controversy" — is it a non-story, or should Qatar Airways and/or the customer be ashamed for even considering this?
(Tip of the hat to Dennis & Aviation24)