Back in September Qantas and Emirates announced a huge new joint venture that would see the two airlines operating nearly 100 flights a week between Australia and Dubai. This was pretty big news given that Qantas literally kicked their alliance and joint venture partner British Airways to the curb (or as my friends on the other side of the pond would say, kerb) in favor of Emirates, which seemed to be the start of an out-of-alliance partnership trend we're seeing right now.
Anyway, what this joint venture essentially equated to is Qantas dumping their "Kangaroo route" flights, whereby their flights from Australia to London were routed via Singapore. Instead they're routing them through Dubai, with Emirates picking up many of Qantas' passengers in Dubai and flying them to destinations in Europe.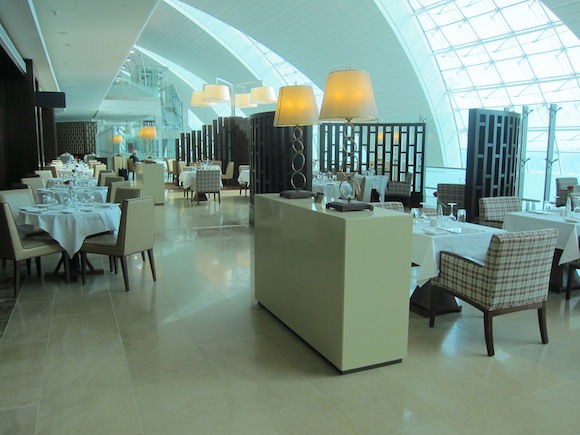 Emirates first class lounge in Dubai for Qantas passengers
These flights are scheduled to start as of March 31, 2013, and it's worth noting that they've now been loaded and are bookable.
The flight schedules for the Qantas flights are as follows:
QF1 Sydney to Dubai departing at 5:05PM and arriving at 12:35AM (+1 day)
QF1 Dubai to London departing at 2:05AM and arriving at 6:35AM
QF9 Melbourne to Dubai departing at 4:25PM and arriving at 11:25PM
QF9 Dubai to London departing at 1:00AM and arriving at 5:30AM
QF2 London to Dubai departing at 9:30PM and arriving at 7:20AM (+1 day)
QF2 Dubai to Sydney departing at 9:20AM and arriving at 6:10AM (+1 day)
QF10 London to Dubai departing at 10:30PM and arriving at 8:20AM (+1 day)
QF10 Dubai to Melbourne departing at 9:50AM and arriving at 6:15AM (+1 day)
Anyway, this is worth noting for a couple of reasons:
Qantas will no longer be flying between London and Singapore, which is a big loss since their Airbus 380s are much more comfortable than British Airways' 747s on the route, in my opinion.
This new route will be a great way to fly between London to Dubai. Right now only British Airways operates this route, so not only does Qantas have a better product, but if you're redeeming American AAdvantage miles there are no fuel surcharges on Qantas, while there are on British Airways.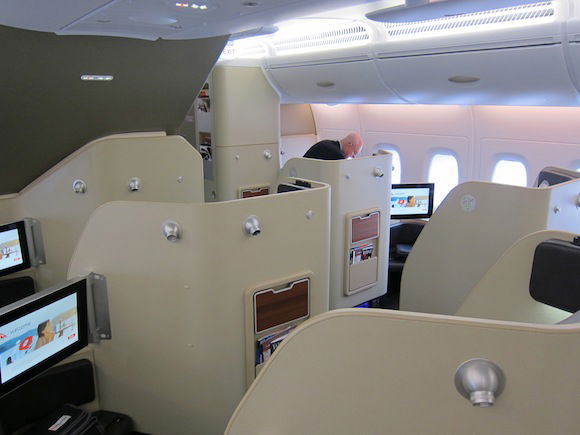 Qantas Airbus 380 first class
So far Qantas hasn't loaded much award availability into the calendar yet. I see maybe one or two days a month with first class award space, but then again that's not a lot more space than I saw on the London to Australia (via Singapore) route back in the day either.
As a reminder, for those of you looking to redeem American AAdvantage miles, here are the relevant mileage costs for travel between Europe and the Middle East, travel between the Middle East and Australia, and travel between Europe and Australia: