With oil prices as low as they are, it's somewhat puzzling why airlines are still imposing fuel surcharges. As I wrote about in November, the reason many airlines haven't lowered fuel surcharges is because they don't have to. There's no accountability.
Fuel surcharges don't impact most customers
There's nothing wrong with the concept of fuel surcharges as such. If there's a short period where the cost of oil spikes then I think it's fine (in theory) to impose a fuel "surcharge." That being said, when you charge it long term it's just ridiculous. You might as well offer free tickets and then have a crew surcharge, fuel surcharge, maintenance surcharge, etc.
Since fuel makes up a large portion of the operating costs of airlines, shouldn't it be a given that it's "included" with the price of a ticket?
But for most customers, fuel surcharges don't actually matter. That's because fuel surcharges simply make up a large portion of the fare an airline charges. So if an airline eliminated $800 in fuel surcharges they'd just add $800 to the base fare of a ticket, which would be perfectly justified.
It's frequent flyers that are getting screwed. That's because in many cases airlines pass on these surcharges.
For example, take the below British Airways fare between New York and London, which costs ~$1,000 roundtrip. The base fare is only $403, while they're charging $458 in fuel surcharges:
That means if you redeemed British Airways Avios for an award ticket on that flight you'd pay all the "fees" except the $403 base fare ($201.50 each way).
Which brings me to the point of the post.
Qantas will include fuel surcharges in base fare
Via Qantas' press release, they'll be working towards including the fuel surcharges in the base fare:
Overall fares will not change as a consequence of the surcharge gradually being absorbed into base fares, as prices advertised to customers already include taxes and charges. Qantas will continue to price competitively, with fares moving in line with the broader market.

While global fuel prices have fallen in recent months, international air fares are extremely competitive and are significantly lower than when surcharges were first introduced 10 years ago.

Given the size of the Qantas International network the process to absorb fuel surcharges into international base fares for up to 200 destinations will take time.  As overall fares are not changing, customers will not be disadvantaged.
As stated, this doesn't actually impact those traveling on revenue tickets. The fares will stay the same, just the way they're structured will change.
Kudos to Qantas on that change!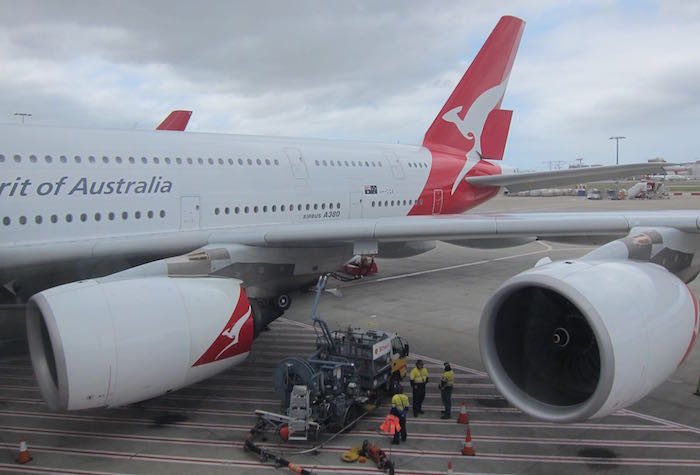 Qantas will lower the fees on award tickets
On the surface you'd think "great, Qantas is eliminating fuel surcharges, so now they're not going to charge those horribly high fees on award tickets, right?" Wrong:
From tomorrow, fuel-related charges that currently apply to Frequent Flyer on Qantas and Jetstar Classic Award redemption bookings will fall by up to $110 in Economy and up to $130 in Premium Economy on some routes for a return flight. Reductions will vary across the network but average around 14 per cent.
Instead Qantas will be reducing fuel surcharges anywhere from 0% to 26%, with an average reduction of 14%.
Australian Business Traveller has a handy chart showing the old and new surcharges that Qantas is imposing on award tickets: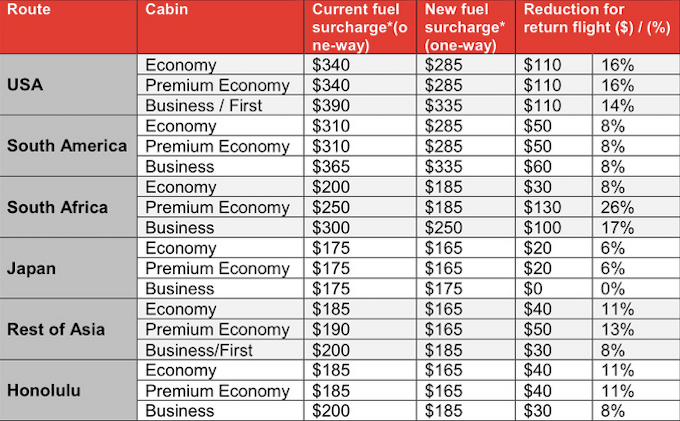 But really I think it's time airlines call these "surcharges" what they are — co-pays on award tickets.
It's that simple. Back in the day the argument could be made that "oh the cost of fuel is so high, we have to charge something on awards." But it's utterly disingenuous at this point to call these "fuel surcharges."
Anyway, for those of you booking Qantas award tickets using American AAdvantage miles, you don't have to pay these surcharges either way, so it's a moot point.
Bottom line
Personally I find Qantas' frequent flyer program to be among the least attractive out there. Their redemption rates are sky high, and surcharges are in some cases ridiculous.
Ultimately this is good news on one hand (Qantas is simplifying their fare structure), though on the other hand this exposes what a scam fuel "surcharges" are.