As much as I love meme culture, I feel like some of the shaming we're seeing of airline passengers is starting to cross the line.
Passenger Shaming
People do some pretty crazy stuff at airports and on airplanes. Sometimes it's really funny, while other times it's just really disgusting.
So in theory I'm amused by the concept of "passenger shaming." There's an Instagram account dedicated specifically to this that has become popular. It contains some real life pictures, and also some memes. The Instagram account now has a million followers, so it has become pretty mainstream, and I find it amusing.
However, at times it leaves me scratching my head, and I can't help but wonder if some of this stuff really crosses the line, and especially displays the unprofessionalism of some US airline flight attendants.
Sharing this? Totally fair, disgusting, and hilarious.
https://www.instagram.com/p/Bz9nyyFlyz1/
This? Also totally fair.
https://www.instagram.com/p/BwjwZa2npye/
When Does "Shaming" Cross The Line?
Is there a point at which this kind of "shaming" content crosses the line? Is it fair for flight attendants to share this kind of stuff on their public Instagram accounts?
For example, @thenonstopdan points to the below picture that's shared by a flight attendant, in which she tags @passengershaming, and writes "6 hour flight & you're GONNA WAIT TO PUT ON YOUR BOOTS AFTER EVERYONE HAS ALREADY DEPLANED. I hate you." The @passengershaming Instagram account shares that on their story.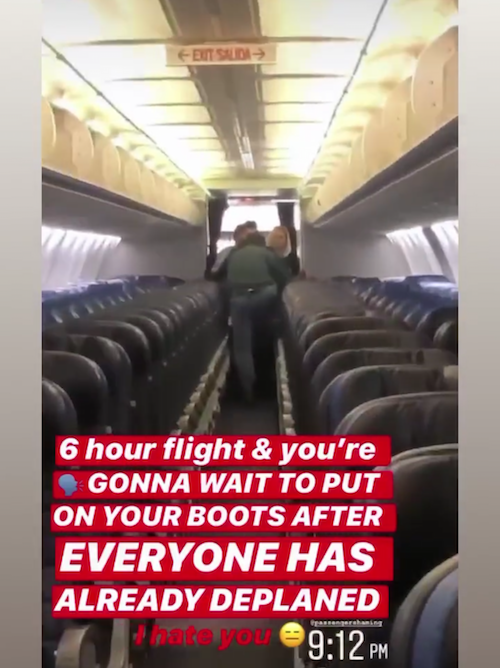 It's always nice to know when our flight attendants hate us! She doesn't have a private profile, so while I won't share her information, she is a United flight attendant, and she also seems to enjoy complaining. Her previous two stories are about how:
"Flying 6 days in a row sounded like a good idea until I realized how unpleasant I am on only day 4"
"Legal for my next trip by 8 minutes. Kill me."
She sounds like a real delight to fly with!
In this case I don't even think the passenger deserves to be shamed, without knowing more. Now, I do have questions about him taking off his boots to begin with, but I'm not sure I could put on boots in a regular economy seat to begin with, and the second the seatbelt sign goes off, it's not like you have much space in the aisle.
Bottom Line
I think the concept of passenger shaming can be done in a way that's humorous and points to the things we all think about when flying. To me it totally crosses the line if flight attendants are sharing pictures of passengers, not to mention saying they "hate" passengers, even if it's meant more as an expression than anything else.
It's one thing if something egregious is happening and it's a zoom-in on feet or something (though that still crosses the line, in my opinion), but if a passenger putting on their boots makes you hate them, maybe it's time for a new job?
What do you guys think — when does the passenger shaming concept cross the line?