Via The Straits Times:
A 15-hour flight to Hong Kong proved a particular ordeal for one US passenger who accidentally trapped his middle finger in a toilet rubbish bin early Wednesday, police said.

Police said in a statement the 32-year-old, identified only as Daniel, suffered the accident on a Cathay Pacific flight.

The passenger on the flight from Newark became trapped more than one hour before landing when he threw away some garbage and accidentally got his middle finger stuck in the bin, the South China Morning Post reported.

He called the flight attendants after he failed to extract his hand, but they had little option but to leave him standing in the toilet until the plane landed, it said.
Say what?! How do you get a finger — in particular, your middle finger — stuck in the lavatory trash bin? I can't even come up with a theory on this!
Anyone?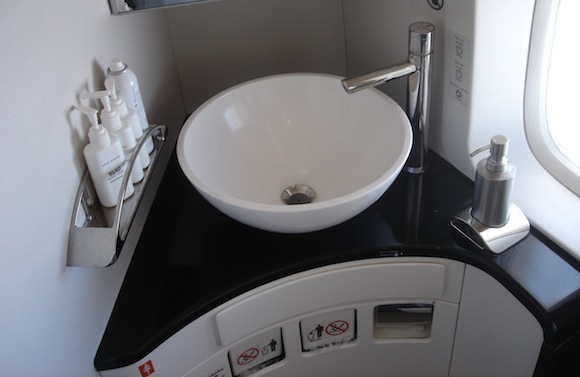 Cathay Pacific 747 first class lavatory