Oneworld has just announced some new benefits for oneworld Sapphire & Emerald members, which are valid as of today, December 1, 2014. Both of these changes are long overdue, in my opinion.
Here's the full listing of oneworld elite benefits now: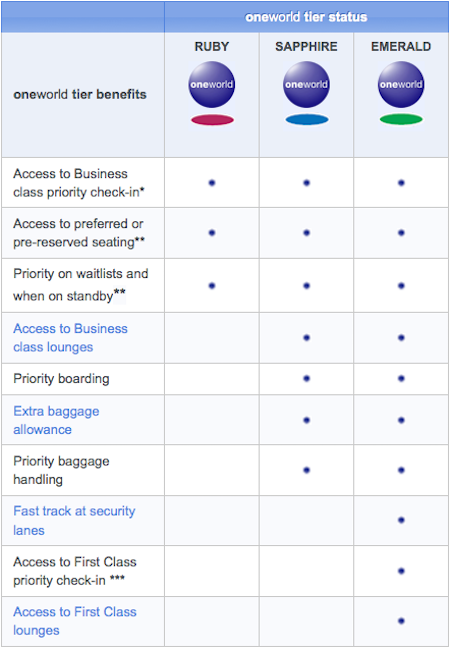 So what are the changes?
Priority baggage handling for Emerald & Sapphire members
The first new benefit gets oneworld Sapphire (mid tier) and Emerald (top tier) members priority baggage handling, even when they're not flying their "native" airline:
Most oneworld member airlines already aim to deliver as a priority checked baggage for their own top-level frequent flyers, along with other passengers flying in First or Business Class.

Now, this benefit is being extended to all frequent flyers with the equivalent of oneworld Emerald and Sapphire in any of the alliance member airlines' loyalty programmes when they fly in any cabin class with oneworld member airlines anywhere in the world.
This is the one that really confuses me. Up until now as a rule, oneworld hasn't offered priority baggage handling for elites. This is something that Star Alliance and SkyTeam have both been offering for eons. How it took this long is beyond me…
Additional baggage allowance for Sapphire members
The second benefit sees Sapphire members getting an increased baggage allowance, though the new limits aren't all that straightforward:
Following the launch last year of an additional baggage allowance for the alliance member airlines' most loyal customers – those with the top tier oneworld Emerald status – now cardholders with the next highest status, Sapphire, will also receive an additional baggage benefit.

From today (1 December 2014), when traveling on any flight operated and marketed by any oneworld member airline, the following special baggage privileges will apply to all Sapphire cardholders:

On international or domestic itineraries using the baggage allowance "weight" system – 15 kgs in addition to the ticketed Economy allowance.
On international itineraries (including domestic sectors flown as part of international itineraries) using the baggage allowance "piece" system – a second bag, weighing up to 23 kgs, when the ticketed allowance is one bag.
On purely domestic itineraries with flights using the baggage allowance "piece" system – the assurance of at least one piece of checked baggage, weighing up to 23 kgs, even when the regular ticketed allowance has no free allowance.

Customers traveling in First and Business Class cabins will in most cases receive an even greater free checked baggage allowance.

With all oneworld member airlines already granting Sapphire-level members of their own frequent flyer programme an additional baggage benefit when they fly on their "own" airline, today's move extends this privilege to when those customers travel on oneworld partner airlines.
So now you're either getting an additional free checked bag or additional weight, depending on the "system" the airline uses for determining checked bag limits.
Bottom line
Both of these changes are simply oneworld catching up with the competition. It's puzzling that it took them this long. On one hand oneworld is one of the most rewarding alliances, in the sense that they give top tier elite members access to international first class lounges. At the same time, up until now they haven't even given those members priority baggage handling.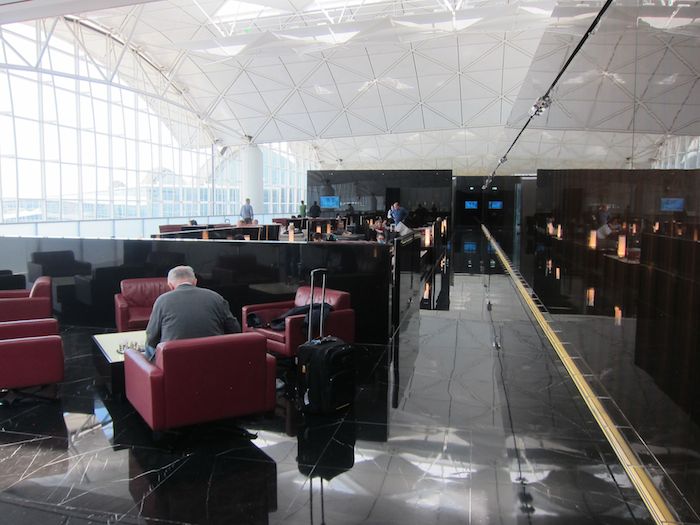 Oneworld Emerald members get access to the Cathay Pacific Wing First Class Lounge
Oh well, better late than never…