For better or worse (or probably both), the AAdvantage and Dividend Miles programs were integrated into one a couple of weekends ago.

Prior to the integration it was possible to link your AAdvantage and Dividend Miles accounts so that your mileage totals could be combined. However, a few days before the integration of the programs they discontinued the ability to do so, given that they needed to be able to "freeze" data for a smooth transition.
Then as of this week they've once again added the functionality to merge AAdvantage accounts. It's almost a no brainer to do this, given that it's advantageous to have all your AAdvantage miles in a single account, as opposed to having them spread between a couple of accounts.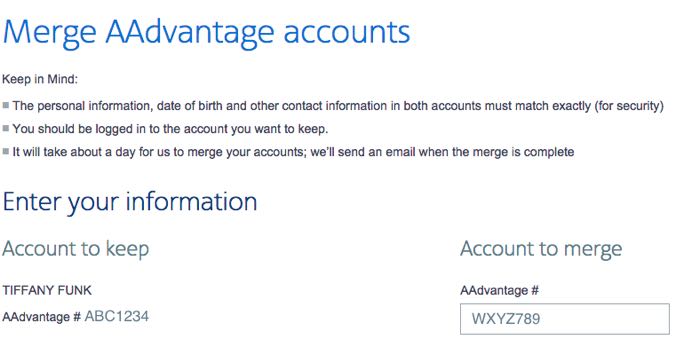 So is there any advantage to not merging your AAdvantage accounts yet?
Keep in mind that through April 30, 2015, American is offering up to a 60% bonus on purchased miles, meaning you can purchase AAdvantage miles for as little as two cents each, which is among the lowest cost we've ever seen for purchasing AAdvantage miles (though doesn't come close to the good old days of Dividend Miles).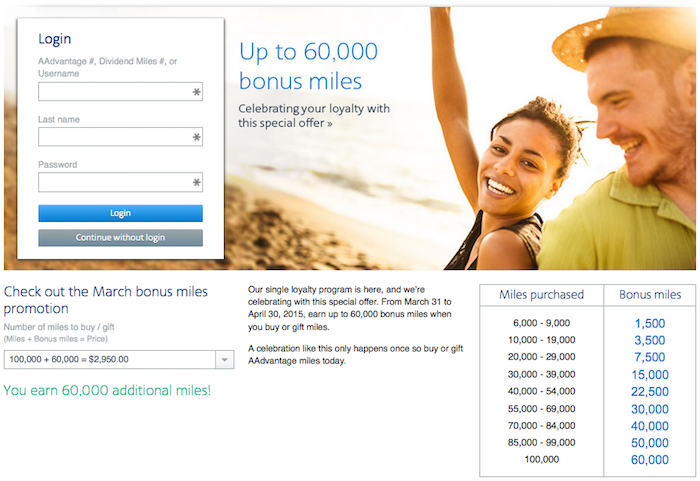 The catch is that you're limited to purchasing up to 100,000 AAdvantage miles per account per calendar year (before any bonuses).
Therefore you can actually purchase more than 100,000 miles (pre-bonus) if you simply do so before merging your two AAdvantage accounts, since you can max out the limit for each account:
This would allow you to purchase up to 100,000 miles for each account (plus the 60,000 mile bonus)
If you just want to purchase 100,000 miles, maybe do so out of your "transitioned" AAdvantage account first, so that it won't count towards your purchase limit once you merge that account into your "original" AAdvantage account
Bottom line
Personally I'm not interested in buying AAdvantage miles for 2.0 cents each, though that's because I already have so many American miles. With a specific use in mind, buying AAdvantage miles for that price could represent a great value.
So if you haven't yet linked your AAdvantage accounts, this is an easy workaround to purchase up to 320,000 AAdvantage miles (with the 60% bonus) for what will eventually become a single AAdvantage account.