I have a lot of opinions on how people should redeem points. And that's not to say I'm right, but it won't stop me from having opinions. 😉
As a very general rule of thumb (there are exceptions), I tend to think there are two ways to "best" redeem points:
Airline miles should be redeemed for flights, and hotel points should be redeemed for hotels
Points should be redeemed in a way which brings you the most happiness, ideally for an experience you couldn't otherwise afford or attain
For example, while you can redeem your Starpoints for everything from gift cards to charitable donations, I don't think those are efficient uses of points. I'd much rather redeem Starpoints for hotel stays or convert them into airline miles. Except…
SPG Moments
Unarguably the coolest non-hotel/airline redemption that Starwood offers is SPG Moments. Through SPG Moments you can redeem Starpoints for tickets at sold out events including concerts, sporting events, cultural activities, etc.
This really isn't a gimmick. SPG Moments not only represents a great value in many cases compared to what you'd pay for a similar experience in cash, but in many cases it can get you VIP access to otherwise sold out events.
There are two "types" of SPG Moments you can redeem Starpoints for — some have set prices, while others require bidding, where the highest bidder wins.
Taylor Swift tickets… FINALLY!
For example — and I'm being 100% sincere here — I'm a huge Taylor Swift man. HAH-UGE. For months I've been checking on a semi-weekly basis to see if there were any Taylor Swift concerts available through SPG Moments.
Truth be told up until a couple of weeks ago I was also looking for One Direction tickets, but since they lost Zayn I'm just not really feeling them as much anymore.
Lo and behold, SPG Moments relaunched yesterday with a bunch of new events, and guess what you can score tickets to?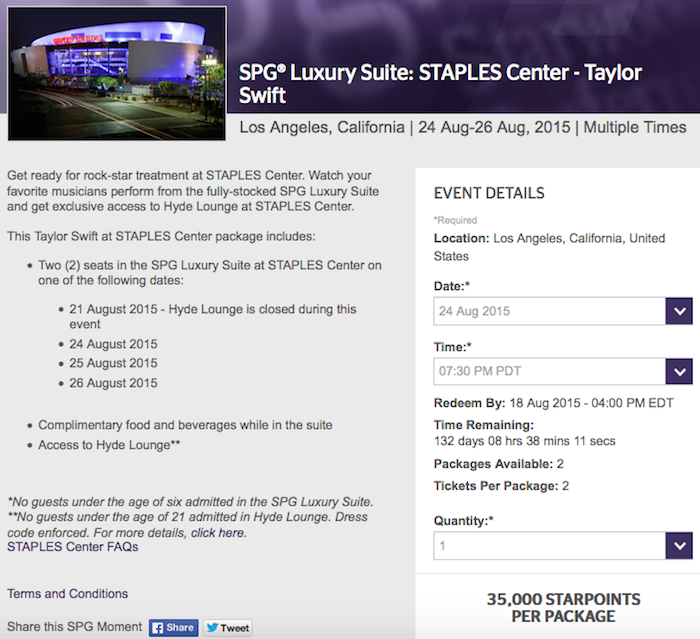 For 35,000 Starpoints (the equivalent of 105,000 Marriott points) you can get two seats in the SPG Luxury Suite and access to the Hyde Lounge at Taylor Swift's Staples Center performances in August.
Best I can tell there's not actually a way to buy these types of seats and/or they're sold out, so that's a really cool experience.
Meanwhile if your taste in music isn't quite as good as mine, there are plenty of other packages you can bid on, including VIP Backstreet Boys tickets and Katy Perry tickets. 😉
Bottom line
SPG Moments isn't just potentially a great use of points in terms of value, but can also offer an unforgettable experience. After all, what better use of points than making your 12 year old daughter/favorite 20-something year old blogger happy?
If you haven't recently taken a look at SPG Moments, be sure to take a look, as dozens upon dozens of new events have gone "live."
Have you ever redeemed Starpoints for SPG Moments, and do you see any event on the list which interests you?