If there's one thing that's tough about constantly being on the road it's eating healthy and working out. Airplane food isn't exactly healthy, especially when you fly a lot in international premium cabins. And I have the added justification of trying everything I possibly can cause I want to be able to report back to you guys. As far as working out goes, between jetlag, timezones, and trying to get work done while still sightseeing at a destination, it can be tough to find the time or motivation to work out. And at least for me if I don't have a workout schedule it's just not happening.
After spending a bit too much time on the road and too little time at the gym and eating healthy, I'm finally back into the swing of things. Usually I still go "all out" on airplanes, though today I'm going to see what it's like to only drink water and eat a minimal amount of healthy food.
I'm headed to South America today on American (though I feel like I'm headed to South America every time I fly with them into/out of "Mee-ammi"), and have three segments on them in premium cabins to get there. I think this is a great opportunity to give this a shot since I'm so familiar with their product and don't think I'm depriving you guys of any food picture goodness. Skipping hot nuts and the ice cream sundae won't be easy, though!
Anyway, so far so good. I got up at 4AM this morning to go to the gym, and have been drinking water all day. One of the nice things about eating less/healthier is that you're not as hungry, which makes things easier. So far I've had some yogurt in the lounge before departure and this for breakfast: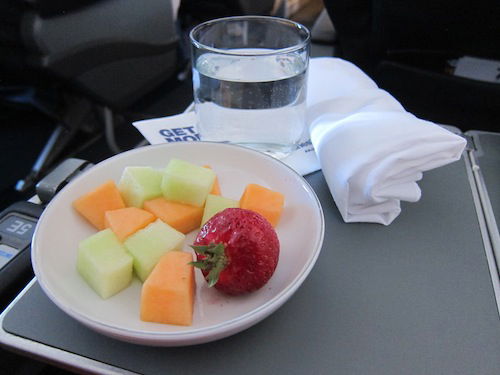 A bit healthier than the quiche with a muffin that I was offered.
Then for lunch it'll be a protein bar and banana, and we'll see what I have for dinner tonight, if anything.
The reason I'm mentioning this is because a) you better curb your appetite for my trip report now and b) a lot of jetlag "experts" suggest not eating on planes as a method of arriving more well rested, so we'll see how it goes. Even though I'm "only" flying business class I'll be sporting my American pajamas, and will try to get comfortable and sleep as soon as we take off.
In the meantime I'll keep going to the gym regardless of how exhausted I am or what else is going on in my life.
Now, this whole plan will get a lot more complicated when I fly some international first class products over the coming months that I've yet to review. Doubt you guys would let me skip a first class meal on British Airways, Emirates, Air China, Korean Air, and China Southern (all of which are coming reasonably soon). I guess I'll still go for all the courses but just sample them instead of going to town. And by then hopefully the results will have kicked in and I won't mind enjoying a nice meal in conjunction with the gym.
Oh, and the toughest part of all this? No Diet Coke with lime. I'm pretty sure I drank enough Diet Coke to keep them in business, so that's the toughest thing to kick out of my life. I hope this doesn't translate to them not having any Superbowl ads next year.
If I keep this up I might even go for a date when I fly Emirates… along with Arabic coffee, of course!