A lot of US airlines market "direct flights," which I find to be an incredibly deceiving concept. Basically two segments have the same flight number, even though they're operated by different aircraft, from different gates, etc. For example, United 900 operates between San Diego and San Francisco (on an Airbus 320) and then San Francisco to Frankfurt (on a Boeing 747). Many would book San Diego to Frankfurt as a "direct" flight, thinking it's nonstop. Not only is it not nonstop, but you could very well misconnect in San Francisco, despite having originally thought you were on a "direct" flight.
And that's the major distinction between a direct flight and a nonstop flight. A direct flight is all about marketing, while a nonstop flight is, well, nonstop… or so I thought.
Just for fun (yes, this is how exciting my Monday nights are) I was pricing out fares on Malaysia Airlines' website this evening between Kuala Lumpur and Los Angeles, and this flight came up:

Now, those with a basic understanding of geography are probably thinking that this is a pretty darn long nonstop flight. Then I clicked on the flight details, only to find this: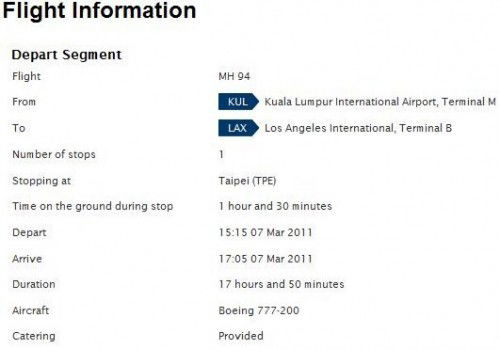 Interesting. A nonstop flight from Kuala Lumpur to Los Angeles… with one stop.