Since I had three meal flights this past weekend on Northwest, I wanted to quickly report back on what was offered.
TPA-DTW was a breakfast flight, with the choice being between an omelet and cereal. In addition there was a choice between a bagel or a square of some sort of oatmeal. I went with the omelet and the oatmeal, both of which were delicious(ly unhealthy). The omelet had a bit of cheese, and was even better than the United omelet. I know a lot of people hate airplane omelets, but I love them. The meal also came with a decent sized plate of fruit, consisting of tons of blueberries, along with some melon, pineapple, kiwi, and a strawberry.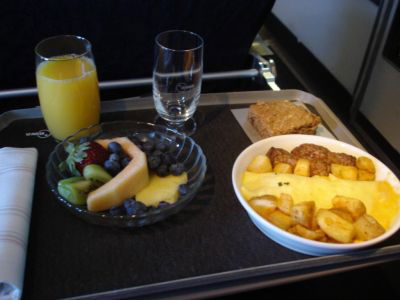 Breakfast omelet, fruit, and oatmeal bar
DTW-IAH was a lunch flight. The choices were either a cobb salad or a turkey sandwich. I went with the cobb salad, and thanks to the three other FlyerTalkers in first I was able to get a picture of both meals. The salad was delicious, and was served with fruit, a roll, and an incredibly delicious cookie. Seriously, whatever cookies they serve onboard are probably the best in the world.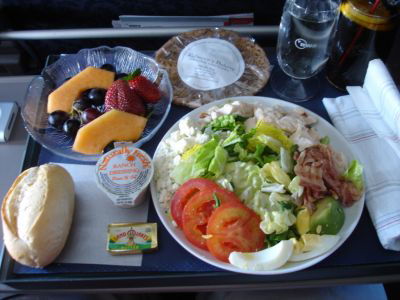 Cobb salad, fruit, a roll, and a cookie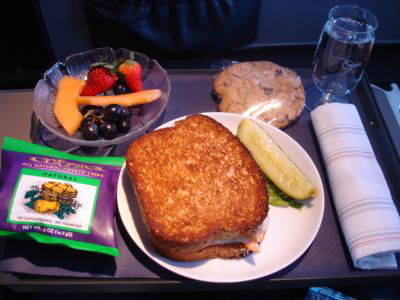 Turkey sandwich, chips, fruit, and a cookie
IAH-DTW was a dinner flight, with the choice being between "fiesta chicken" and lasagna. I went with the chicken, while my seatmate, also a FlyerTalker, went with the lasagna. The dinner was served with a greek salad and a slice of cheesecake. The meal was good all around, and I have to say Northwest has the best desserts in the world. The cheesecake was incredible, probably the best I've had, be it on the ground or in the air.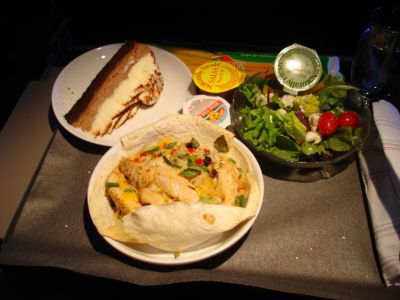 Fiesta chicken, salad, breadsticks, and cheesecake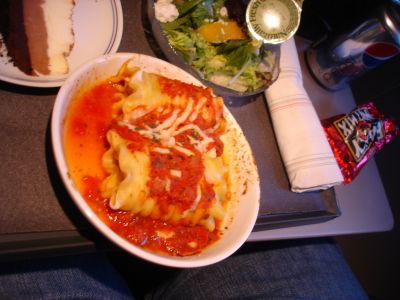 Lasagna
Because I had four drink/snack coupons that were expiring at the end of the month I decided to buy some M&M's and trail mix to take home so they didn't go to waste. I saw a few people in first giving me a total freeloader look, especially when I took a picture of the snacks.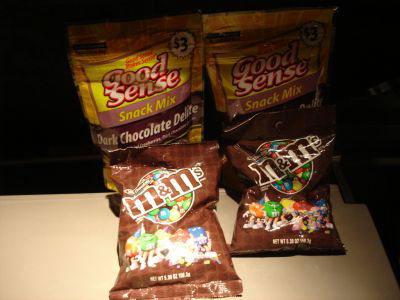 Snacks
Overall Northwest's meal service is impressive by domestic standards, especially their desserts. Given the fact that none of these flights were over two hours, I'd say Northwest has a solid product.