Perhaps file this one under the "no $&*%, Sherlock" category, but I had an interesting experience yesterday on a mileage run to Managua, Nicaragua.
I was flying from Miami to Managua and back, with a 65 minute layover in Managua. As it turns out, two frequent flyer friends happened to be on the same flights, even though it wasn't coordinated in advance. I was planning on just making the best of the transit on my own, though they had contacted the airport VIP service to help with the transfer, which a lot of people on mileage runs have recommended in the past. It's $30 per person, which seems steep for helping with a transfer, but then again if it's the difference between making your connection and not, it's worth every penny.
While we already had our boarding passes for both Miami to Managua and Managua to Miami, in Managua you have to clear entry immigration, then clear exit immigration, and then go through security, so it can get tight. Most of the time it's not an issue since the airport doesn't have a lot of flights, but if another flight lands around the same time you're kind of hosed.
Our flight from Miami to Managua was late, meaning we only had about 50 minutes till our flight (the same plane) was scheduled to depart. The crew on the flight does a direct turn, and the purser, TC, was spectacular. I told her that she better not leave without us or we'd be stranded, and she was amused by the whole situation and said she'd do what she can.
So we get off the plane in Managua and sure enough at the corridor at the end of the jet bridge is someone that has a sign with my friend's name on it. He didn't speak any English (actually I don't think anyone we interacted with at the airport comfortably spoke it).
Another representative approached, and we handed her our passports, immigration forms, and the $10 entry fee for Nicaragua.
Meanwhile the other agent escorted us to the "VIP Lounge." We sat there for about 15 minutes and kind of felt like they didn't grasp that we were on the flight back to Miami, though after showing them the boarding passes once again and pointing to the departure time they got the point, I think.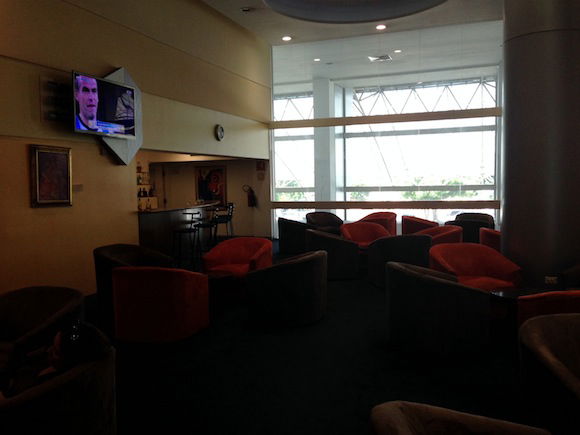 There's an immigration officer in the lounge, and at this point he called me over because he wanted to "ask [me] some questions." Funny enough in my over three million miles of flying and countless number of mileage runs I've never really been quizzed much at immigration.
That being said, when it comes to immigration I tend to take the following approach:
Be totally honest
Language barriers are a good thing, since they're less likely to question you when they're not comfortable doing so in your language
At the end of the day if you confuse them and you're on a flight out of their country, aren't they better off having you leave on the next flight vs. sticking around?
He asked if I spoke Spanish, and when I said I didn't he did his best to speak in English, though it was clear he was outside of his comfort zone:
Immigration officer: What is the purpose of your visit?
Me: I'm just in transit, I have a one hour connection here and haven't left the airport.
Immigration officer: You come from where?
Me: I'm coming from Miami.
Immigration officer: And you go where?
Me: I'm going to Miami.
Immigration officer: But… *lets out a loud sigh*
Me: I am doing this because American had a very cheap ticket and I earn a lot of miles I can use towards travel to Europe with this ticket.
He takes another deep breath and thumbs through my passport for about a minute and keeps opening his mouth as if he wants to say something, but can't seem to get the words out. So he just says "okay, you can sit down."
I sit back down, and several of the employees in the lounge are talking in Spanish. At this point we're asked if we want a drink. No, ideally we'd like to get on our flight, since it was scheduled to depart in 25 minutes at this point.
A few minutes later another immigration officer in a more official looking uniform comes to where we're sitting and sits down next to me.
Immigration officer: Benjamin, I must ask you a few questions about your travel.
Me: Okay…
Immigration officer: So you are flying from Miami… and flying to Miami. How long are you here for?
Me: Just an hour, we haven't left the airport.
Immigration officer: So why would you come here?
Me: American had a very cheap fare so I booked it to earn some miles.
I figured I would quantify it a bit so he'd maybe understand a bit better (even if it was more of a theoretical explanation than anything else, given that he wouldn't understand it any other way).
Me: The ticket cost $300 and because American Airlines is offering a promotion I earn enough miles from this ticket to take a trip to Europe for free.
Immigration officer: Which company do you collect miles for?
Me: I earn miles for myself, I don't work for a company. But I am earning American Airlines miles.
Immigration officer: So you work for American Airlines and are collecting miles for them?
Oy, he really doesn't get how this works!
He went off to speak to his colleagues, and after a couple more minutes of processing documents sent us on our way.
We made our flight with time to spare.
Anyway, surprisingly this is the first time I can recall actually being questioned at immigration. Back in my pre-Global Entry days I've had some US immigration officers ask the purpose of my trip and when I explained it was for the miles they'd smirk and send me on my way, since they realize it's a harmless "thing."
But it's much tougher to explain the concept of a mileage run to someone that has probably never earned a mile in their life.