This is one of those stories where you can't help but love social media…
Man complains about $78 meal at Newark Airport
On Wednesday, September 20, 2023, New York Times columnist David Brooks took to X/Twitter to complain about the cost of a meal at Newark Airport. Specifically, he claimed that "this meal just cost me $78 at Newark Airport," and continued that "this is why Americans think the economy is terrible."
The picture shows an average-looking burger with fries, and some sort of liquor on ice.
Brooks' post went viral, and as of the time of this post, has over 32 million views. I think this went viral partly because the message was relatable to so many people. After all, airports are known for having ridiculously high prices for things, and that's a frustration that many travelers face.
But even with inflated airport prices, the $78 figure seemed absolutely ridiculous. People immediately started questioning Brooks as to what he was drinking, and what exactly the cost breakdown was between the food and the drinks.
Newark Airport restaurant claims 80% of bill was drinks
1911 Smoke House Barbeque (which has the slogan "You Can't Beat Our Meat," lol) has an outpost at Newark Airport. I guess someone at the restaurant saw the story, and identified the meal as having been served there. Rather than trying to avoid being associated with this story, the restaurant embraced it. The company posted to its Facebook page that almost 80% of his bill was the bar tab:
Looks like someone was knocking back some serious drinks – Bar tab was almost 80% and he's complaining about the cost of his meal 🤔 keep drinking buddy – we get paid off everything.
Indeed, someone posted a picture of the menu online, and a burger and fries only cost $17 (which seems rather reasonable for an airport, to be honest). In Brooks' honor, the restaurant even created a special, including a burger with fries, and a double shot of whisky, for only $17.78 (with the amount of $78 crossed out).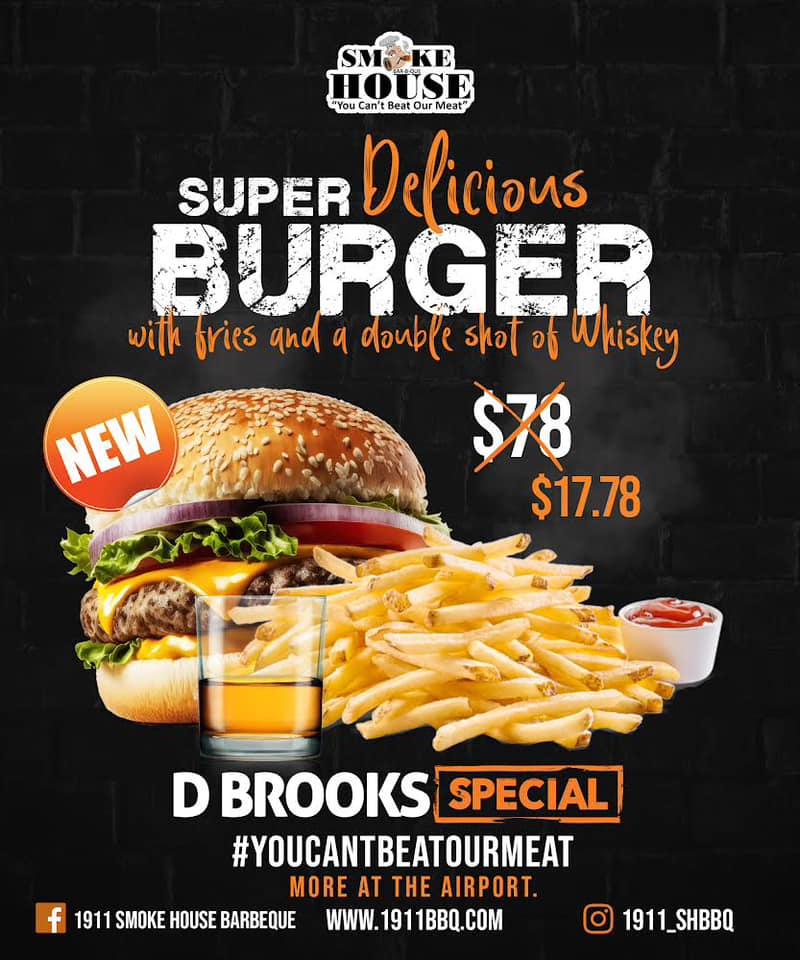 The $78 memes are kind of amazing
People are really going to town with this situation, and I can't blame them. I'm cackling at some of the responses people are posting…
Bottom line
While airports are known for having high prices, a recent complaint by someone about a $78 meal at Newark Airport went viral, because the pricing just seemed too obscene. As it turned out, the guy had ordered a $17 burger, with the remaining money being spent on alcohol. Then he had the audacity to claim that his decision to spend around $60 on alcohol (when he presumably knew exactly how much it would cost) reflects why Americans think the economy isn't good.
In the age of social media, it amazes me that people aren't savvier in this way. The guy made a ridiculous claim, so did he not think that anyone would fact check him? Huge kudos to the restaurant for generating some buzz and publicity from this… brilliant.
What do you make of this Newark Airport burger incident?