A jet in Russia pulled off a pretty impressive emergency landing today, though the circumstances surrounding this are quite strange, as reported by The Aviation Herald.
Ural Airlines A320 has hydraulic failure, lands in field
This incident happened today (Tuesday, September 12, 2023), and involved Ural Airlines flight U61383, scheduled to operate a domestic flight from Sochi (AER) to Omsk (OMS). The 1,685-mile flight was operated by a 19-year-old Airbus A320 with the registration code RA-73805, and had 165 people onboard, including 159 passengers and six crew.
The flight was routine, until the aircraft attempted to land in Omsk, where the plane approached Runway 7, which is approximately 8,200 feet long. At an altitude of around 2,000 feet, the pilots initiated a go around, as the aircraft reportedly had a hydraulics failure (presumably they learned this shortly after they tried to lower the gear).
At this point the pilots made the decision to divert to Novosibirsk (OVB), around 370 miles from their current location. The reason they decided to divert is because with the hydraulics issues, they were worried they wouldn't be able to stop in time on the runway at the airport, due to its length. However, Novosibirsk has a runway that's 11,800 feet long, so they felt safer landing there.
The jet climbed up to 18,000 feet, and began its flight to Novosibirsk. The aircraft intentionally maintained a slow speed of just 300 miles per hour (ground speed) given the hydraulics issues, as the landing gear doors couldn't be closed.
While enroute to Novosibirsk, the aircraft ended up burning more fuel than planned. That was due to a combination of strong headwinds, as well as added fuel burn from the slow speeds and the drag from the landing gear compartment being opened.
As a result, the decision was made to ditch the aircraft in a field, near the village of Kamenka, around 120 miles from Novosibirsk. The pilots looked for the safest field in which to ditch the plane, and pulled off quite the landing. All passengers and crew managed to evacuate safely, with no major injuries.
The West Siberian Investigative Committee has now opened an investigation into the incident.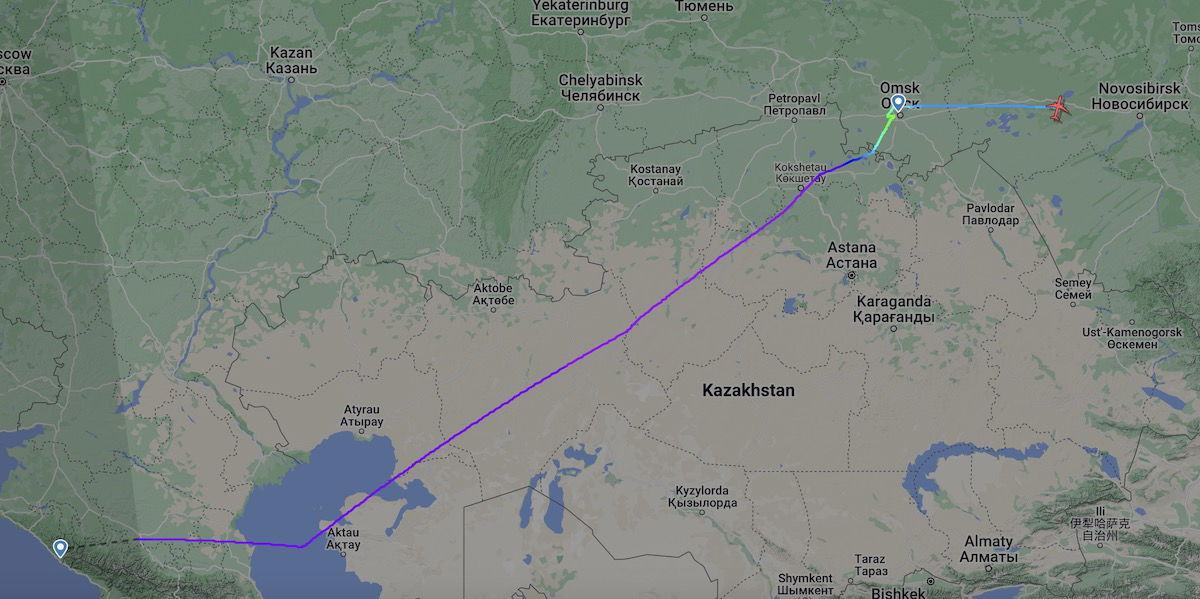 This is a strange incident with impressive airmanship!
Russia's aviation sector has been in a state of disarray, ever since Putin's invasion of Ukraine. Due to sanctions in place, Russian airlines are no longer able to do business with many western companies. They can't take delivery of Airbus and Boeing jets, and can't even directly get the parts required for aircraft maintenance.
We've essentially seen Russian airlines "steal" many planes from western aircraft leasing companies, and these jets are partly flying around uninsured. Aeroflot is now sending some planes to Iran for maintenance, and Aeroflot has started flying planes without brakes. It's only a matter of time before we see a major fatal crash.
That being said, as far as this incident goes:
While we usually wait on investigators to tell us the cause of a crash, I wouldn't exactly expect Russian authorities to be terribly transparent in their investigation
A hydraulics failure could happen on any airline; it's possible that it was just a coincidence that this happened on a Russian airline, or it could be that the hydraulics issue was due to not being able to get the proper parts for maintenance
Upon performing a go around in Omsk, it's interesting how the pilots immediately made the decision to divert to Novosibirsk, and I'm curious what data they were going off of with thinking they had enough fuel to make it, given that the hydraulics failure meant they'd be flying with their gear doors open
No matter how you slice it, the pilots did an incredible job safely landing this plane in a field, avoiding all human injuries
Bottom line
A Ural Airlines Airbus A320 suffered a hydraulics failure while on approach to Omsk, Russia. The pilots made the decision to divert to Novosibirsk so that they'd have access to a longer runway, but they didn't have enough fuel to make it. As a result, they ended up landing the jet in a field. While the aircraft is badly damaged, there were no injuries. I'm happy to see that everyone is okay.
What do you make of this Ural Airlines A320 emergency landing?