Well, now I've seen it all. The newest airline in the United States is Red Way, which will operate flights exclusively out of Lincoln, Nebraska. In reality Red Way is just a paper airline, as flights will be operated by charter carrier Global Crossing Airlines. Hmm…
Red Way & Global X launching Lincoln flights in June 2023
We hear of all kinds of airline startups, and most of them never come to fruition. Seemingly out of nowhere, a new airline has not only been announced, but has put flights on sale, for travel starting in several weeks.
Red Way is a new public charter airline that will be acting as a sales agent on behalf of GlobalX Air Tours. Then Global Crossing Airlines will be the direct air carrier. So while you'll buy tickets with Red Way, your flight will be operated by Global Crossing Airlines aircraft.
Red Way will be based in Lincoln, Nebraska (LNK), and will initially operate flights to the following destinations:
2x weekly Orlando (MCO) service starts June 8, 2023
2x weekly Minneapolis (MSP) service starts June 8, 2023
2x weekly Atlanta (ATL) service starts June 16, 2023
2x weekly Dallas (DFW) service starts June 16, 2023
2x weekly Las Vegas (LAS) service starts June 16, 2023
2x weekly Austin (AUS) service starts June 24, 2023
2x weekly Nashville (BNA) service starts June 24, 2023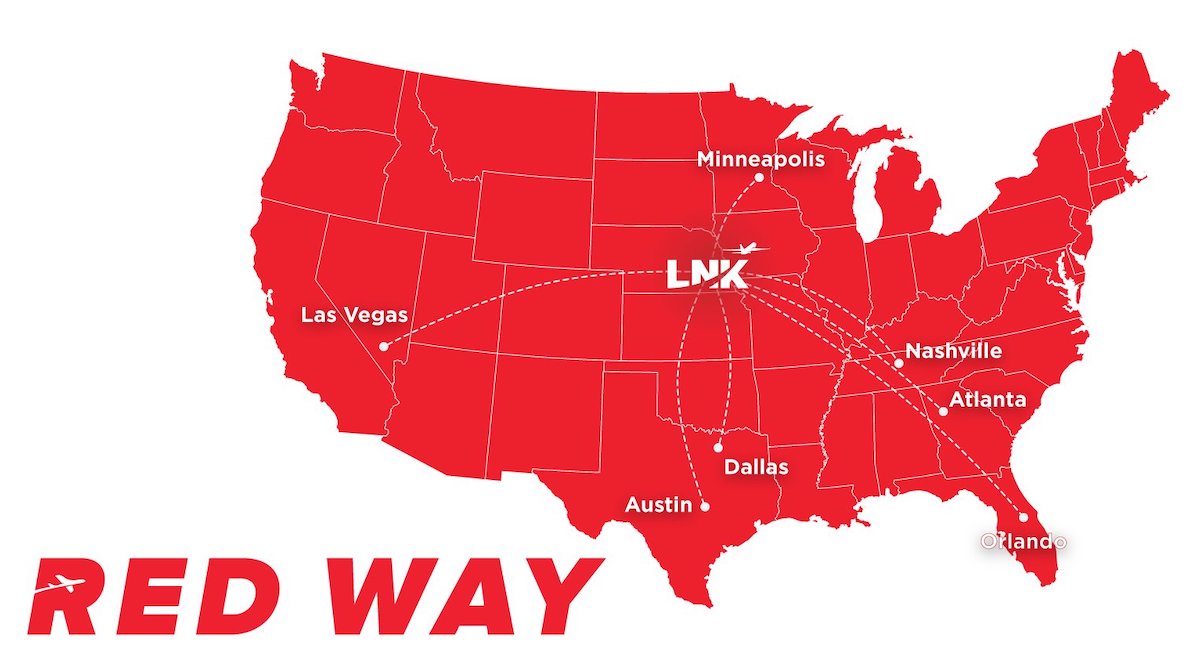 Red Way is an ultra low cost carrier, and fares for these flights start at just $59.

Red Way has several fare bundles, and it's interesting how quickly prices increase. For example, looking at a Lincoln to Las Vegas flight, fares start at $59 one-way, but the higher fare bundles cost $184, $359, and $449. Food and drinks are available for purchase onboard these flights.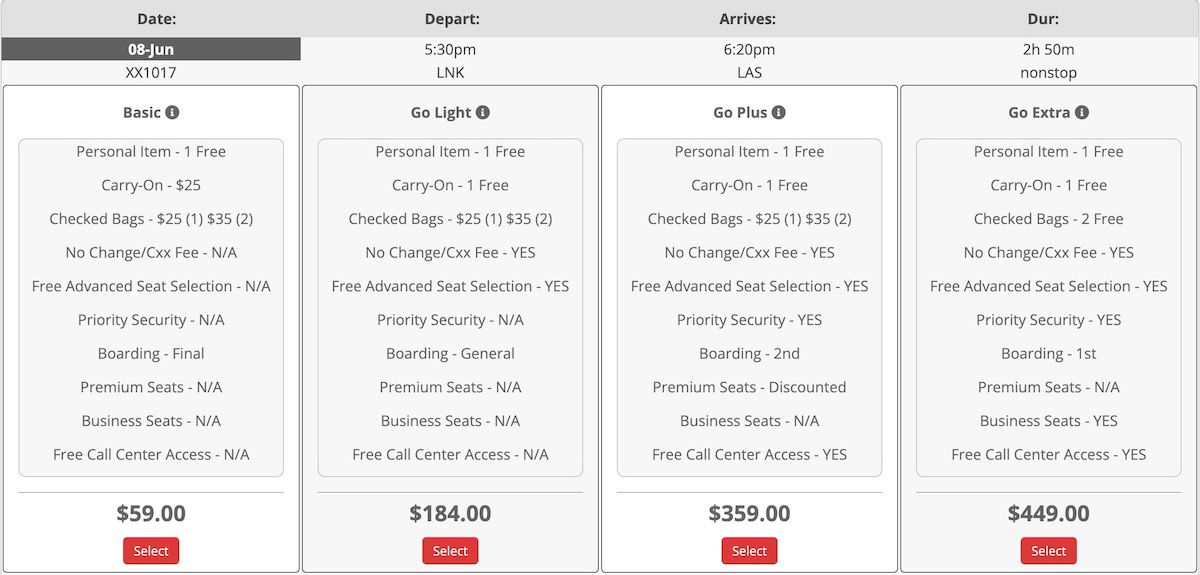 Flights are already on sale directly on Red Way's website.
Red Way is very committed to Nebraska, and describes its mission as being "to create superior air travel experiences for the people of Nebraska by offering convenience, affordability, exciting destinations, and incredible customer service." The company's slogan is "Fly Local and Travel Far." The airline claims to believe in the power of community, and that this will lead the airline to succeed, as the local Nebraska market supports the airline.
For context, Lincoln currently only has air service from United Express, as the airline flies regional jets to Chicago, Denver, and Houston.
Here's what the CEO of GlobalX had to say about choosing Lincoln (which almost sounds like something you'd expect to hear from someone running for office):
"Lincoln represents the very best of America. Hometown values, hardworking citizens and a real zest for capitalism. We've looked at the numbers. There's been a lot of research and analysis that's gone into this, and we know that this is a winner."
What a unique business model…
Tomorrow might be April Fools' Day, but this new airline is no joke. Logically speaking, most people are probably scratching their heads about this. So a new airline will exclusively operate flights out of Lincoln, an airport that other airlines can't seem to operate to profitably? And on top of that, a company will essentially be selling tickets on behalf of another airline?
The first logical question is probably why the company chose Lincoln as a hub. Sure, while the CEO of Global X claims it's all about "hometown values, hardworking citizens, and a real zest for capitalism," there's another major factor.
Roughly $3 million in funds from the American Rescue Plan Act have been put into this project, to get Red Way to launch flights from Lincoln. So that's a pretty major incentive. I'd be curious about the terms associated with that, and for how long this service has to be maintained to secure all those subsidies.
Keep in mind that this is a really low risk startup. Global X is a charter airline that leases out its planes, either to other airlines, or for projects like this. So no additional planes have been acquired to start this service, and for that matter, no additional pilots or flight attendants need to be hired.
Rather Global X will be doing the flying here, as it currently does for other projects. This also means that it would be pretty easy to wind down this airline in the future, if need be, as these planes can just operate other missions. The planes won't even be getting new paint jobs.
I guess the one thing I'm confused about here is what Red Way is? I get the company has a website selling tickets. Is that purely to avoid any repetitional damage for Global X if this doesn't work out, or…?
Even with how low risk this is, I can't imagine there's much merit to this service beyond the incentives being offered by the community. It's pretty telling that none of the ultra low cost point-to-point carriers in the country have attempted to touch Lincoln, from Allegiant, to Breeze, to Frontier, to Spirit. That should tell you a lot about the existing level of demand (or lack thereof).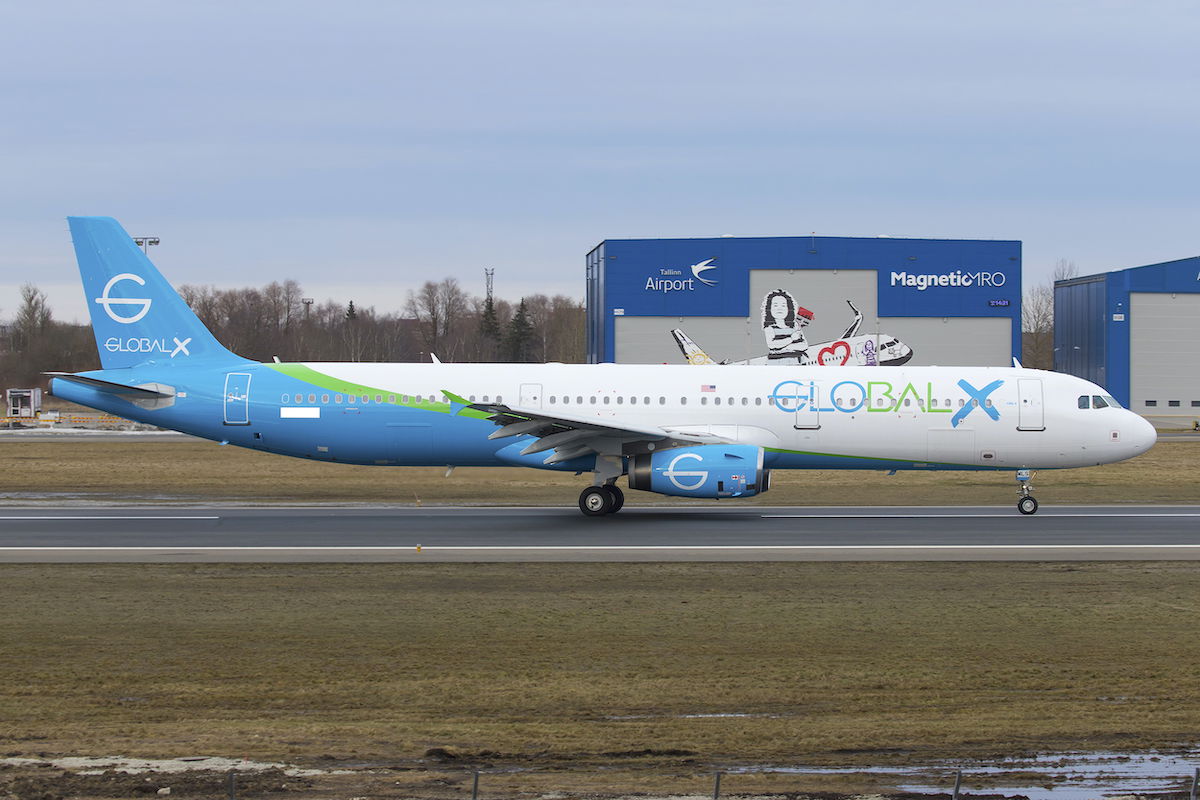 Bottom line
Red Way is the newest paper airline in the United States, as it will launch operations out of Lincoln, Nebraska, as of June 2023. The airline will initially fly 2x weekly to seven different destinations, and flights will be operated by Global Crossing Airlines aircraft.
If this concept seems strange, you're not alone. You have to look no further than the $3 million in incentives being given out to make sense of this service. The question is how long it will last…
What do you make of Nebraska's new hometown airline?