FlyDubai's two senior managers at Kathmandu Airport (KTM) have been banned from entering the airport, as they're accused of making misleading claims… this is beyond strange.
FlyDubai Boeing 737 suffers engine issues departing Kathmandu
This incident happened on Monday, April 24, 2023, and involves FlyDubai's flight FZ576 from Kathmandu, Nepal (KTM), to Dubai, United Arab Emirates (DXB). The 1,861-mile flight was operated by a roughly 10-year-old Boeing 737-800 with the registration code A6-FED.
Shortly after departure, an engine incident happened with the aircraft, as there were streaks of flames coming from one of the engines. Video from the ground shows this, while video from inside the cabin shows bright lights, and you can also hear banging noises.
Following the incident, the aircraft entered a holding pattern near Kathmandu… and then eventually the decision was made for the plane to continue to Dubai. It landed there safely 4hr37min after departure, so the flight was only around 10-20 minutes longer than usual. At the time, FlyDubai reported that this incident was due to a bird strike, but that it wasn't serious enough to require a diversion.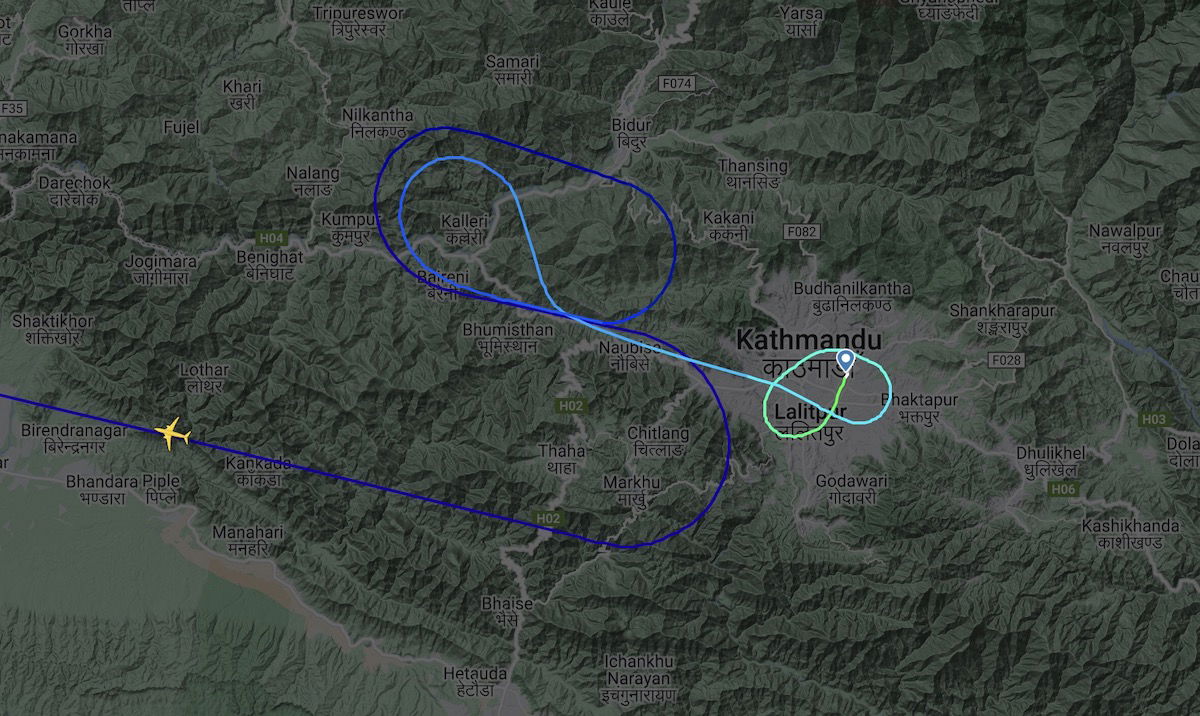 The reason this flight initially got some media coverage is because there were questions about why the pilots would choose to continue to fly back to Dubai when an incident like that happened. I didn't write about it at the time because bird strikes are common, and there was also no reason to believe that the pilots weren't making the right decision or following procedures.
Presumably the pilots chose to enter a holding pattern, ran through some checklists, and then made the decision to continue after considering all factors.
This is where the story gets interesting…
Nepal bans FlyDubai managers from airport
The Civil Aviation Authority of Nepal (CAAN) has announced that it has banned FlyDubai's two senior managers in the country from Kathmandu Airport. Specifically, the country manager and airport manager for FlyDubai have been banned from entering the airport, and their security clearance has also been deactivated.
The reason? Well, the CAAN accuses the managers of spreading "misleading news that there was a bird strike," claiming that there was instead an engine fire.
This is utterly bizarre. Is the CAAN essentially viewing this as a point of pride, and suggesting that there's no way that birds could get in the way of any aircraft operating to or from Kathmandu Airport, or what?
Simon from The Aviation Herald is very knowledgable about aircraft safety incidents, and adds the following editorial note to his coverage of this:
How on earth can an engine on fire and damaged by fire produce sufficient thrust to permit the aircraft to climb to FL340 – this CAAN claim is thus beyond belief and raises questions about the competence of the CAAN.
If there was a bird strike, it's conceivable that it didn't cause any damage, and after running through checklists, the right decision was to continue. Meanwhile to claim that there was an engine fire, and that the plane still climbed to altitude and flew for hours, seems much less likely.
Furthermore, the aircraft has been in service continuously since the incident, suggesting there was no serious damage.
I'm not sure why the CAAN is trying to dig itself into a hole here for no reason. Even the best managed airspace has bird strikes sometimes. So Nepal is punishing FlyDubai for "spreading misinformation," all while the CAAN now spreads misinformation about the incident as well. Oy.
Bottom line
A FlyDubai Boeing 737 had an engine incident while departing Kathmandu Airport on Monday. Specifically, some streaks of flames were seen coming from one of the engines on departure, causing the aircraft to enter a holding pattern, before eventually continuing to Dubai.
FlyDubai claimed that there was a bird strike on departure. Nepal's aviation authority isn't happy with this claim, calling it "misleading," and arguing that there was in fact an engine fire. As a result of this "misinformation," FlyDubai's two managers have been banned from the airport.
I'm curious to see how this continues to play out…
What do you make of this situation between FlyDubai and the CAAN?