As I first wrote about a few weeks ago, the years-long saga involving the Mexican government's Boeing 787 is finally over. I wanted to provide an update, as this aircraft is now enroute to Tajikistan. It's not often you see a nonstop flight from San Bernardino to Dushanbe…
The basics of Mexico's unwanted Boeing 787
Back in 2012, the government of Mexico spent $218 million acquiring a Boeing 787-8, intended to act as the new plane for the president of Mexico. Plans for that changed in 2018, when Andres Manuel Lopez Obrador was elected as president.
He's more of a "man of the people," and has opted to take commercial flights rather than use the Boeing 787, claiming it's a waste of money, and an "insult" to the people of Mexico. Heck, he has even often been spotted in economy.
Unfortunately for years, the government struggled to figure out what to do with this plane. Since 2018, the government has been trying to sell the Boeing 787, but didn't have luck. As you'd expect, this plane is specially outfitted, so you'd need a buyer looking for the private jet equivalent of the Boeing 787. Converting this into a passenger aircraft would simply be too costly for that to make sense.
In 2020, Lopez Obrador got creative, and planned to have a national raffle where someone could win the Boeing 787. Of course that almost sounds like a joke — even if you win the plane, what are you actually supposed to do with it, given the maintenance and operating costs?
In 2022, the government was planning on offering this plane for charter for the purposes of party rentals. Then at another point, the idea was to use the jet to relaunch Mexicana (which went bankrupt in 2009) as a government run airline.
Mexico's Boeing 787 going to… Tajikistan?
On April 20, 2023, the president of Mexico announced that the country's Boeing 787 has been sold to the government of Tajikistan for 1.658 billion pesos, which is just over $92 million.
The money from the sale will be invested in two hospitals in Mexico, which will be built by military engineers, and opened before the end of the current term. In a video about this sale, Mexico's president talked about how in the past, authorities acted "like little pharaohs," but "not anymore."
You can see a video below about the announcement, which is also pretty awesome, as it provides a tour of the jet. The Boeing 787 has everything from a bedroom to a treadmill.
I suppose it's great that Mexico has finally gotten rid of this plane, though:
It kind of sucks to purchase something for $212 million in 2012 and then sell it for $92 million over a decade later, not accounting for the tens of millions of dollars in maintenance costs
Hopefully the next president of Mexico doesn't just end up buying an expensive jet, after this one was sold
Presumably Tajikistan has purchased this Boeing 787 for the "president" (which I put in quotes, because the country's leader has been in power since 1994, shortly after the fall of the Soviet Union).
The average annual income in Tajikistan is somewhere around $500, so one has to wonder if this money couldn't be spent a bit more efficiently. After all, the purchase price for this jet is equal to the annual salary of roughly 184,000 people in the country.
The Boeing 787 is now enroute to Tajikistan
Nomadic Aviation Group is a fascinating company that ferries aircraft around the world, especially when a plane is transferred between two parties. The people behind the company are huge avgeeks (as you'd expect), and they share lots of interesting stories on Twitter about their ferry experiences.
After departing Mexico, this Boeing 787 was in San Bernardino, California (SBD), getting a new livery prior to the plane being flown to Tajikistan. After all, I imagine Tajikistan's leader wants a big celebration when his new plane arrives. Below you can see some pictures of the new livery.
The aircraft is now enroute to Dushanbe, Tajikistan (DYU), operating as flight OMD195. At 7,418 miles, this is an ultra long haul flight.
The aircraft departed San Bernardino at 3:20AM local time on Sunday morning, and is expected to arrive in Dushanbe shortly after 6AM local time on Monday morning.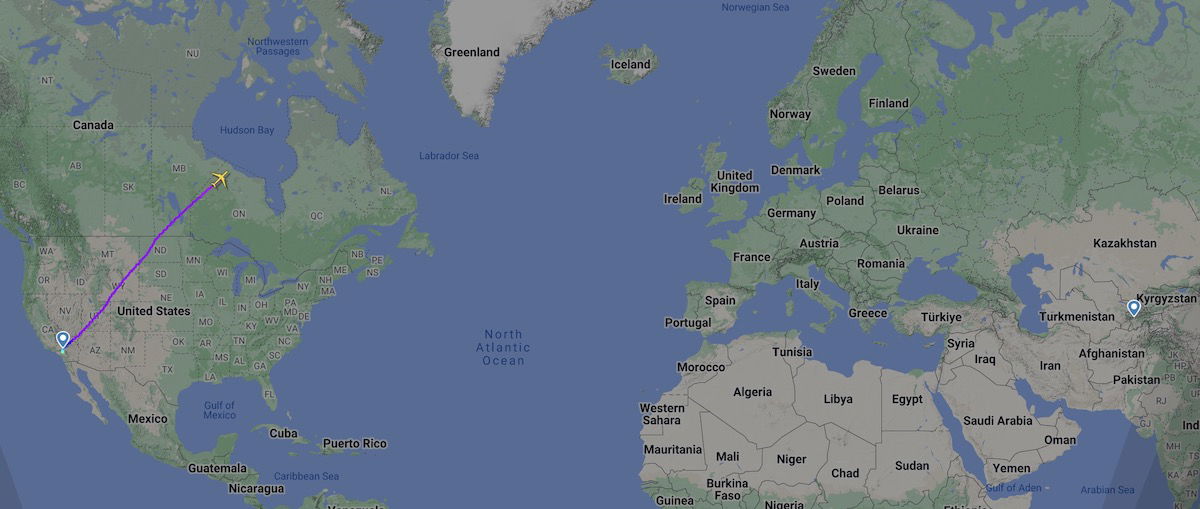 Bottom line
The government of Mexico has finally unloaded its Boeing 787, which was purchased back in 2012 for $218 million. The airplane has been purchased by Tajikistan's government for around $92 million. After getting a new livery, the new aircraft is already enroute to Central Asia, in what can only be described as an interesting delivery flight.
It's pretty admirable that Mexico's president is taking this approach and would rather invest in hospitals than huge government jets. However, here's to hoping that the next president in Mexico doesn't just place an equally excessive aircraft order.
What do you make of Tajikistan acquiring Mexico's Boeing 787?