Back in June 2023, Marriott revealed the details of its new basic extended stay brand. This came a couple of weeks after Hilton announced that it would launch Project H3, a new "basic" extended stay brand. Marriott has now revealed the name of its newest hotel brand, so let's recap everything we know about it.
Marriott's new extended stay brand called StudioRes
Up until now, Marriott's new extended stay brand has been referred to as Project MidX Studios, though we've known that this was just a temporary working name, and that the official name would be revealed at some point.
Marriott has now announced that its new hotel brand will be named StudioRes. There's not much explanation yet for the name. Maybe it'll grown on me, but that seems like a really odd name for a hotel brand. To me it sounds more like a hotel reservations system than a hotel brand.
Details of new Marriott extended stay hotel brand
StudioRes is Marriott's 32nd hotel brand. This is expected to be a basic extended stay hotel brand, with limited service and amenities. The first hotel is expected to open in late 2024.
Marriott intends this brand specifically for guests looking to stay 20+ nights, who are seeking to pay around $80 per night, depending on the market. The brand will deliver a "light-touch, digital first operating model," with pay-and-go retail, check-in with Marriott Mobile Key, and more. The brand will also participate in Marriott Bonvoy, though only time will tell what that looks like (for example, will you earn one elite night for every night stayed, or…?).
StudioRes properties will feature rooms with one or two queen beds, in-room kitchens, and closet space. Properties will also have a gym and laundry facilities, and will be pet-friendly.
Here's how Marriott CEO Anthony Capuano described the new brand when it was first announced:
"Marriott has long believed in having the right accommodations in compelling destinations at the right price point. Whether our guests are traveling for business, leisure or a mix of both, our portfolio of 31 brands offers something for everyone. As consumers look for new, flexible accommodation solutions, we are thrilled to announce our plans to launch an affordable midscale extended-stay offering to meet the needs of guests seeking long-term comforts at a moderate price point."
For context, Marriott already has four extended stay hotel brands, including:
Residence Inn by Marriott, where all rooms are suites and feature kitchens, with complimentary breakfast and an evening happy hour
TownePlace Suites by Marriott, where rooms range from studios to two bedroom suites, and feature kitchens; Marriott describes this brand as being for "the Upbeat Realistic traveler" (which I find to be a pretty funny description)
Element by Westin, where rooms range from studios to one bedrooms suites and feature kitchens, with complimentary breakfast and an evening happy hour; this is typically higher end than Residence Inn and TownePlace Suites
Marriott Executive Apartments, which is the closest thing in Marriott's hotel portfolio to an apartment-style accommodation
The new StudioRes brand seems to be the lowest end of all of these brands.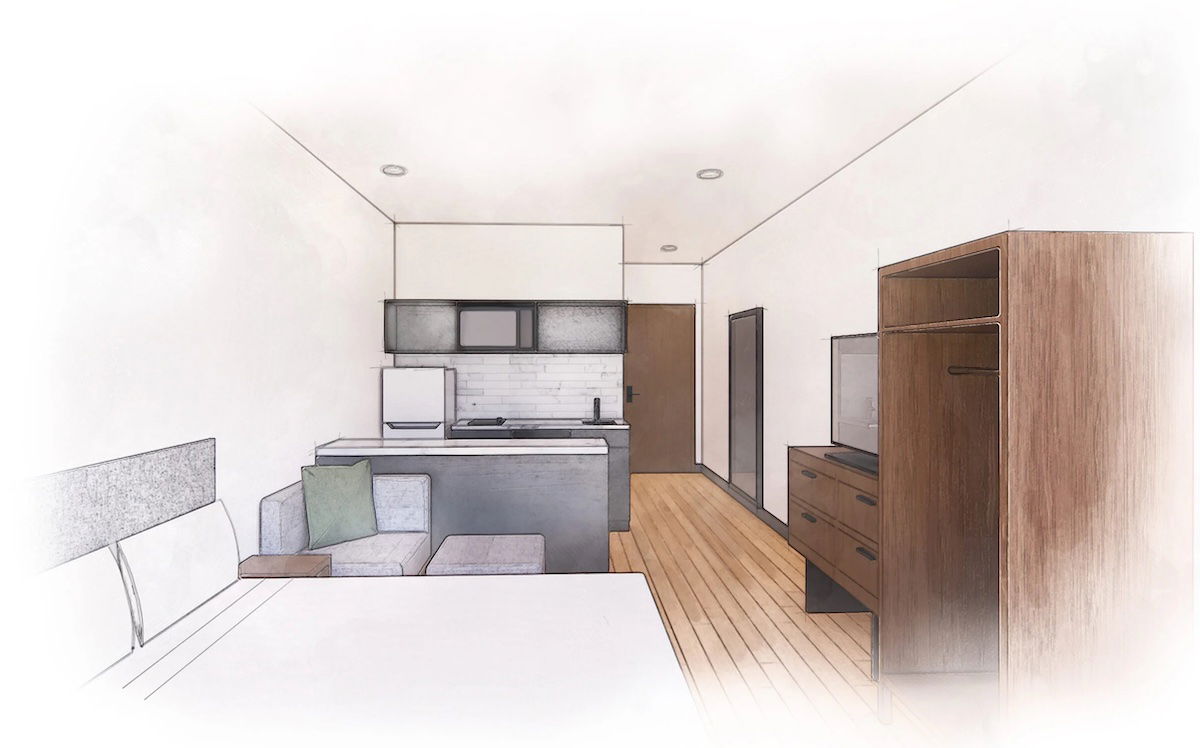 What Marriott's new hotel brand means for owners
It's worth keeping in mind that new hotel brands are really created for hotel owners, and us guests are just the product. So what is Marriott promising investors about the new StudioRes concept?
StudioRes will have a focus on the United States and Canada, with the most affordable cost-per-room product for developers, intended to accelerate speed-to-market, with a low cost to build. For a property with 124 keys, the model targets a build cost of $13-14 million, with around 54,000 square feet of total building area. The brand will also have a light operational cost model for owners and franchisees, meaning you can expect these hotels to not have many amenities.
Here's how Marriott CFO Leeny Oberg described the new brand for owners when it was first announced:
"With Project MidX Studios, we are focused on enhancing the breadth of our portfolio through the creation of a product specially designed for the affordable midscale extended-stay tier—from the physical product to the operating model. The team created Project MidX Studios to reach both new customers and new markets. We are excited to join forces with Concord Hospitality and Whitman Peterson on our first three projects and are in discussions with owners for more than 250 new development opportunities under this brand."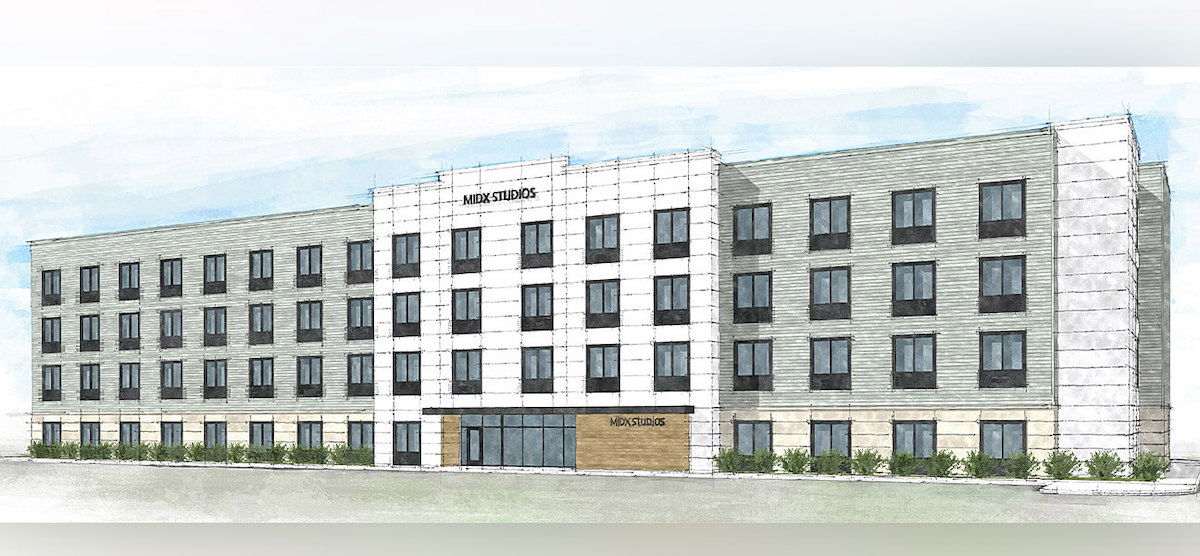 Why hotel groups are focusing on extended stay brands
We've now seen Hyatt, Hilton, and Marriott, all announce new extended stay brands in a short period of time. Why the sudden focus on these properties?
Well, for one, most major global hotel groups aren't very original or creative. They copy one another on just about everything, and this is a clear example of that. If one company launches a new extended stay brand, they all feel they need to launch one.
But as we emerge from the pandemic, there's a bigger reason we're seeing a focus on lower end extended stay properties:
These extended stay brands are among the least labor intensive hotel concepts out there, so they don't have the same labor issues we've seen at so many other hotels in recent years
These extended stay brands are much easier to develop; they require smaller investments, it's easier to find vacant real estate for them (often just off a highway), and they can be built pretty quickly; this is a bit easier than trying to open a new Ritz-Carlton in the Maldives in terms of cost, risk, and lead time
With economic uncertainty, it's anyone's guess how high-end leisure demand will evolve over the coming years; it's as strong as it has ever been right now, but that might not last
"Traditional" business travel hasn't recovered to pre-pandemic levels, though extended stay brands are often targeting different kinds of business travelers, who are less impacted by these kinds of fluctuations due to the "essential" nature of their work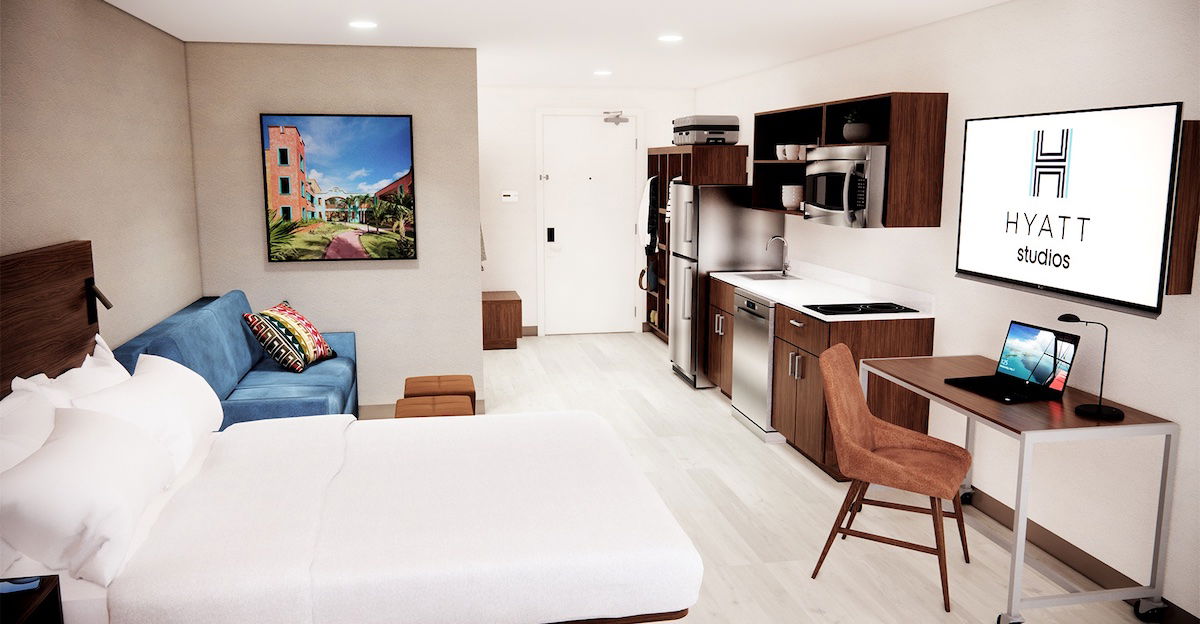 Bottom line
Marriott has revealed the details of its new budget extended stay brand, which is officially being named StudioRes. This brand is specifically intended for those staying 20+ nights, and rates are expected to be an average of somewhere around $80 per night.
Expect these properties to have very basic amenities and low staffing, so they'll almost be like a hybrid of a hotel and an apartment building.
What do you make of Marriott's plans for a new extended stay brand?