Big Jet TV is a YouTube channel that provides constant livestreams of takeoffs and landings at London Heathrow Airport (LHR). These people are legit — they park near the end of the runways at Heathrow, and capture footage for hours on end. As you'd expect, sometimes they capture something especially interesting, and here's the latest example of that…
Malaysia A350 lines up behind other plane on runway
This video footage is from Sunday, May 7, 2023, and captures Malaysia Airlines flight MH3 preparing to depart for Kuala Lumpur (KUL). The 6,593-mile flight is operated by an Airbus A350-900, so I can appreciate that the pilots are probably excited to get underway for their 13 hour journey back home. However, perhaps they were a bit too excited.
In situations where there's a queue for takeoff (or spacing is needed), it's standard for aircraft to be told to line up and wait. This clearance is typically given once the preceding aircraft has started its takeoff roll, and at this point the aircraft can taxi into position on the runway, until it's given takeoff clearance.
That brings us to this particular Malaysia Airlines A350, which… quite literally lines up on the runway immediately behind a British Airways Airbus A320. For what it's worth, an Airbus A320 is around 123 feet long, and it looks like the separation between the two jets is less than that. And this is all as the A320 spools up its engines to near maximum power. Both flights ended up departing as planned, and made it to their destinations safely.
You can see the video for yourself below.
Was this dangerous, or just unusual?
There's no denying that what we see above is unusual, in the sense that we don't see it often. The people behind Big Jet TV, who spend all day watching takeoffs at Heathrow, say they've never seen something like this before. They comment the following about the dangers of this procedure:
Even small engines like the CFM56, V2500 (in this case with the BA Jet) or even the CF34 can inflict some serious damage from takeoff thrust. Engines and sensors are at most risk for the trailing aircraft. It's almost as bad as sand-blasting with tiny particles of rubber and grit. In my view they're lucky one of the speed or altitude sensors didn't get blocked!
Similarly, just about all the pilots chiming in state that this is dangerous. One commenter states the following:
Wow! I've operated out of LHR for nearly 30 years, and have never seen anyone get this close on a runway. Taxiway, yes – but not on a runway behind an aircraft about to set T/O power. What were these guys thinking? Truly bonkers!
Interestingly, though, if you look at Heathrow's airport briefing for runway departures, it states that it's perfectly fine to line up on the runway behind another jet:
Pilots in receipt of a conditional line-up clearance on a preceding departing ACFT should remain behind the subject ACFT but may cross the RWY holding point and enter the RWY upon receipt of the clearance. There is no requirement for the subject ACFT to have commenced its take-off roll before entering the RWY. Pilots must be aware that there may be a blast hazard as the ACFT on the RWY applies power.
The important distinction here is that the airport briefing is just intended to outline airport operations, and then it's up to pilots to decide what's a best practice for the safe operation of their aircraft. As you can see, there's a warning of jet blast, and that's clearly something most pilots are concerned about. After all, otherwise this wouldn't be the first time that Big Jet TV has captured something like this at Heathrow.
One has to wonder what exactly the Malaysia Airlines pilots were thinking. Did they just underestimate how quickly the British Airways A320 would take off? Did they read the Heathrow departure instructions, and not consider any potential hazard to their jet? Presumably they're not usually flying this way, or else we would have seen more videos along these lines.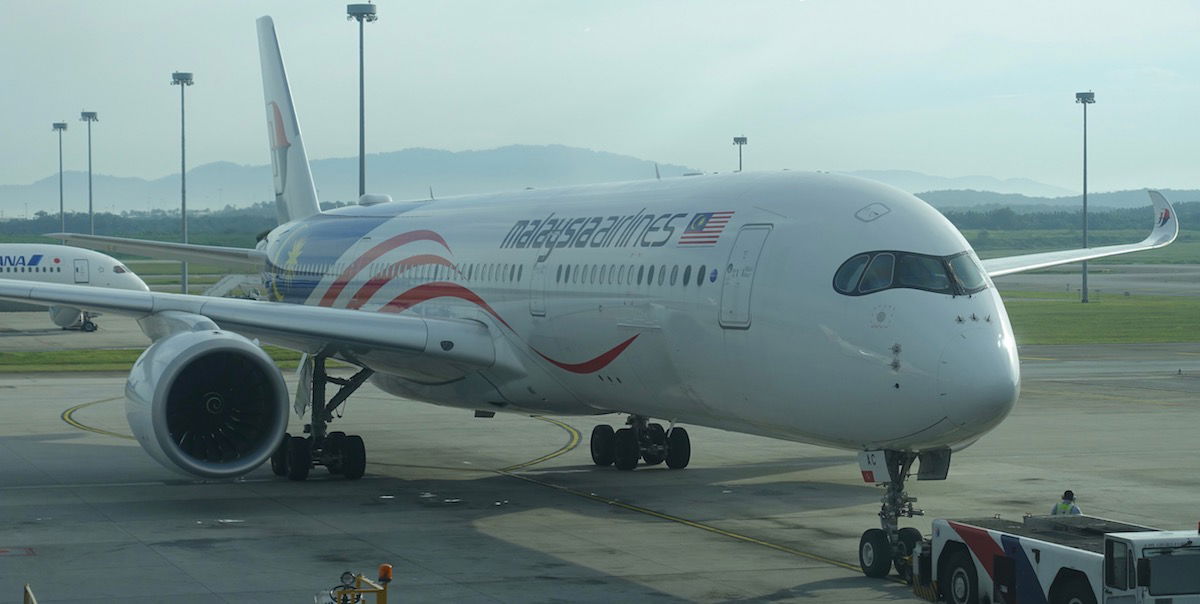 Bottom line
A Malaysia Airlines Airbus A350 had a pretty unusual departure from London Heathrow last week. The jet lined up on the runway immediately behind a British Airways A320, with probably around 100 feet separation. This is something you almost never see.
Interestingly this procedure was within the rules of the airport, but based on everything I'm seeing airline pilots say, definitely not a best practice.
What do you make of this Malaysia Airlines A350 departure from Heathrow?