Plans have just been revealed for a new transatlantic ultra low cost carrier. While this one is a bit different than the previous transatlantic ultra low cost carrier concepts we've seen, I'm not sure it necessarily has much more of a chance of survival.
Fly Atlantic to launch narrow body transatlantic flights in 2024
Fly Atlantic is an airline startup that hopes to launch transatlantic flights by the summer of 2024. The airline would operate narrow body jets, and would primarily be based out of Belfast in Northern Ireland.
Based on the current plan:
Fly Atlantic would lease either Airbus A321neos or Boeing 737 MAXs to operate flights
The airline hopes to launch with six planes in 2024, and hopes to have 18 planes by 2028
The airline hopes to connect both sides of the Atlantic through Belfast; so the airline would not only serve destinations in the United States and Canada, but would also other destinations in Europe
The airline hopes to serve 35 destinations and employ 1,000 people within the first five years
The company is currently working on raising money from potential investors, and the project is in the early stages of development
The CEO of Fly Atlantic is Andrew Pyne, who does have quite a bit of experience in the airline industry, with airlines ranging from WOW Air, to VietJet Air, to TUS Airways
Here's how Fly Atlantic's CEO describes the concept, and the support the concept has received from the local government:
"The Council has been right behind the project from the start. Its commitment and consistent support have been key factors in deciding to base here. We are pleased that the Council shares our vision for Fly Atlantic and for the future of Belfast International as a major hub airport. This is an airline that will deliver greater connectivity and help transmit Northern Ireland's unique identity to a global audience."
Here's how Alderman Stephen Ross, Mayor of Antrium and Newtownabbey, describes this development:
"The announcement by Fly Atlantic is fantastic news not only for the Antrim and Newtownabbey Borough but for Northern Ireland as a whole. Thanks to Fly Atlantic and Belfast International Airport's unique partnership we will soon be able to offer direct access to worldwide destinations. Improving connectivity is a key part of our Economic Development Strategy and we are delighted that Fly Atlantic has selected Belfast International Airport to become a hub, offering direct flights to North America, UK, and Europe."

"This is a key moment for Northern Ireland and is the most significant local aviation announcement in recent history. Belfast International Airport is the ideal hub for Fly Atlantic to base its operations due to its location, drive, and ability to offer unparalleled experience and routes for passengers."
My take on Fly Atlantic's business model
I really want to be polite and positive and encouraging here, but… has this business model not failed often enough? As much as I love the airline industry, if I were to look for investors for a concept, it wouldn't be to start an airline, because that's a ridiculously tough business. Never mind the fact that the transatlantic low cost carrier business model has failed over and over. And over.
A few thoughts:
Sure, the airline can probably make money in the peak summer season, when transatlantic demand is high, but what about winter? Demand craters then…
The base in Belfast is a unique angle compared to other airlines that have tried similar things; unfortunately Belfast doesn't have nearly the demand of other major European cities, making the business model even tougher
Admittedly this would be fantastic for Belfast's economy and connectivity, and I imagine the airline would get a heck of a deal at the airport, and quite a bit of government support; but still, that doesn't make this business model work
While it's easier to fill a 737 than a 787, narrow body planes have less space for cargo (which has strong demand year-round), and also have more limited range; in other words, the airline likely couldn't fly to warmer destinations in North America in winter, like Florida, California, Mexico, the Caribbean, etc.
I suspect this will be yet another one of those airline startups that never comes to fruition
On the plus side, I kind of dig Fly Atlantic's livery concept, even if I'm not sure I "get" it?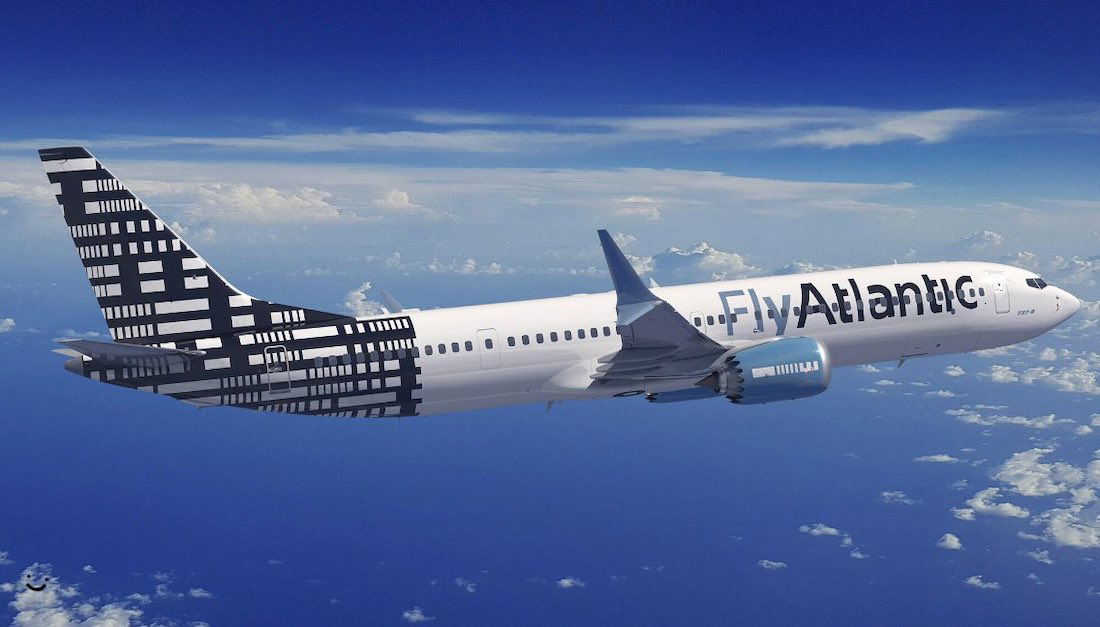 Bottom line
Fly Atlantic is a new airline startup that hopes to launch in 2024. The plan is for the airline to base A321neos and 737 MAXs in Belfast, and fly them both across the Atlantic and to other destinations in Europe. This concept has failed more often than I can count, but that's not stopping another company from trying…
What do you make of the Fly Atlantic concept?