The Courtyard by Marriott brand will be evolving in the coming years, though the only thing that will consistently be changing is the exterior of hotels. Hmmm…
Courtyard hotel exteriors are being updated
Courtyard is Marriott's largest brand (in terms of the number of properties), and personally it's also the Marriott brand I avoid the most (the brand is limited service, doesn't offer free breakfast, and many properties are outdated). It looks like we should expect some changes to these properties soon.
It has been announced that Courtyard by Marriott properties will undergo a "modern design evolution and robust renovation strategy for North America." More than 375 of the brand's earliest generation hotels throughout the United States and Canada are expected to be modernized with exterior renovations by 2024, including prominent displays of the refreshed Courtyard logo, plus landscaping updates.
Here's how the updates to the outside of properties are described:
The new façade is inspired by an elegant and minimal aesthetic to include a redesigned porte-cochere, reframed and repainted exterior surfaces, ambient lighting, new signage, and fresh landscaping. It features wood tones with gray hues to reflect the smart casual style of Courtyard's next-gen traveler. Landscape planting will accentuate the architectural elements of the hotel while creating an open, unobstructed view.
So to be clear, in three years we can expect that the exteriors of Courtyard properties in North America will be updated? Isn't it what's on the inside that counts? This is like updating the livery of a plane, without changing the interior. In fairness, the new exteriors do look like a significant improvement over the old ones.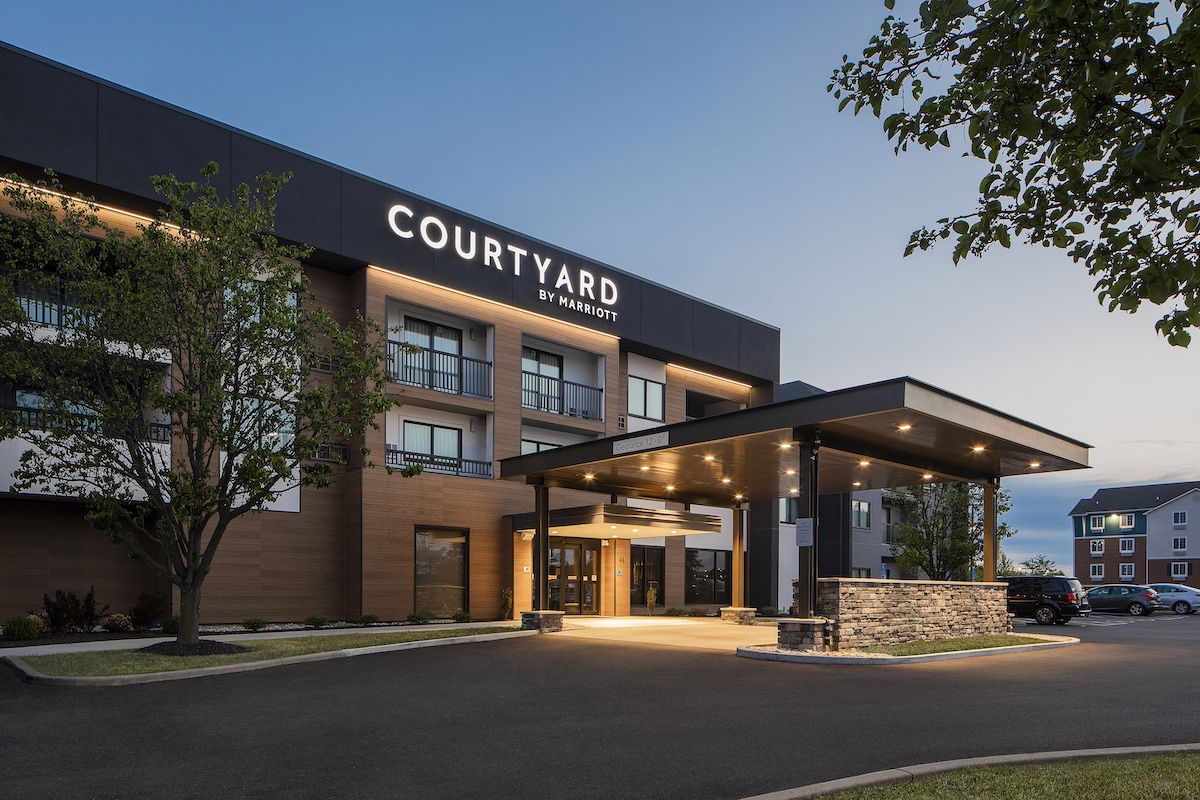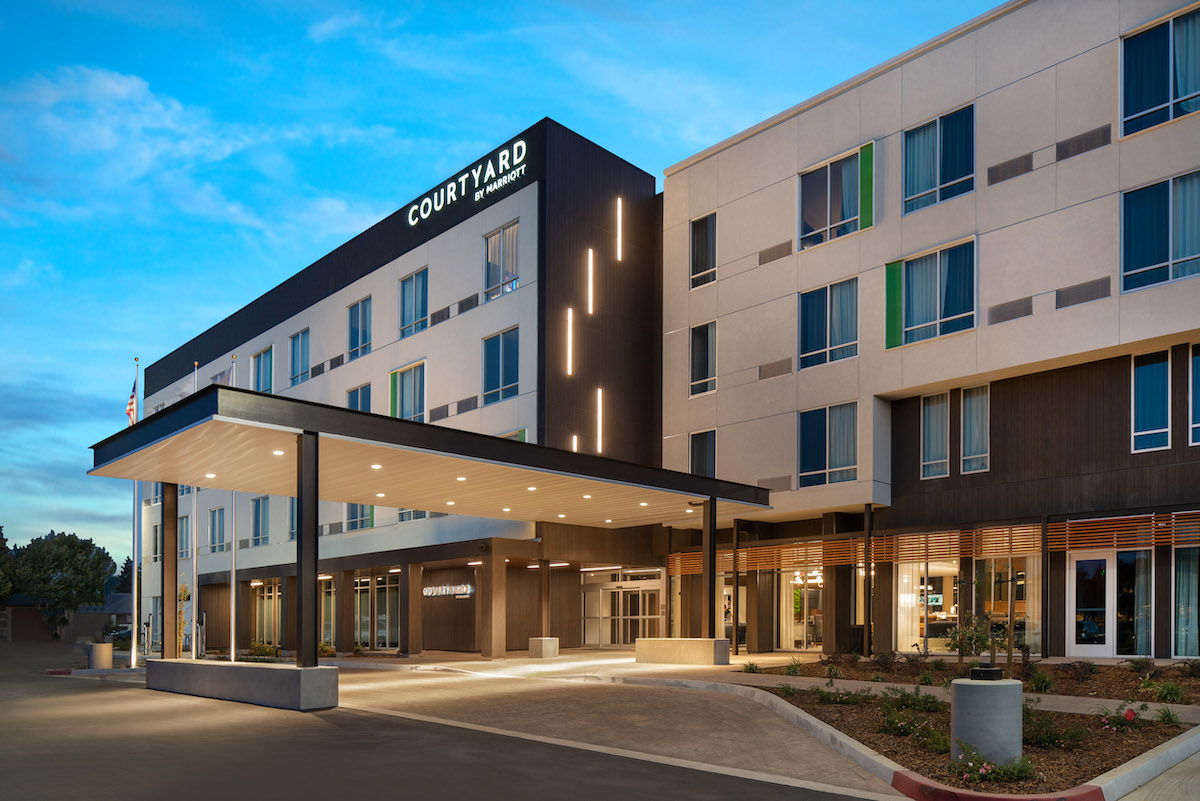 What about the interiors of Courtyard hotels?
It's stated that "many" Courtyard by Marriott properties will get new interior design in public spaces and guest rooms. We don't know how many properties are getting interior updates, but the way this is phrased suggests to me that most of the changes we'll see will be to the exteriors of properties.
Courtyard does have an updated design concept for the newest Courtyard properties, which will also be adopted by some earlier generation hotels. This includes a modernized lobby, and updates to The Bistro Bar (the lobby bar with food & drinks), CRATE Market (a grab & go food and drink selection), fitness centers, and guest rooms.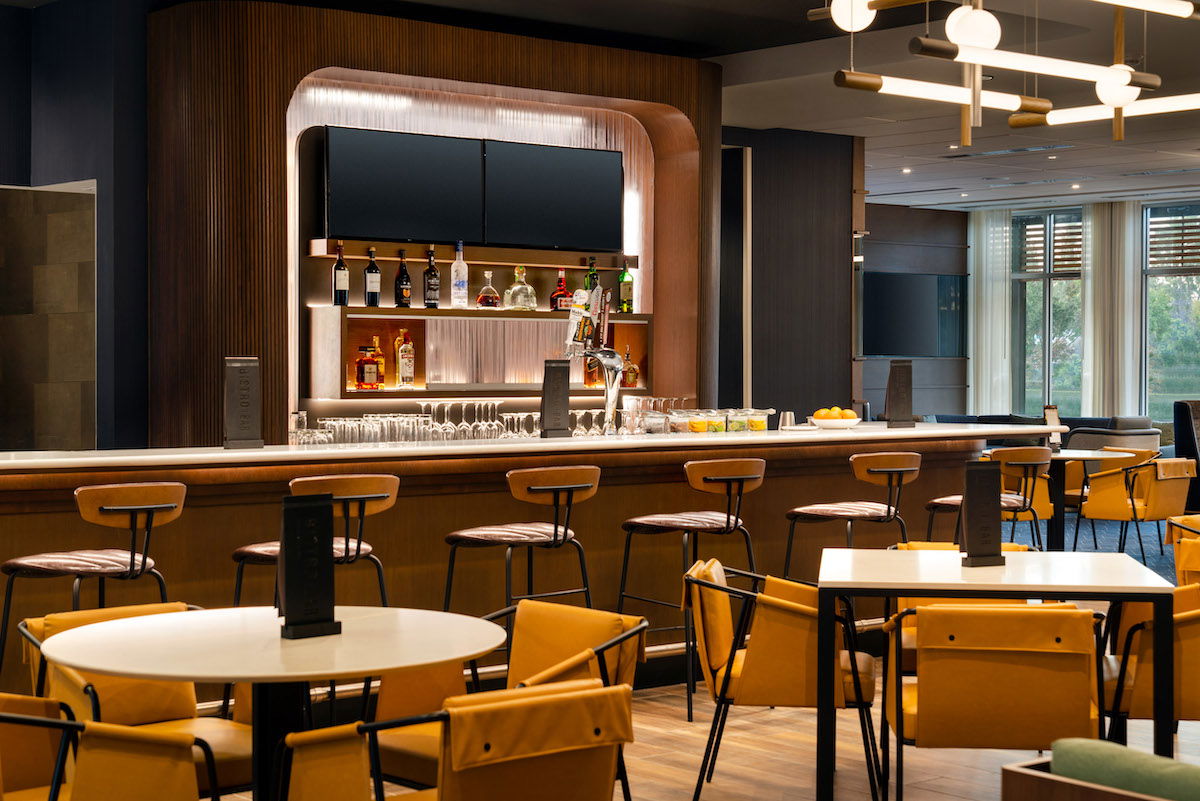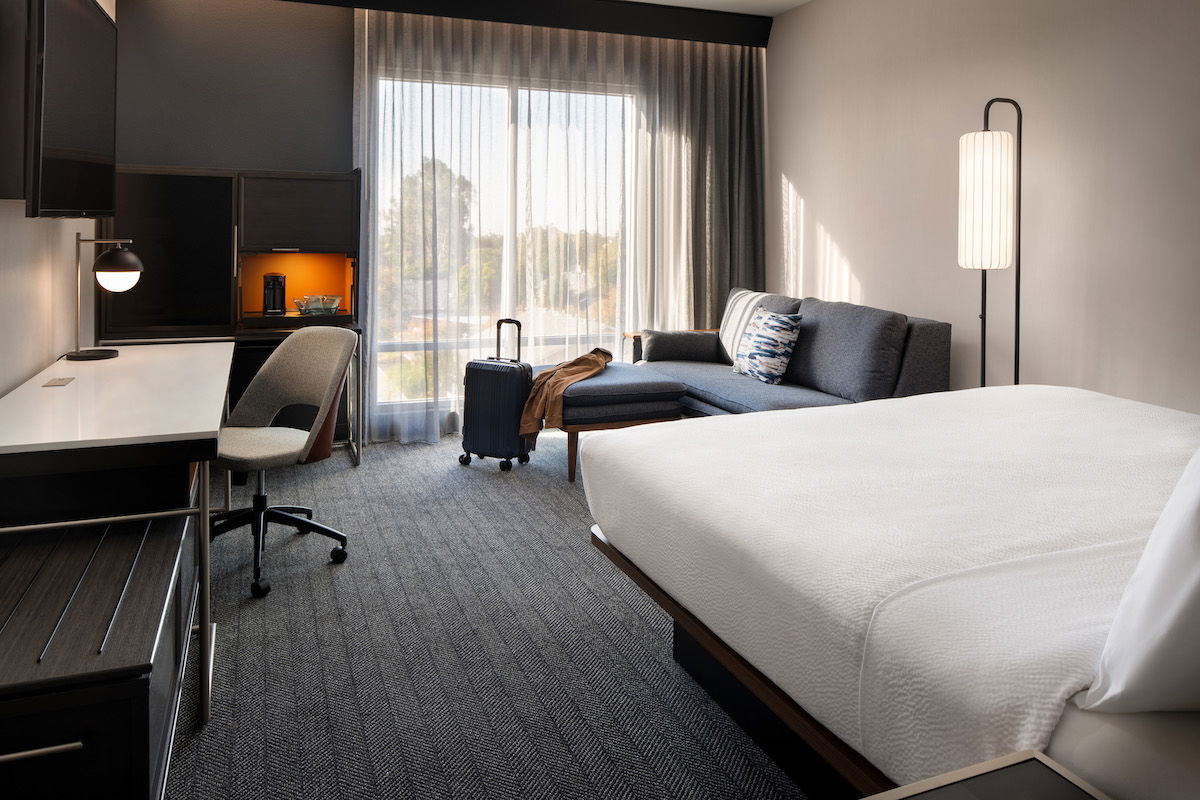 Bottom line
Courtyard by Marriott is one brand I've never really cared for. It's limited service, yet doesn't offer free breakfast. Furthermore, most of the Courtyards I've seen are woefully outdated, and in many cases are conversions from other brands (of course there are also some nice Courtyards — there's a lot of inconsistency within the brand).
Marriott markets Courtyard as being a "hotel brand specifically for business travelers." To me that just means it's a hotel brand for people who can expense breakfast, and therefore the hotel doesn't have to offer it for free. I'm not sure what else makes this brand "better" for business travelers than any competing brands.
Anyway, the updates to Courtyard seem positive, though at the same time it's hard to get too excited about a new facade, updated logo, and new landscaping, for a project that will take three years to complete. Updates to the interior are much more important, but those updates will only be coming to a much smaller number of properties.
What do you make of these updates to the Courtyard by Marriott brand?