Airplane food is the butt of many jokes, and most celebrities and otherwise wealthy people scoff at the concept of eating it. So I really appreciate this unconventional take…
Chrissy Teigen never skips an airplane meal
For those not familiar, Chrissy Teigen is a model, TV personality, and the wife of John Legend. She's such a good vibe, and is pretty engaging with people on Twitter (she has nearly 13 million followers), including on some pretty controversial topics.
Late on Friday night, Teigen took to Twitter to rave about the short rib she was served on Delta, and she described the entire dinner as being "so so good." She explained that the short rib was as good as her favorite, which is the one she makes. Teigen also mentioned how airplane food fascinates her, and she has never turned down a meal, no matter where she's seated.
Meanwhile when someone mentioned that Teigen should tour an airline catering facility, she described that as "A DREAM."
Over the years I've been seated next to a countless number of celebrities on flights, and a vast majority of them just skip the meals. So it's cool to see Teigen not only appreciate airplane food, but pay it a huge compliment.
My perspective on airplane food
Everyone has a different take on airplane food, so let me share where I stand:
Much like Teigen, I always have the meal, but that's in some cases because I review airlines for a living, and there are definitely some situations where I'd rather just rest and not eat
Some people act as if airplane food is the most important thing in the world; I'm not quite that radical, though I do think that it makes up a significant portion of the soft product experience, especially in premium cabins
Airplane food usually shouldn't be as good as food on the ground, given the limitations of cooking on planes; food is reheated, the galley space is limited, you don't have specially trained chefs onboard garnishing dishes, etc.
With that in mind, I tend to think that airplane food that people appreciate usually falls into one of three categories.
Forgetting the impact of altitude on taste buds, some food can more or less be served as good in the air as on the ground. The perfect example of this is caviar, since it's not like there's cooking required. As long as you have the garnishes and nice presentation, it's a feast just as you could have on the ground (though on the ground, caviar isn't included with most experiences!).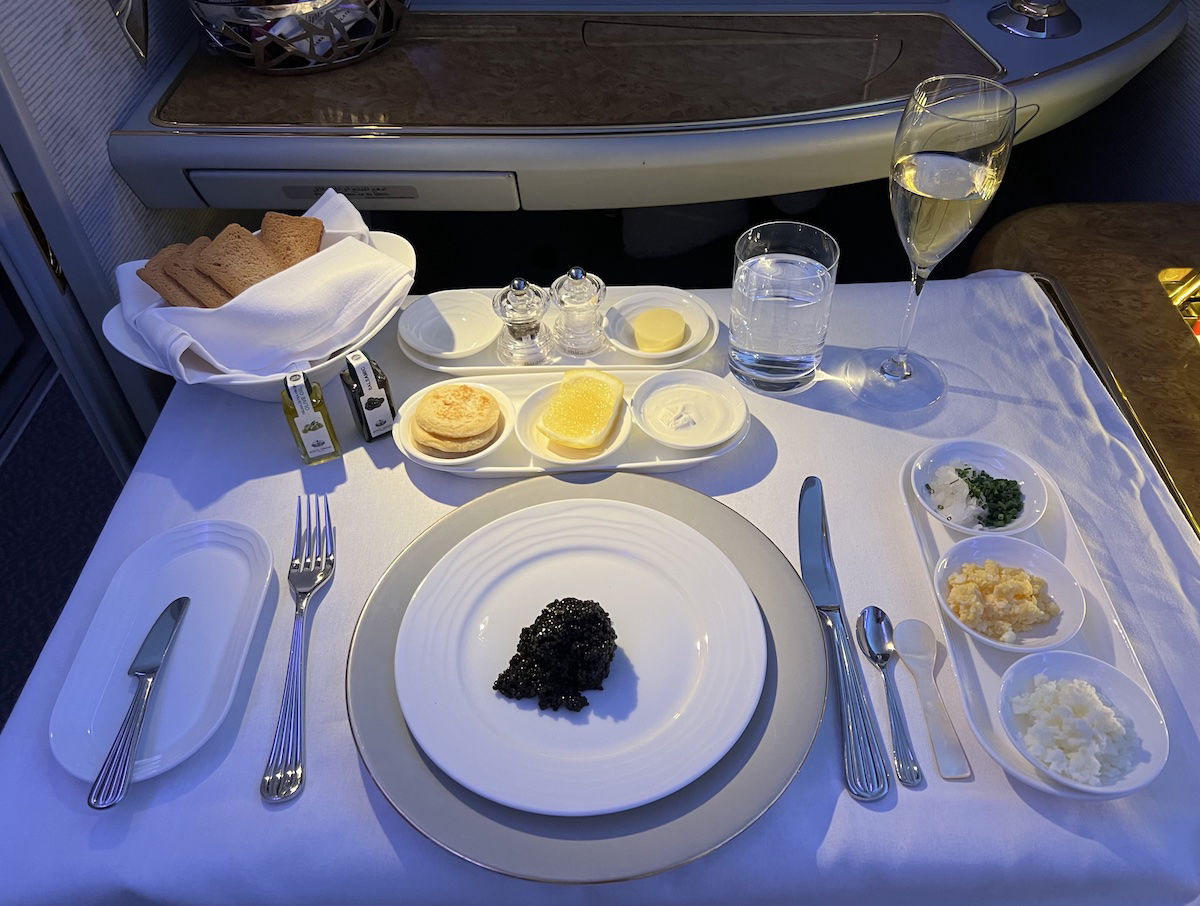 Then there's some food where you can appreciate the effort that went into it, and it's very close in quality to what you'd find on the ground. The quality shouldn't be quite as good as on the ground, or else you're not enjoying very good food there, given that your airplane meal is probably being reheated 12 hours after it was initially prepared.
For example, I'd say that was the case with a recent meal I had in British Airways first class, where I enjoyed the baked cauliflower cakes.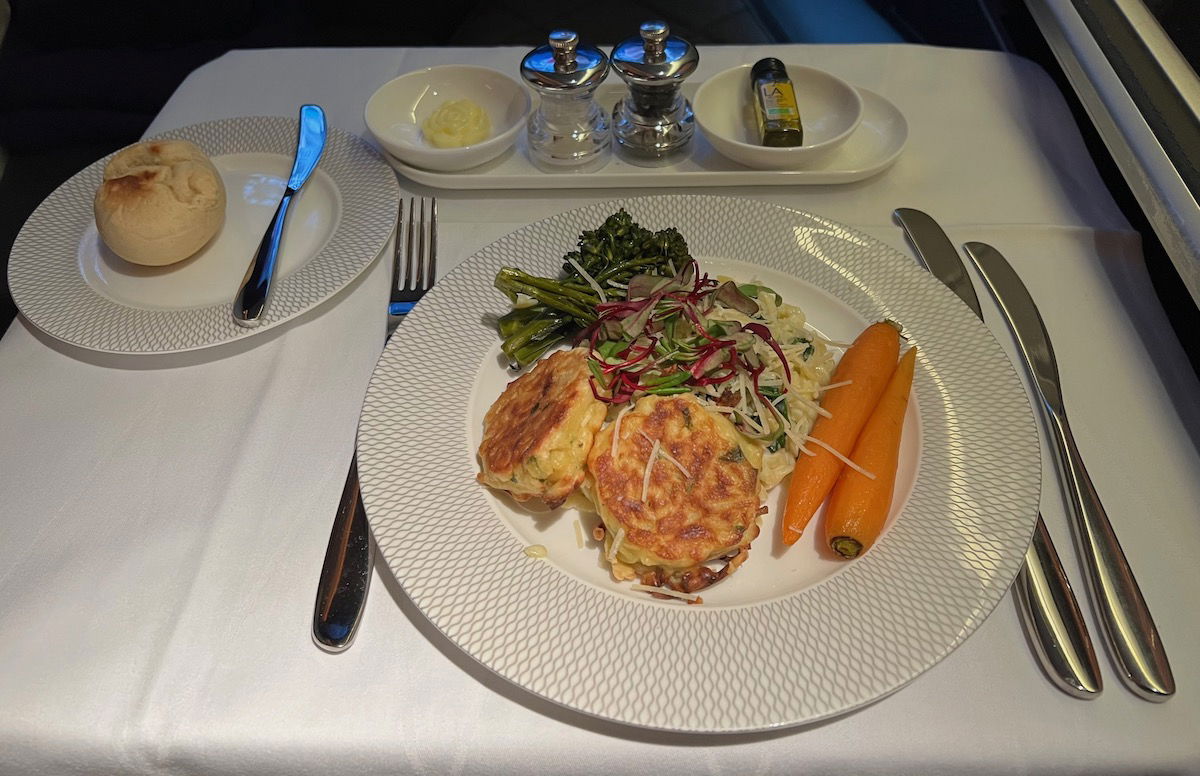 Then you have the meals that fall in the "comfort food" category, which I am less enthusiastic about than others. This is typically what you'll find in domestic first class. The food is generally pretty cheap (airlines have tight budgets), and you really don't want to see the nutrition contents for these meals, as they're packed with sodium and carbs.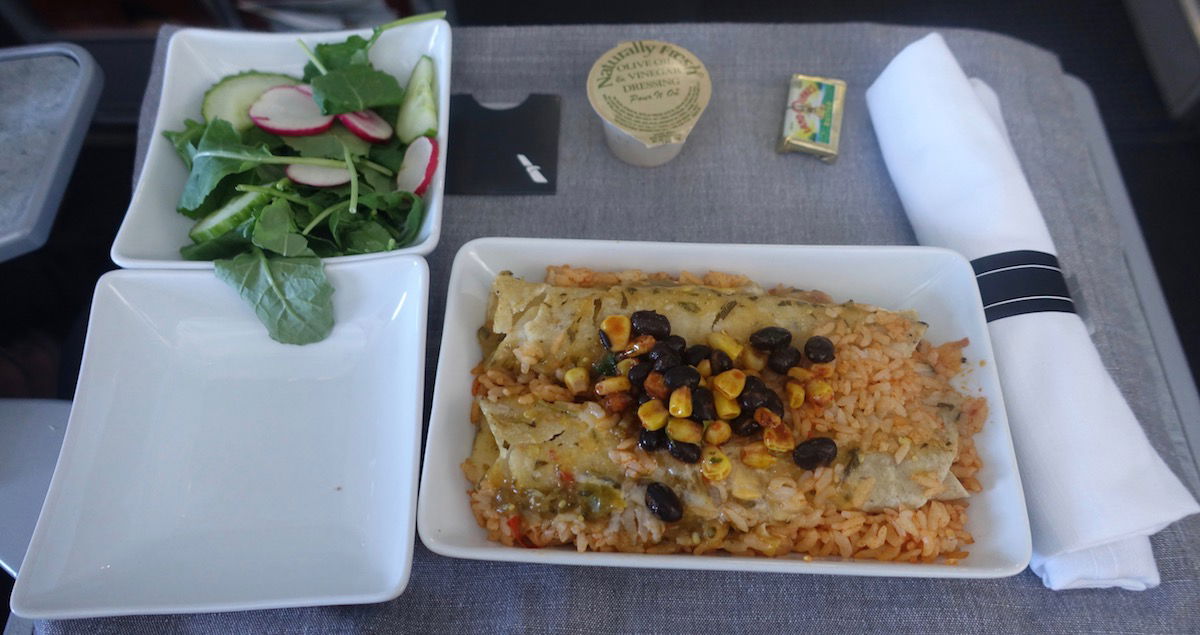 Is this delicious? I mean, yes, in the same way that many would find a Big Mac or fries delicious. Personally I'd much rather see airlines offer healthier and simpler alternatives, but I realize many people disagree with me on that.
Another factor is that people are much more likely to eat on planes simply because they're bored, and it's a way to pass time. That makes everything taste better.
Bottom line
Chrissy Teigen has paid quite the compliment to the short rib she was served on Delta. Perhaps most interesting, Teigen says she never skips an airplane meal, as she finds the whole process of airplane catering to be interesting. Someone get Teigen into an airline catering facility stat!
Where do you stand on airplane food?