Cathay Pacific's flight from New York to Hong Kong is about to start flying "the long way" around the globe…
Cathay Pacific's New York flight problem
Russia's invasion of Ukraine is posing all kinds of challenges for airlines around the globe, given airspace bans that are in place. Airlines from many countries have been banned from using Russian airspace, while other countries are simply choosing to avoid this airspace. This is particularly challenging for airlines that relied on Russian airspace to operate long haul flights.
Cathay Pacific is now facing this problem for its route between New York and Hong Kong, which is the carrier's longest route. Cathay Pacific will be increasing frequencies in this market shortly, as flights between the United States and Hong Kong have been banned for the past several weeks.
As Cathay Pacific is restarting this route, the airline is facing a major challenge. At 8,072 miles in each direction, this New York to Hong Kong journey is an ultra long haul flight, though ordinarily well within range for an Airbus A350 or Boeing 777.
The catch is that this route has historically taken a polar routing, which involves spending significant amounts of time over Russian airspace. The airline is now avoiding Russian airspace on this route (for what it's worth, airlines from Hong Kong aren't banned from using Russian airspace, but rather this is a precaution the airline has chosen to take).
To give a sense of the issue this poses, Cathay Pacific last operated a one-off flight from New York to Hong Kong on March 19, 2022, and the plane made a fuel stop in Los Angeles:
The flight flew from New York to Los Angeles in a flight time of 5hr16min
The flight flew from Los Angeles to Hong Kong in a flight time of 15hr41min
That's right, Cathay Pacific flew nearly 21 hours from New York to Hong Kong. The airline will now take a different approach to operating this flight.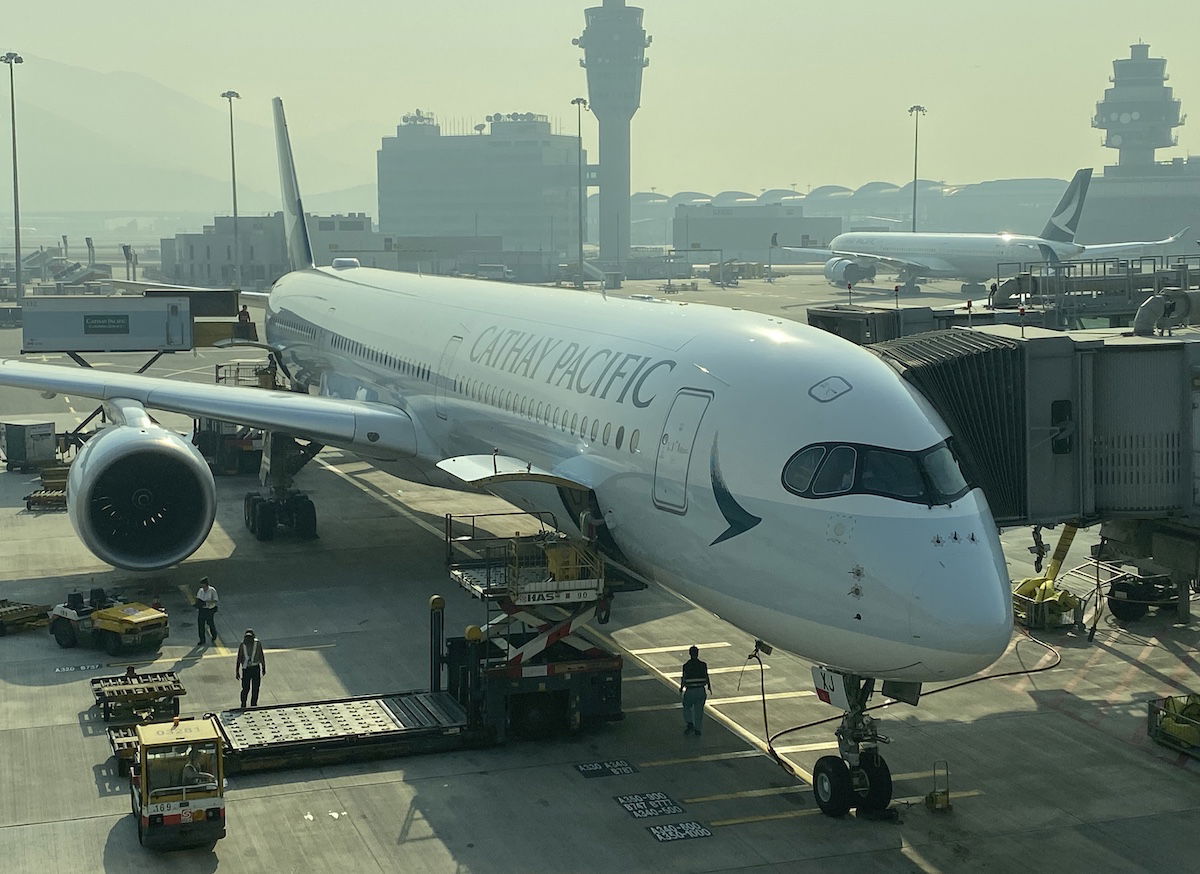 Cathay Pacific will fly 10,000+ miles from New York to Hong Kong
As reported by Danny Lee at Bloomberg, Cathay Pacific will be taking a new approach to operating its New York to Hong Kong flight going forward. The airline will fly "the long way" from New York to Hong Kong, covering a distance of 10,326 miles.
The flight will operate east toward Europe, flying over the United Kingdom, Germany, etc. It will then continue just south of Russia, flying over Turkey, before eventually crossing China.
While this flight would cover a ridiculously long distance, it will "only" take around 16-17 hours, given the incredibly favorable tailwinds going east this time of year. The airline will use an Airbus A350-1000 for the route, which should be capable of operating this as long as tailwinds remain strong.
Is this now the world's longest flight?
There are different metrics by which you can calculate the world's longest flight — you can do so by direct air distance between the airports, by actual distance flown between airports, or by flight time. It's being claimed that at 10,326 miles, this will be the world's longest commercial passenger flight as measured by actual distance flown.
I'm not sure that's the case, though. Singapore Airlines' flight between Singapore and New York is the longest flight in the world in terms of direct air distance between cities. The New York to Singapore flight is taking a very similar routing to what Cathay Pacific will be taking, at least for the first half of the flight.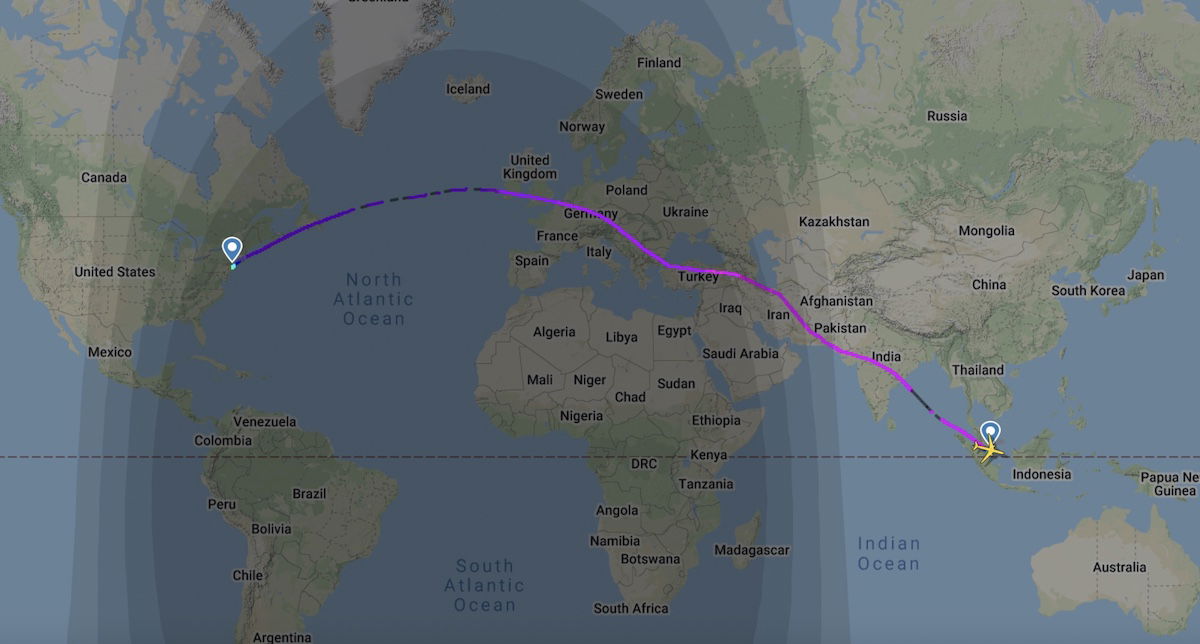 Looking at data from SQ23 over the past week, it has covered an actual distance of anywhere from 10,547 miles to 11,008 miles. All of those distances are further than what Cathay Pacific will be flying from New York to Hong Kong. So Cathay Pacific's flight will be very long, but it won't quite be the longest in the world, unless I'm missing something.
Bottom line
As Cathay Pacific restarts regular service on its New York to Hong Kong flight, the airline is facing the same challenges as many other airlines in avoiding Russian airspace. Cathay Pacific plans to fly east from New York to Hong Kong, meaning the flight will cover a distance of 10,000+ miles.
Thanks to the power of a strong jet stream, the flight will "only" take 16-17 hours, not much longer than the flight used to take when operating a polar routing.
With no end in sight to these airspace restrictions, airlines are going to face quite some challenges with routings, especially with seasonal jet stream changes.
What do you make of Cathay Pacific's New York to Hong Kong routing?