There's a ridiculous conspiracy theory going around in the anti-vax community, claiming that four British Airways pilots have died from being vaccinated. I've seen this thrown around in the comments section of the blog several times, so I wanted to address this so that people can stop making this baseless claim.
Conspiracy theory about British Airways pilot deaths
Four British Airways pilots have recently passed away, which is incredibly tragic. A memorial was set up for the pilots in some sort of a staff lounge. At least three of the pilots died in May and June, while it's not confirmed when the fourth pilot died.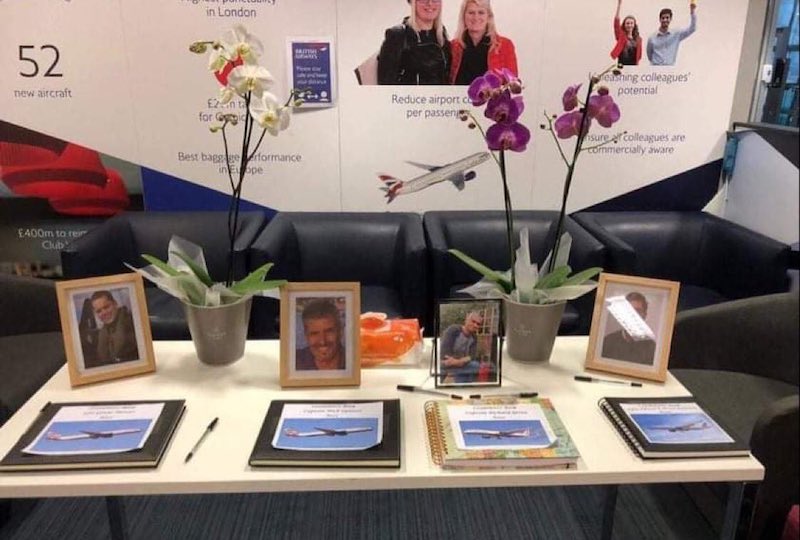 How do we go from that to the conspiracy theory that all four of these pilots died from coronavirus? Well, there's an anonymous voicemail that has been passed around, in which a person quotes their anonymous friend who is allegedly a British Airways pilot. The voicemail says the following, in part:
"My friend who is a BA pilot has just told me that they've had the third BA pilot die in the last seven days. The first two guys were in their 40s and 50s, this guy in his mid 30s, perfectly fit, no underlying conditions, gets his second jab, and he's dead within days. Exactly the same with the first two. Because of this, BA are now in crisis talks with the government about whether to allow vaccinated pilots to fly. The issue with that is that 80-85% of pilots have been injected."
To recap, four pilots have died, and someone anonymously posts a voice clip of an anonymous person quoting an unnamed British Airways pilot, who claims that three pilots died days after getting vaccinated, and that British Airways is in crisis talks with the government. That's the extent of the "evidence" here.
What we actually know about what happened
For one, British Airways has publicly confirmed that four pilots did pass away, but stated that there's "no truth whatsoever" in the claims that this was related to being vaccinated.
Beyond that, Snopes has been able to verify further details about the deaths of three of the four pilots (Snopes wasn't able to verify who the fourth pilot was):
One of the pilots had contracted coronavirus in March 2020 while on a work trip in Texas; he became extremely ill, and spent eight months in the hospital, before returning to England in December 2020
One of the pilots was found unconscious in a mountain biking park, and a coroner determined that he died from internal abdominal bleeding
While details regarding the third pilot's death are unknown, people with knowledge of the matter have confirmed it wasn't vaccine related
Furthermore, there's no evidence that the pilots died "days" after getting vaccinated
Bottom line
Unfortunately baseless conspiracy theories are at an all time high, and people will largely believe whatever suits their narrative, even if it defies logic, and goes off an anonymous person sharing an anonymous voicemail based on secondhand information.
Yes, tragically some British Airways pilots have passed away in recent weeks. No, we have no reason to believe any of them passed away due to being vaccinated. It's mind-boggling to me that we see a pilot pass away after having been hospitalized for eight months due to coronavirus, and the takeaway is that the danger comes with the vaccine.