Airline startup BermudAir has decided that it no longer wants to be an all-business class airline…
Background on airline startup BermudAir
For some background, in August 2023 we saw BermudAir launch operations. The airline is operating with leased Embraer E175 aircraft, and the business plan is to fly between Bermuda (BDA) and several points in the United States. The airline currently offers service to Boston (BOS), Fort Lauderdale (FLL), and White Plains (HPN).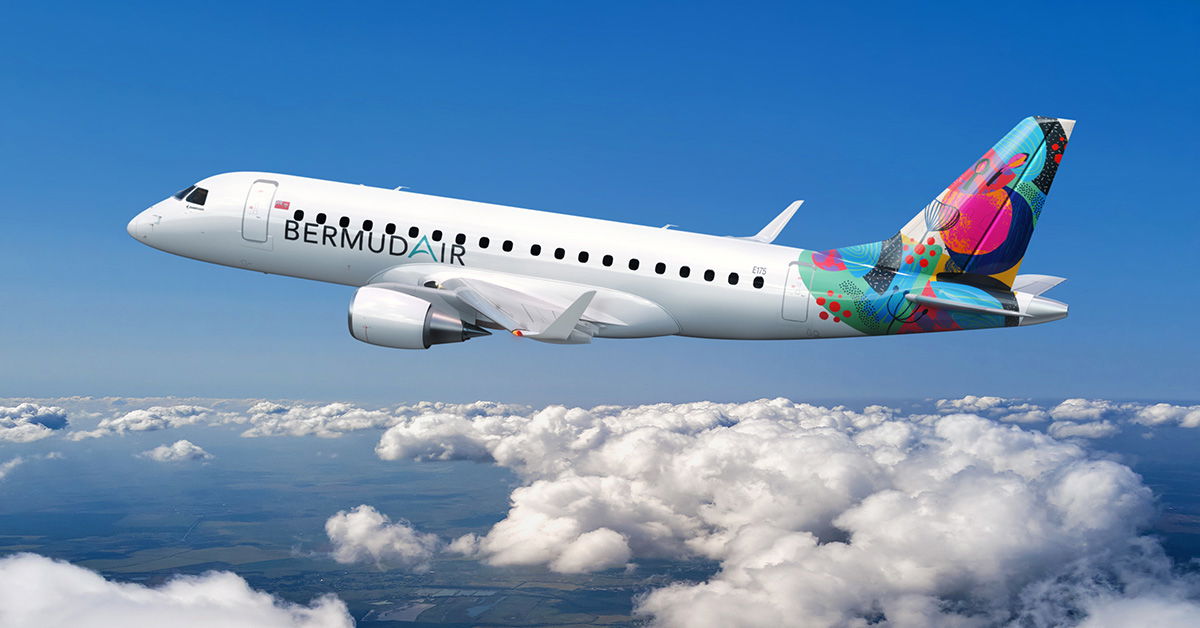 That sure is a niche business model, and what makes this even more interesting is that the airline had intended to operate as an all-business class airline. For the time being, the airline has a standard all-economy cabin on its aircraft, but it's able to market this as business class by selling each person a pair of seats, so they have an aisle and window.
Much more interesting is that as of later this year, the airline is introducing an innovative new business class product, whereby seats will be in a 1-1 configuration. This has to be swankiest regional commercial jet out there in terms of the layout!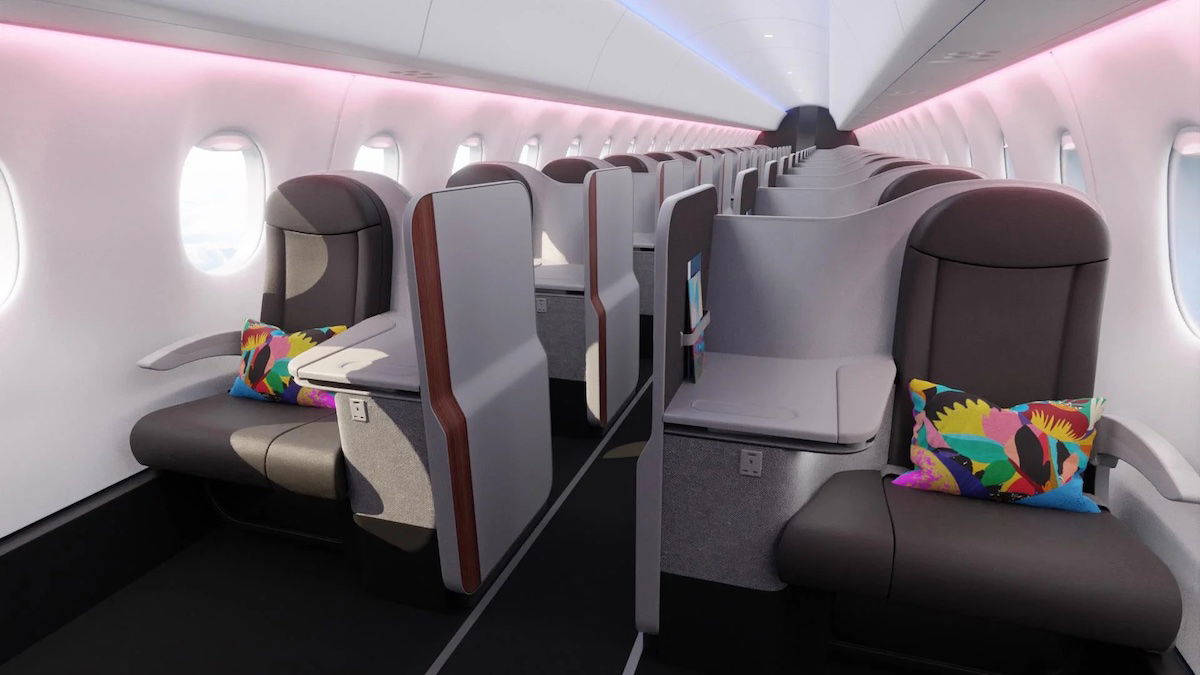 I've been a bit puzzled by this business model. While there's some consistent business traffic plus seasonal leisure demand to Bermuda, filling flights year-round in a profitable way is no small task. Well, there's an interesting update to the carrier's business model…
BermudAir adds two-cabin layout, with economy
Several weeks after launching operations, BermudAir has announced that it intends to introduce a dual-class cabin experience on all of its flights.
The airline states that this is intended to "make the airline more accessible for those seeking options to travel with the airline." The airline also claims that "the strategic shift in service plans enables BermudAir to honor its commitment to provide consistent, convenient service to and from Bermuda, while also responding to evolving market dynamics and preliminary guest feedback from its phased launch."
Here's how BermudAir CEO Adam Scott describes this change:
"Since launching in August, we have remained steadfast in our commitment to increase air capacity for Bermuda and serve the business and tourism needs of the island. A dual-class cabin allows us to continue to deliver on that promise, giving our guests more options to fly with BermudAir. After nearly 170 successful flights, it's clear that there is strong demand for direct, short-haul and premium flights between Bermuda and the East Coast. We've had overwhelmingly positive feedback from our guests about their experience onboard BermudAir, but guests also desire more options and flexibility. BermudAir is uniquely positioned to fill that need with our dual-class cabin."
The new dual class layout will be launching in Q4 2023. The airline hasn't yet finalized the number of business class seats and economy seats that will be on aircraft, and that's expected to be announced shortly. Despite that, flights are already on sale for travel in both cabins.
For example, looking at the Fort Lauderdale to Bermuda market, economy fares start at $299 one-way, while business class fares start at $799 one-way. Rather impressively, all fares include hand luggage, a free checked bag, premium snacks and drinks, and free seat selection.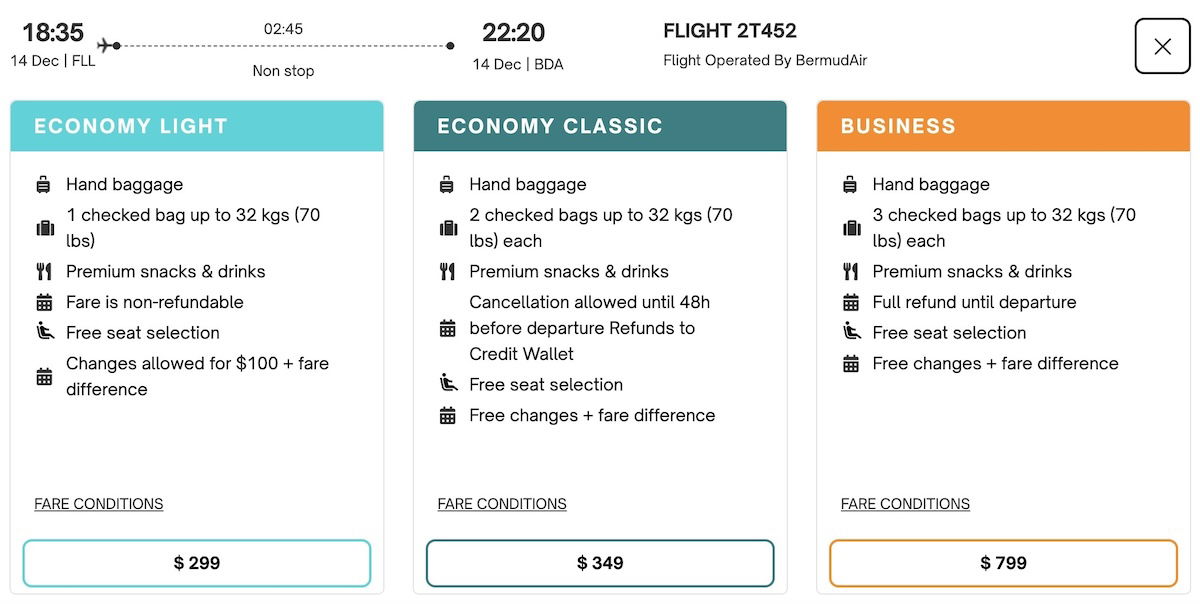 I still remain a little skeptical of BermudAir's alleged timeline for introducing its new business class product, given that we're reportedly just weeks from this being introduced, yet the airline hasn't decided on a configuration yet.
Bottom line
BermudAir has changed its business model within weeks of launch, and no longer intends to be an all-business class airline. The airline now plans to also offer economy. While I'm still skeptical about the overall business model (operating point-to-point year-round flights to a seasonal destination), introducing an economy experience seems logical to me.
There's no way the airline would be able to consistently fill all business class seats year-round, so subsidizing costs by selling some economy seats is better than nothing. I'm just curious what realization BermudAir made in the first few weeks of service that caused management to come to this conclusion.
What do you make of BermudAir introducing economy?