Airfare site Skiplagged.com has become pretty popular with many consumers, and is most well-known for helping people engage in hidden city ticketing. American Airlines is now the latest airline to sue the website. I find this to be a fascinating lawsuit, and I'm curious to hear what OMAAT readers think.
Let's start with some context. Skiplagged.com is an airfare site that helps people save money on airline tickets by violating the published contract of carriage of most airlines.
Specifically, the website helps customers find hidden city ticketing opportunities, and then charges a service fee to direct people to booking these. For those not familiar with the concept of hidden city ticketing, the idea is that if you need to fly from Point A to Point B, you might actually pay less by booking a ticket from Point A to Point C via Point B, and then you just skip the second segment.
This is not illegal, but it does violate the rules of most airline contracts of carriage, so there are some important warnings to be aware of. This only works if you're not checking bags, things could get messy during irregular operations, and you could get banned from a carrier's frequent flyer program over this. For example, see this recent post I wrote about a teen who was interrogated and then banned by American for hidden city ticketing.
Just to give a real life example, say you want to travel from Tampa to Charlotte, and search that on Skiplagged.com.

You'll see all kinds of itineraries, and the cheapest options will be ones that actually show extra connections.

When you select the itinerary, you'll see "Hidden-City" listed, meaning you're engaging in that practice. Rather than booking a nonstop, you're booking a less expensive itinerary that connects to New Orleans, and you just skip the second flight.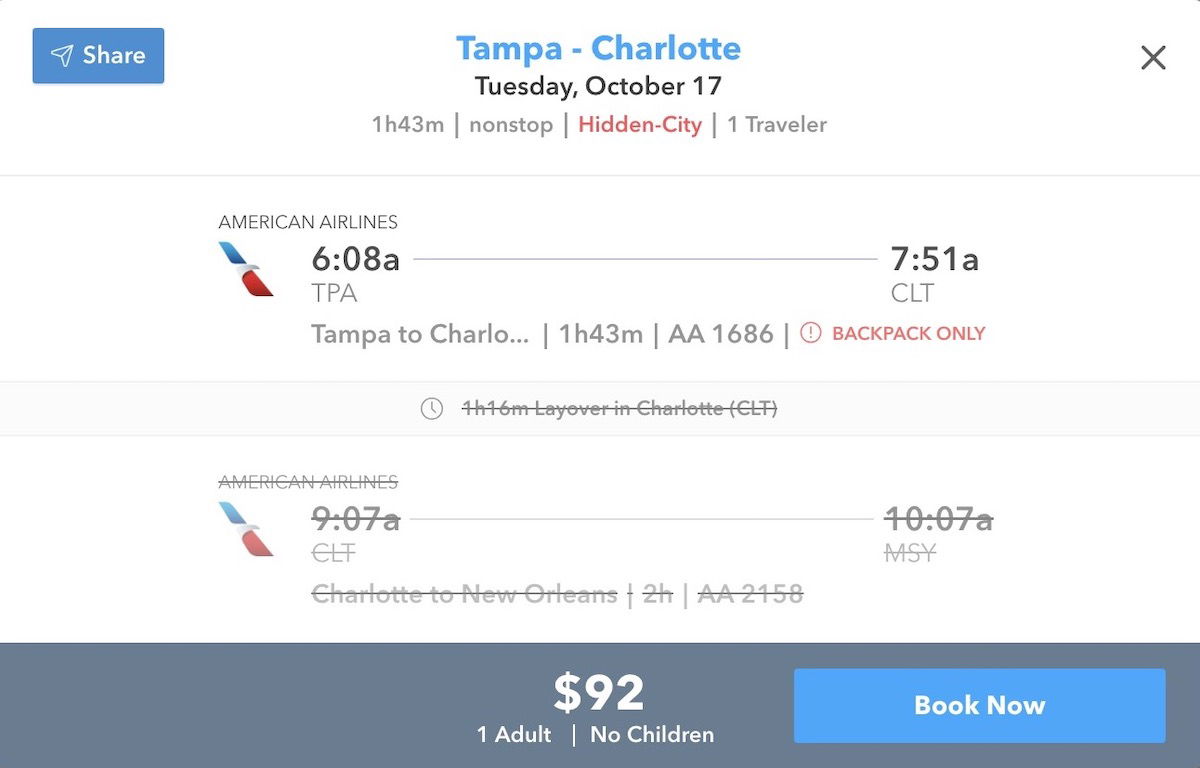 If you choose that itinerary, Skiplagged.com warns you of the risks of this.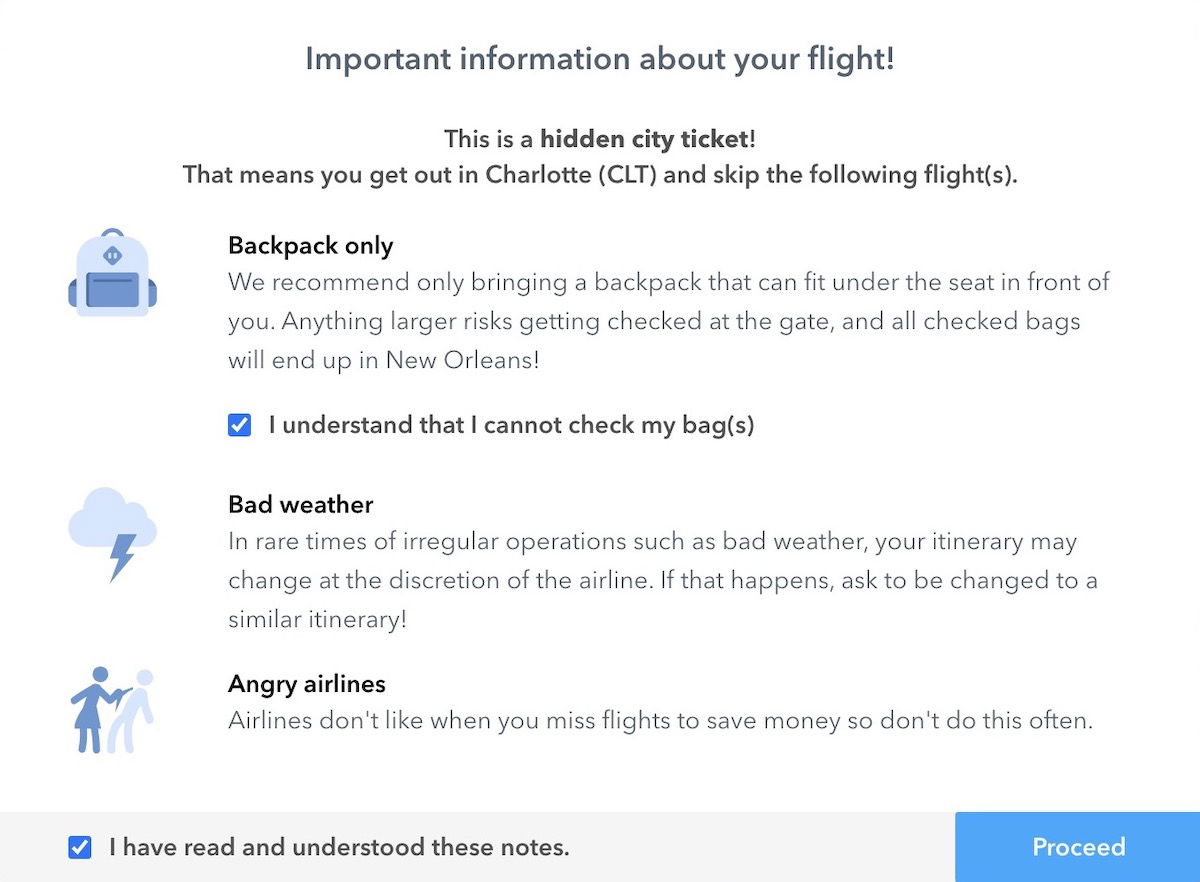 Skiplagged.com then books the ticket directly through American Airlines' website using automated technology, and charges a service fee. Keep in mind you could always use Skiplagged.com to research options, and then go directly to aa.com to book that itinerary without the service fee.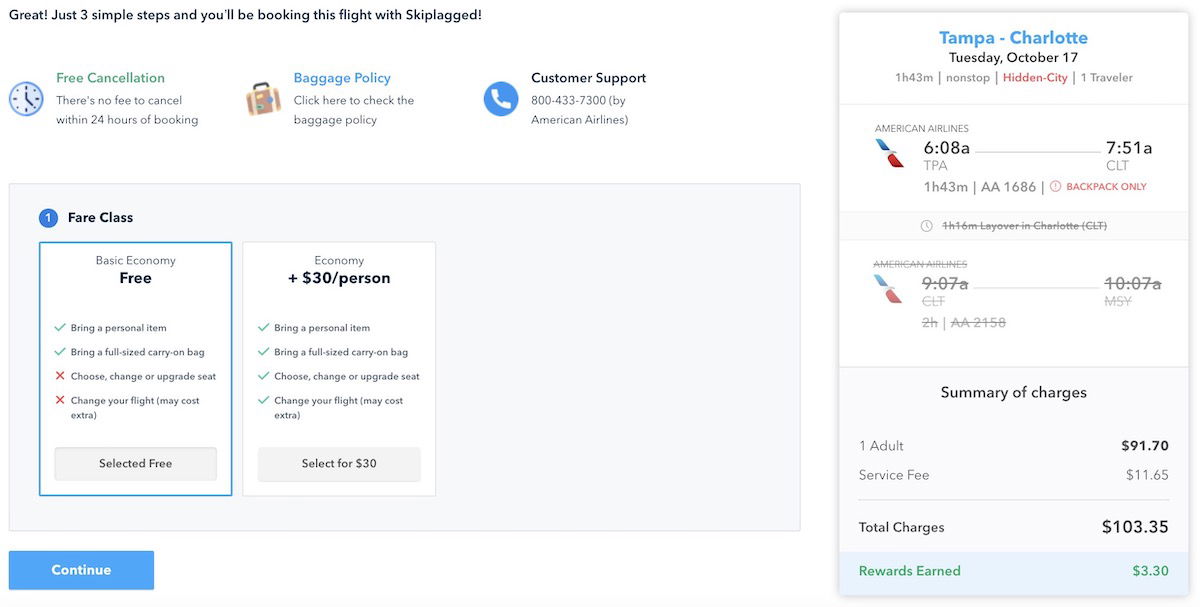 Why American Airlines is suing Skiplagged
American Airlines has filed a lawsuit against Skiplagged.com in a Texas federal court. American Arlines is seeking injunctive relief to prevent the site from using American's logos, or publishing any information about its flights, as well as damages. The airline is claiming that Skiplagged's actions constitute tortious interference, breach of the aa.com terms of use, trademark infringement, and copyright infringement.
Let me highlight a few of the key points in the lawsuit, according to American:
Skiplagged has never had an agency agreement with American and has never had any authority, whatsoever, to sell tickets for American flights. Indeed, Skiplagged developed methods to illegally obtain access to tickets and offer them to consumers – tickets which are at risk for immediate invalidation – because only an agent of American has the legal authority to form a valid contract between a consumer and American.
Skiplagged deceives the public into believing that, even though it has no authority to form and issue a contract on American's behalf, somehow it can still issue a completely valid ticket. It cannot. Every "ticket" issued by Skiplagged is at risk of being invalidated.
Skiplagged also deceives the public into believing that the American fares it displays will give the consumer access to some kind of secret "loophole." But many of the fares displayed on Skiplagged's website are higher than what the consumer would pay if they simply booked a ticket on American's website or through an actual authorized agent of American. It is the classic bait and switch: draw consumers in with the promise of secret fares, and instead sell the consumer a ticket at a higher price.
Skiplagged knows any ticket it issues is at risk for invalidation, and that American could simply cancel the ticket if detected, so Skiplagged hides its activity. It also tells its customers to hide it from American. Skiplagged does this by purchasing tickets on the AA.com website while pretending to be a consumer, in violation of the AA.com terms of use; by inducing agents of American to breach their agency agreements with American; and by misusing American's trademarks to falsely imply that it is American's authorized agent. On information and belief, Skiplagged employs other methods of hiding its activity that American is currently investigating.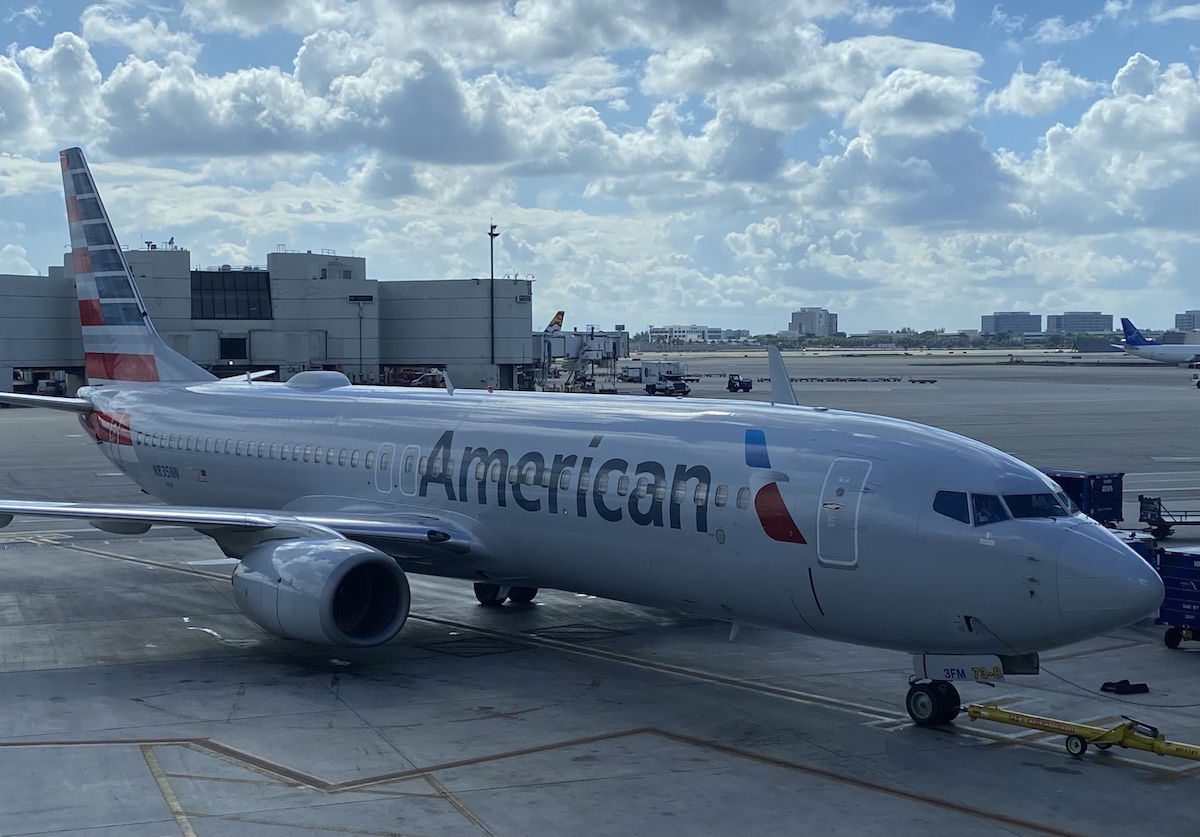 My take on American's lawsuit against Skiplagged
American's request to have its logo not be used by Skiplagged seems wholly reasonable, since the two companies don't have any sort of a business agreement.
American's much bigger issue, though, seems to be with the way that Skiplagged sells American Airlines tickets. How does Skiplagged issue American Airlines tickets? The website collects all your information, then it has automated scripts that allow it to use American's website directly to book the ticket, while pocketing the service fee that it charges consumers. So Skiplagged is booking tickets directly on aa.com on behalf of consumers.
The problem with this is that American prohibits the use of aa.com for any commercial purpose without American's express authorization. Admittedly this is really broad, and American only seems to want to enforce this at its discretion.
I mean, not to get myself in trouble, but if I search for award availability on aa.com for personal reasons, but then find some good options and write about it on the blog, didn't I technically use American's website for commercial purposes? That seems like a bold argument to make.
If American wants to stop Skiplagged, why doesn't it make its website terms of use more explicit? The airline could just ban any entity it doesn't have a business relationship with from using scripts to book tickets on aa.com, no?
I find it strange how American makes the claim that Skiplagged is engaging in a "bait and switch" by charging consumers more for airfare. So basically American is complaining that Skiplagged is charging a service fee and charging consumers more. Never mind that American charges much higher fares to begin with for many of the flights that people are booking through Skiplagged. That seems like an unnecessary distraction for the purposes of this lawsuit, no?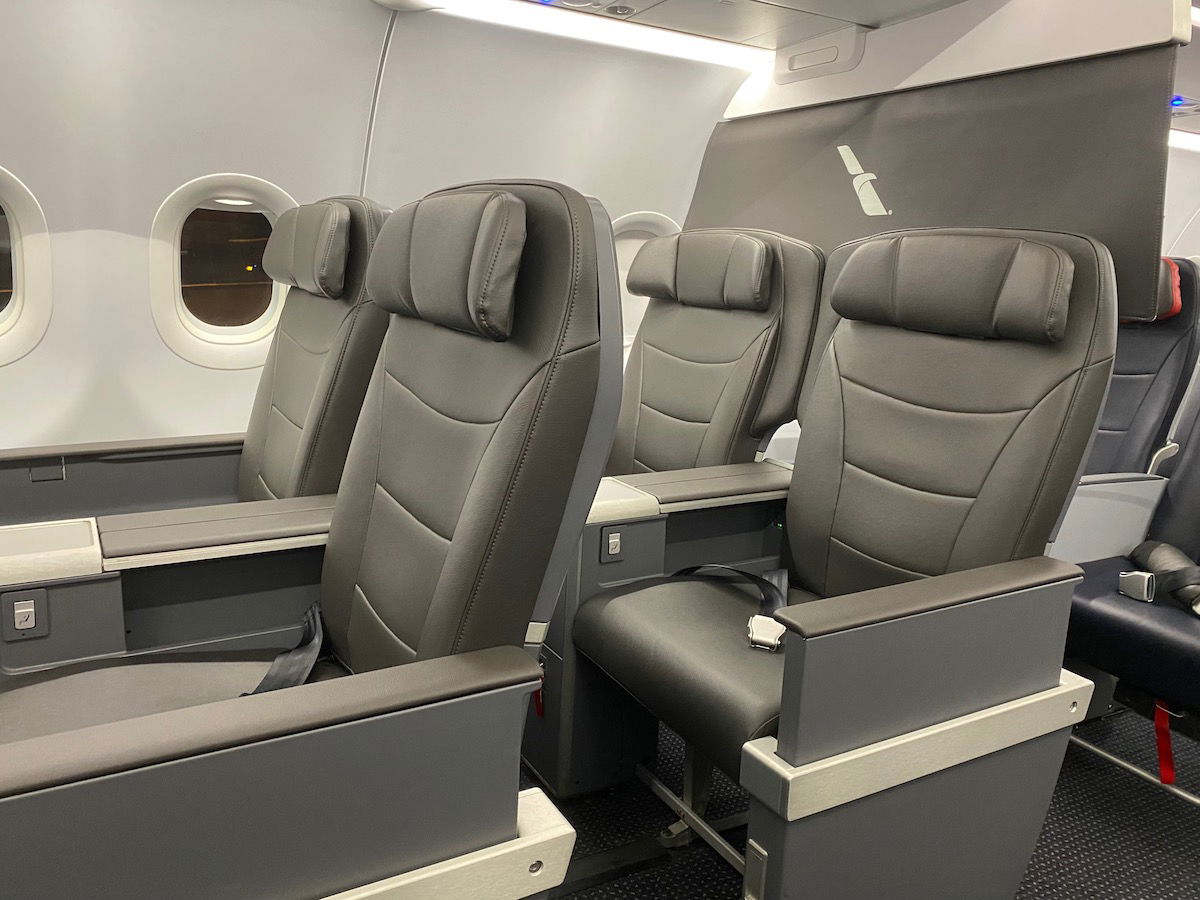 This lawsuit will set an interesting precedent
This isn't the first time that Skiplagged is being sued by an airline. In 2014, United Airlines sued Skiplagged, but the case was thrown out because it was filed in Chicago, while Skiplagged's owner lived in New York. Meanwhile Southwest sued Skiplagged in 2021, and reached a confidential settlement in June 2023. However, Southwest has long been more restrictive than other airlines when it comes to which agencies it allows to display its fares.
I'd argue the lawsuit with American is major:
American does display its fares through most major online travel agencies
Skiplagged is a lot different now than in 2014, when United sued the airline; back then it was basically a scrappy site with no business model that just helped consumers, while now the company charges a fee for helping people with hidden city ticketing
In some ways, this is no different than how American is blocking AwardWallet from helping AAdvantage members track their miles through some automated scripts.
As we increasingly see savvy online automation, we'll likely see more and more of these kinds of cases. This essentially comes down to whether companies should be able to control who uses their websites and how. I don't think American is being unreasonable here, even if I think this is anti-consumer. I'm curious to see how this plays out in court…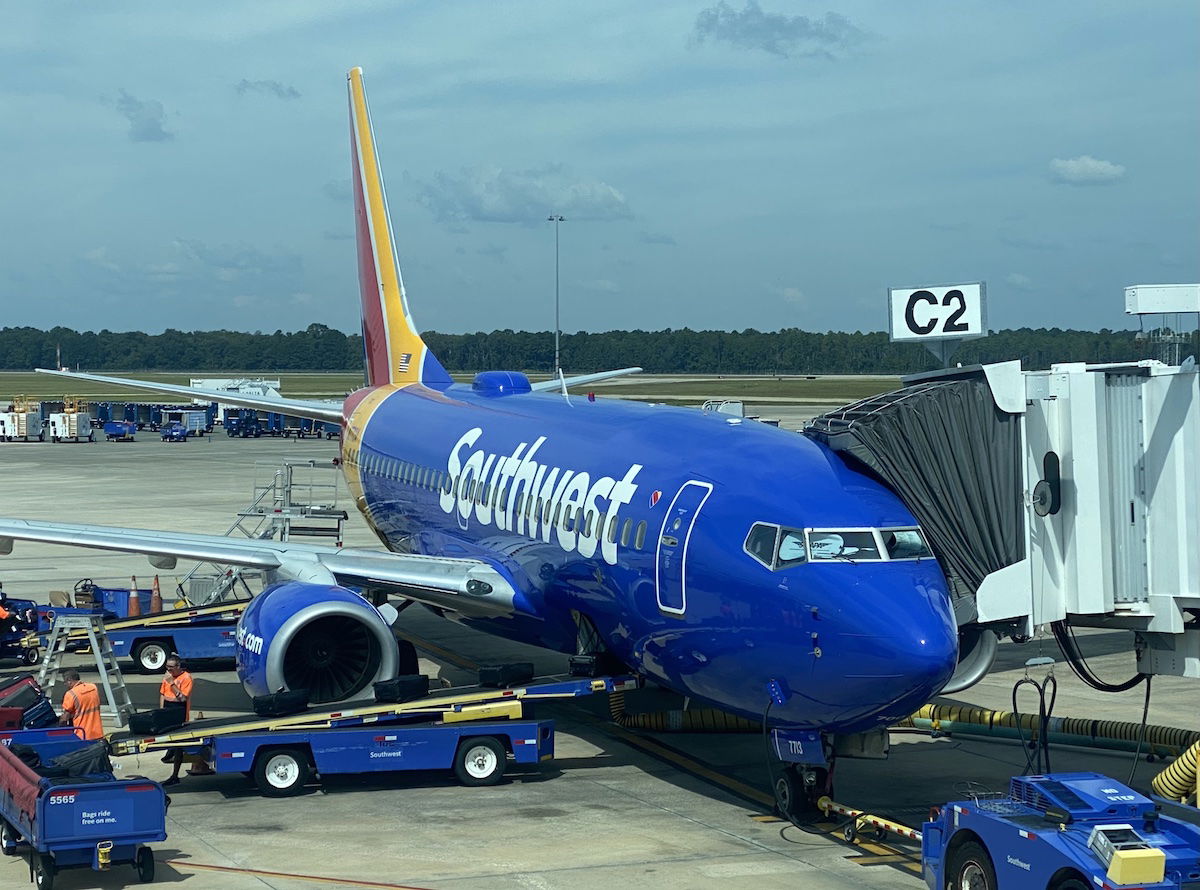 Bottom line
American Airlines is suing Skiplagged, a website that helps people engage in hidden city ticketing. This practice violates American's contract of carriage, but isn't illegal.
The gist of the lawsuit is that Skiplagged is using American's website to book tickets in an automated way, in violation of American's policy of not using its website "for any commercial purpose without American's express authorization." That's a really broad accusation. It'll be interesting to see how this plays out, because it could shape the future viability of Skiplagged.
What do you make of this lawsuit against Skiplagged?