While Alaska Airlines is based in Seattle, the airline flies to some pretty cool destinations in Alaska. Arguably the coolest of those is Wiley Post–Will Rogers Memorial Airport (BRW), located in Utqiaġvik (otherwise known as Barrow). This is the northernmost airport in the United States, and it's located 350 miles north of the Arctic Circle.
Flying to this airport is certainly on my avgeek bucket list. Well, a reader had the same idea and is there at the moment, but things aren't going so good…
Why people are getting stuck in Barrow, Alaska
Let me just share the email that reader Jim wrote me, because I think it's pretty concise, given the situation:
I and three companions are in Barrow Alaska, stranded with I'm guessing close to a hundred other people.

On August 25th, we took a flight on Alaska Air from Anchorage to Barrow Alaska with the intention of returning to Anchorage today. Upon arrival in Barrow we discovered the flight we took yesterday was the first flight that had been able to land in Barrow for the last 3-4 days. Many people we talked with in the hotel have been stranded since Monday and informed us we had little chance of getting out today or even in the next few days! Upon further investigation with others in the hotel (including several military employees who are also stranded), we discovered the problem is twofold.

The airport runways are under construction and, as a result, the radar is out. This results in the necessity of having a much higher requirement for the cloud ceiling — 600 ft instead of the 200 usually required if all the ground equipment is functional. Last night, as the fog rolled in (as predicted by the Coast Guard employees stranded here), we realized we were in real trouble — we had planned a quick overnight trip, so we have no clothes and a limited supply of medicine.

We began calling Alaska Airline this morning and spent several hours talking with various employees and supervisors who were sorry about "our weather problems," claimed not to know anything about any radar problems, knew little to nothing about Barrow, Alaska where there are NO options for alternative travel, and advised us they would be working hard on getting people out. Currently there are no available flights to be booked until Monday the 29th, so they advised us to be wait listed on the next flight. They claim we cannot be wait listed and also be booked (or protected) on a later flight. They had added a second flight today, but both flights were cancelled. The planes never left Anchorage, although the weather cleared here in the late afternoon. We are wait listed on the one flight tomorrow.

Alaska Airline accepts no responsibility for the situation they have created in Barrow. Many tourists came here, as we did, for a quick overnight to see the Arctic Ocean. We are all missing many days of pre-booked and expensive excursions and accommodations. Had we been informed of the fact that no flights had landed for the past several days, and that radar problems combined with weather would likely result in delays returning we would never have left Anchorage. Had they provided this important information in a travel advisory we would have cancelled our tickets, more residents and workers who had a real need to be here could have come on the flight yesterday and we would not be stranded here in a long queue with other people, many of whom have been trying to get out since Monday. Lacking a travel advisory, they could have simply informed people of the situation at the airport yesterday.

In talking with Alaska Airlines, they either would not or could not see their responsibility in creating this situation. However, they are very much responsible. Months ago, knowing of weather issues in Alaska, and knowing jet service allows for flights with a lower ceiling we specifically booked tickets with Alaska Airlines. We had no knowledge of the radar problems and would not have come here if we had known. Alaska Airlines did not have any travel warnings nor did they communicate with us in any way. This is clearly in the realm of an equipment problem, of which they had full knowledge. Flights were cancelled the three days prior to us flying from Anchorage to Barrow a fact they would have had full knowledge of and yet provided no travel advisory.
Alaska Airlines' Barrow operations are a mess
Alaska Airlines is the only airline to provide service to BRW, as the airline operates a once daily Boeing 737 flight from Anchorage. The flight covers a distance of 725 miles, and it seems that Alaska Airlines is really struggling to operate this flight regularly. Over the past two weeks (August 12 through August 26, 2022):
That's not exactly a great track record. It's pretty amazing to see how the flight has frequently taken off from Anchorage, made it almost all the way to Barrow, and then turned around. Clearly the airline hoped conditions would be okay, but then they deteriorated to the point that landing was no longer an option.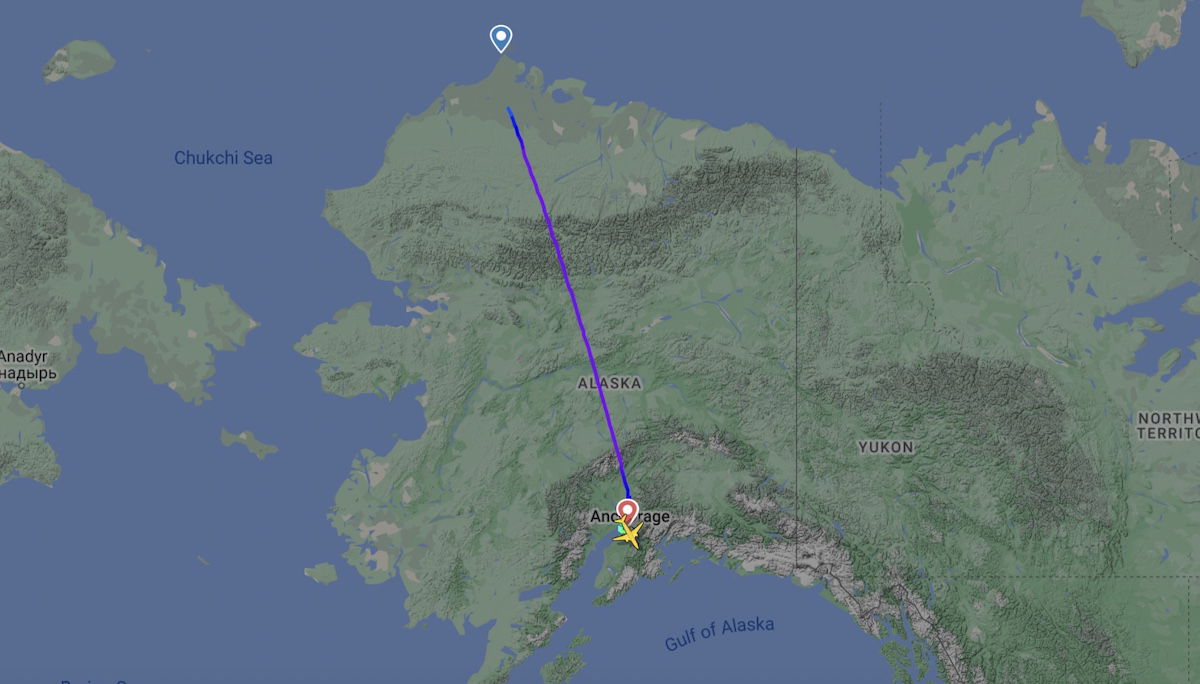 Is Alaska Airlines to blame here?
I wish I had good advice I could give to Jim, but with one daily flight to Barrow and lots of people stranded, there's not really much room for creativity here. I share the frustration of those who are stranded in Barrow due to this.
A few thoughts:
It's amazing how little information there is on the web about the construction work at the airport, and the impact that has on planes being able to land; admittedly this is a small airport with limited traffic, but still…
Having a bunch of people stranded in Barrow is complicated, since there's very limited lodging, and there aren't many ways out; then again, I suppose there aren't many people arriving either, so there shouldn't be much of a lodging shortage
Alaska Airlines absolutely should have some sort of a notice for passengers booked on this flight, warning them about the potential for getting stuck, so that passengers can reconsider travel while this work is ongoing
While Alaska Airlines isn't at fault for the underlying issue, the airline needs to do more to communicate this situation to passengers, so that they can make informed decisions. This seems like one of those situations where there's a breakdown in communication between those working in operations and those working in customer facing roles, because everyone would be better off if passengers were fully aware of what was going on, and could plan accordingly.
Now, to try to be constructive, a couple of important reminders for others who might find themselves in similar situations:
Even if you're taking a one or two day trip, always plan for things to go wrong when it comes to bringing essentials like medicine (I know that can be tricky sometimes, but things go wrong with travel way too often, especially nowadays)
Almost every time I take a flight, I look at the recent Flightradar24 history; I do this primarily to see how reliably the flight has been operating lately, and looking at the history for this flight would have definitely raised some red flags
Bottom line
Alaska Airlines is the only airline serving the United States' northernmost airport, which is pretty cool. However, the airport's runway is currently being worked on, and as a result, the radar is allegedly out. This means that weather needs to be better than usual in order for planes to land. This is leading to major issues, and in the past couple of weeks we've seen several cancelations and diversions.
The issue is that there's not much information out there about the runway work, and Alaska Airlines doesn't do anything to inform passengers of these issues.
While the airline isn't at fault for the issues, I absolutely think Alaska Airlines owes it to passengers to provide more warnings about the current situation. This way passengers can make an informed decision about whether or not they want to travel.
What do you make of this Alaska Airlines Barrow situation?