United is sending out emails to select MileagePlus members offering them an invitation to a new "invitation-only, contemporary restaurant" at Newark Airport, called CLASSIFIED. It's described as follows:
We're pleased to welcome you to dine at CLASSIFIED, an invitation-only, contemporary restaurant at Newark Airport.

The creators of CLASSIFIED have created a bright and airy dining space that's hidden away for those lucky enough to get an invitation. On the cutting edge of airport dining, CLASSIFIED offers a menu that's inspired by upscale American cuisine with seasonal ingredients and tableside service. We're offering reservations to select United® customers only, and we want to make sure you're at the top of the list. Reserve a table today to experience this unique, new restaurant that's the first of its kind.
This seems to be very closely targeted, as most on FlyerTalk report not being invited. You can log-in here to see if you're eligible. Here are the pictures that FlyerTalk member limey1K shared of the website, which has pictures of the restaurant. The restaurant is being run by OTG, the same company that has improved many of the other concessions at Newark Airport.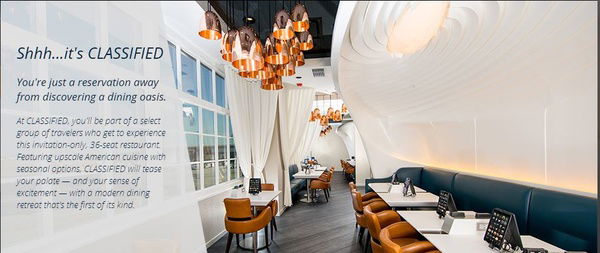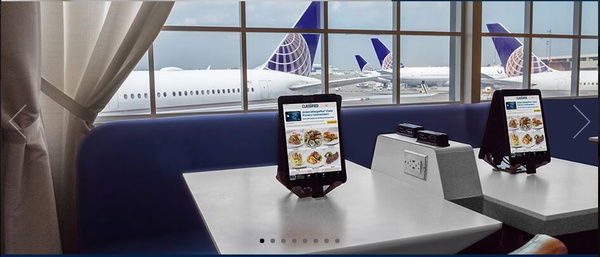 When I first heard about this restaurant I assumed "ah, United is delayed in opening the Polaris Lounge, so they'll invite select top tier elite and full fare business class passengers into a pop-up restaurant in the meantime, where they enjoy pre-flight dining at no extra cost."
Nope, instead this is a restaurant as expensive as the top steakhouses out there — a steak costs ~$45 without any sides. You can find the full menu here.
So this basically has top steakhouse pricing, minus the service, because instead you can order off screens.
I'd question the viability of this business model to begin with, let alone trying to restrict it even further by only inviting certain flyers. But perhaps that's exactly the goal — by making it exclusive they're probably hoping to create interest that might not otherwise be there. Heck, clearly that's the goal, based on the fact that they're calling it "CLASSIFIED."
Personally I tend to think the high end airport restaurant scene has very limited potential:
Most business travelers get to the airport last minute, without enough time for a sit-down steak dinner
Most business travelers have access to lounges; while not necessarily nice, being able to send off a few emails before boarding is often more important than having a good meal
When the Polaris Lounge opens it will have sit down dining as well
I'd be very curious to see how full this restaurant gets. If anything, I think the demand will be there because of the curiosity surrounding this being an "invitation only" place. Otherwise this whole concept just seems like a stretch to me.
What do you think about the concept of an invitation only airport steakhouse?
(Tip of the hat to Live and Let's Fly)