Over the past couple of months we've seen an electronics ban implemented for flights from select Middle Eastern airports to the US, and it's possible that this may eventually be expanded to flights from Europe (though it has been postponed for the time being).
It looks like we may also soon see some changes to security screening procedures in the US as well. Scott McCartney at The Wall Street Journal is reporting that the TSA plans on introducing new security screening guidelines at checkpoints later this year, as they'll be asking passengers to remove more items from their bags. As it stands, with the exception of those using TSA PreCheck lanes, passengers are asked to remove laptops and liquids from their bags.
Technically this isn't compulsory, in the sense that you can leave those items in your bag, though your bag is likely to be pulled aside and manually searched if you do.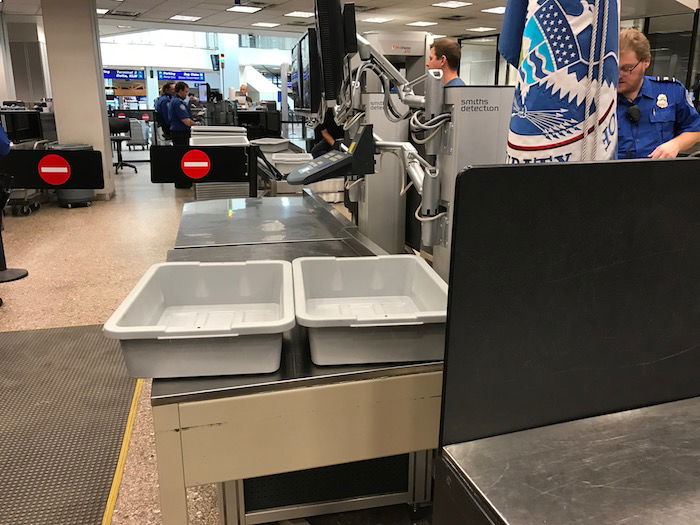 While the exact new policies haven't yet been decided, the TSA wants passengers to declutter their bags, as they'll be asking passengers to take more things out of their bags and place them into individual bins. The idea is that many items can look confusing on the x-ray (some food items can apparently look like explosives due to their density), so they'd rather have more individual bins go through with clearer images.
New procedures, such as requiring all food or all electronics larger than cellphones be placed in bins separately, are still being tested. Changes haven't yet been finalized, but senior Transportation Security Administration officials agreed to discuss them publicly for the first time. Decisions will be made in a few weeks, with new rules implemented after the summer travel rush, once screeners are trained and announcements made.

"It has to be efficient and it has to be effective," says Darby LaJoye, assistant administrator for security operations. "We are far enough along that I am very optimistic that what we are piloting is working."
The TSA has been running tests regarding this at smaller airports. For example, a while ago there were reports that passengers were being asked to remove paper from their bags at select airports, though that test was canceled.
The story suggests that the requirements to remove things from bags could change airport by airport or line by line, which just seems to me like a recipe for disaster. People are confused enough by TSA procedures as it is, so can you imagine how bad it would be if policies varied by day and airport.
The story also suggests that TSA agents will stop manually checking IDs, but rather they'll have machines that can verify whether IDs are real. The story also suggests that boarding passes won't be required anymore, though I highly doubt that will be the case when this is implemented nationwide (though it would be awesome).
Another change starting to roll out: TSA will begin using machines to verify ID instead of officers manually studying passports and driver's licenses. The ID verification machine testing will start at Washington Dulles Airport later this month, then spread to Atlanta, Boston, Chicago, Austin, Texas and Washington Reagan Airport. Full rollout should take about two years.

The machine checks for fake IDs and matches up names with passenger lists—no boarding pass will be needed at the TSA checkpoints when the machine is in use. Officers can still clear someone manually if a false alarm is triggered.
Bottom line
In general I'm all for change at the TSA. They're highly ineffective, and in tests have missed over 95% of explosives and weapons, which is alarming. Despite that, nothing has been done to address their shortcomings. While I appreciate screening changes that increase security, I'm not sure what exactly this accomplishes, at least as described.
Randomly instituting restrictions at different airports seems like it will add confusion and considerably increase the amount of time it takes to clear security.
I guess we'll find out the full details of this soon.
What do you make of the TSA's proposed idea to have passengers declutter their bags?