I've done a lot of intra-Europe travel over the years, almost exclusively in business class. That's because it's usually in conjunction with a premium cabin longhaul award ticket, so the intra-Europe segments are up front as well. That being said I'd never pay for business class for an intra-Europe flight, as it's simply coach with a blocked middle seat and a mediocre snack/meal.
Well, I flew Air Berlin tonight from Catania to Munich using British Airways Avios, and was a bit apprehensive about flying with them given the all coach configuration and borderline horrendous pitch — they have 186 seats on their 737s!
Don't know what I was worried about, because I quite possibly had the most pleasant intra-Europe flight I've ever had. I got a bulkhead aisle seat with an empty middle seat, and the buy on board food and drinks that were better than I've ever otherwise been served in intra-Europe business class.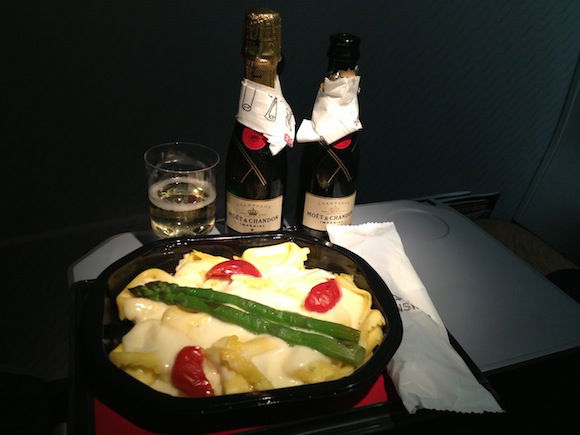 Only negative of the flight? The beyond creepy safety video. Fortunately I can't find a high qualify version of it online, or else y'all would probably lose sleep tonight. Heck, casting the Lufthansa worshiping lady in it would reduce the creepy factor.