On Friday I took my first domestic redeye in years.
Back when I was just a young lad, I'd take redeyes all the time. Probably an average of one a week, but often even two in a week. As I've gotten older I value a good night of sleep more than in the past, and unfortunately I can only sleep on flat surfaces.
So while I've done some transcontinental "premium" redeyes with flat bed products over the past few years, it has probably been a few years since I've otherwise done my last domestic redeye.
Friday night I didn't have much of a choice. I had a commitment in LA on Friday night which went till around midnight, and then had to be in Chicago on Saturday by noon. So I decided to take the 1AM flight from Los Angeles to Chicago.
This was the same night that American and US Airways merged their reservations systems, so I was thrilled when everything worked out perfectly.
So, how did I feel after my first domestic redeye in years?
The redeye wasn't as bad as I remember
Having done hundreds of redeyes over the years, I have extremely unpleasant memories of them. But the truth is that it actually wasn't so bad. I don't know how it happened, but shortly after takeoff I fell asleep, and only woke up about an hour before landing. I don't feel like I got "real" sleep, but at least I wasn't conscious for most of the redeye.
Surprisingly I didn't have neck pains either, which I usually otherwise associate with domestic redeyes. In the past I always had terrible neck pains after landing, from my head bobbing back and forth while drifting to sleep for hours on end, given the lack of "proper" headrests in domestic first class.
I do love sunrises
If there are three things in life which always put a smile on my face, they would be nice weather, sunrises, and sunsets. I'm used to seeing sunsets on flights, and I'm used to seeing sunrises on longhaul flights. But there's something so beautiful about seeing a sunrise as you're coming in to land in the morning. I was in an aisle seat, so couldn't capture a good picture. But suffice to say it was gorgeous, and brought back memories of many great views.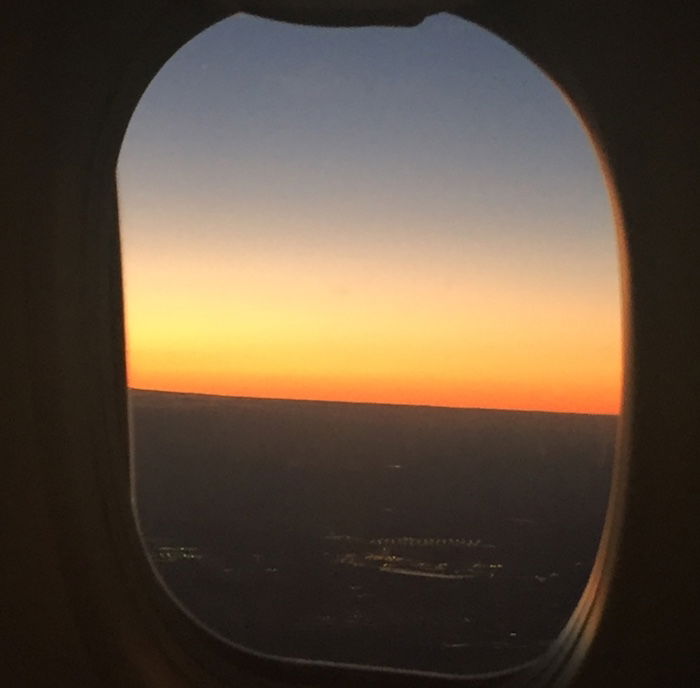 Jesse Jackson was on my flight!
This flight came with a bit of amusement as well. Jesse Jackson was seated diagonally across from me. And almost everyone who walked by him recognized him, given that he has a fairly distinguished look.
I had nothing to do but watch the aisle during boarding, so one thing I found interesting is that he proactively stuck out his hand to every black passenger who walked by, but no one else. There's no issue with having some sort of "allegiance" with a community, but I found that sort of glaring.
He seemed to be a genuinely pleasant person, and was happy to pose for photos, and even "blessed" a bunch of people who walked by. Not a bad "performance" on his part for a 1AM flight.
Bottom line
After my flight this past weekend, I don't hate redeyes as much as I remember hating them. They're actually not all bad, at least in moderation. Do I want to go back to taking one every week? No way. Do I mind them once in a while when they just work best schedule-wise? I don't think so.
Where do you stand on domestic redeyes — do you take them all the time, avoid them altogether, or somewhere inbetween?