Good morning from Barcelona. While I'm about to conk out thanks to the 48 hours of straight flying I've done (flying Tampa to Chicago to Las Vegas to Los Angeles to Miami to New York to Barcelona), I did want to quickly mention what a great flight I had on American. I know, I know, American business class can't be that great, but this was a really good flight.
For one, the flight was less than 40% full in both business class and coach, apparently thanks to the Superbowl.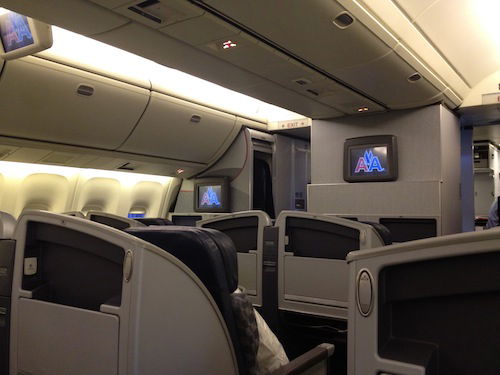 Second, since this was a 767, American has an enhanced meal service compared to business class on the 777. Their logic is apparently that since they don't have a first class product, everyone deserves a bit better of a meal than business class on a three cabin plane to compensate for it.
That means that instead of just nuts you get nuts and a cheese antipasto.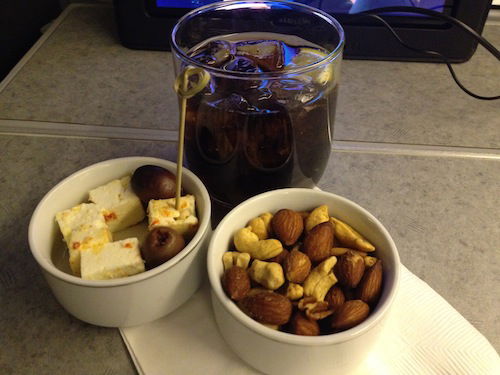 Then instead of the small starter and side salad being served together you get a separate starter consisting of shrimp and salmon.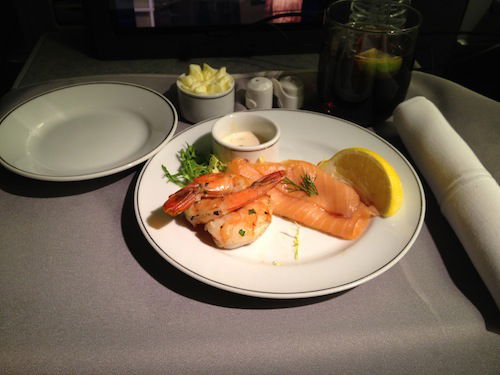 Then you get a full sized salad, as opposed to the side salad served in business class on 777s.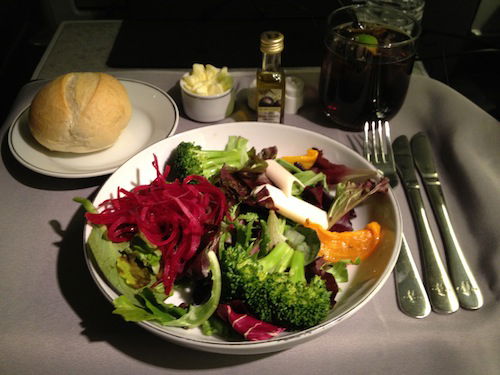 Then instead of the main course being in a small pre-plated dish, it's actually plated onboard and served on a proper plate. This steak happened to be really good, surprisingly.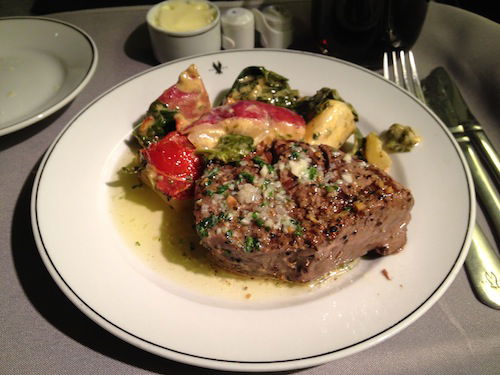 Then for dessert you get an ice cream sundae instead of just a scoop of ice cream.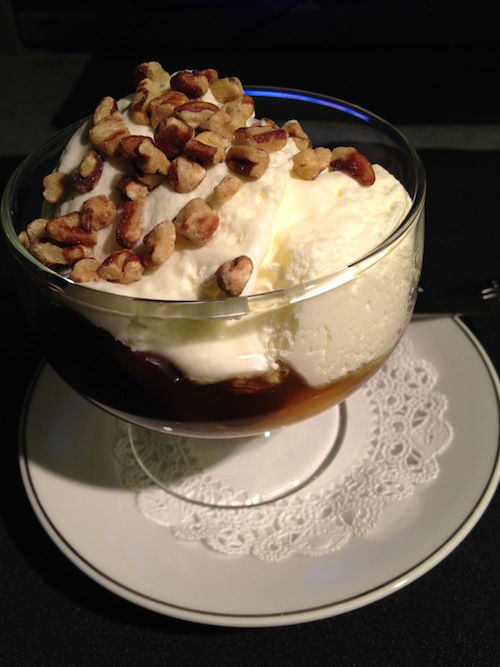 But what really set the flight apart was the crew. There were three guys working business class, all with completely different personalities. The purser, Mauricio, was one of the funniest flight attendants I've had in a long time. He was sarcastic at almost every interaction, but in a funny way. The guy in front of me asked if he could hang his coat, and he said "of course I can, I have two hands. Why do you ask?" When my travel companion got a bit demanding he was reminded (jokingly) that's he's an Executive Platinum and, only Concierge Keys can be that demanding. Yet despite his humor he was also incredibly professional, and greeted every passenger both on the way in and thanked each business class passenger for their business before landing.
Then the flight attendant working my aisle had to be one of the most professional I've had on any airline. At every single interaction he addressed me by name, and constantly asked how everything was, if he could get me something, etc.
Truly a fantastic flight, though now it's off to bed for a few hours…