Over the past few years we've seen the major US airlines adjust how they award miles. For the most part they've gone from awarding miles based on distance flown, to awarding miles based on dollars spent. This new mileage system also leads to a net reduction in miles issued, because airlines figure that they can fill planes without offering generous loyalty programs.
However, the changes in mileage earning aren't the same across the board. Those booking cheap tickets are in many cases earning a small percentage of the miles they previously earned. Meanwhile those on full fare and premium tickets have largely seen a big boost in their mileage earning.
The catch is that the "big three" US airlines award at most 75,000 miles per ticket, regardless of how much the ticket costs, or what your status is. In other words, American:
Will award miles for the first $15,000 spent on a ticket for a non-elite member (since they earn five miles per dollar spent)
Will award miles for the first ~$6,800 spent on a ticket for an Executive Platinum member (since they earn 11 miles per dollar spent)
That's an odd system, since in this case airlines are penalizing elite members. Elite members earn mileage bonuses, but for expensive tickets those are capped, so a non-elite member and an Executive Platinum member on a very high fare would earn the same number of miles.
All of this brings me to an email I received from a reader, where he shared how many miles he earned for a single roundtrip ticket. The headline of the email was "most award miles on a single round-trip?" and when I saw that I instinctively thought he must have earned 75,000 miles.
Nope, this reader earned 172,261 AAdvantage miles for a roundtrip business class ticket from Philadelphia to London.

WOW!
So, how did this happen? American had sent out a targeted promotion offering triple miles on paid first and business class tickets through early July. He registered for the promo, totally forgot about it, and then needed to go to London for work, and his company booked him on American both ways without him prompting them.
He only remembered about the promotion when he returned home and saw how many miles he had earned. Here's the fare breakdown: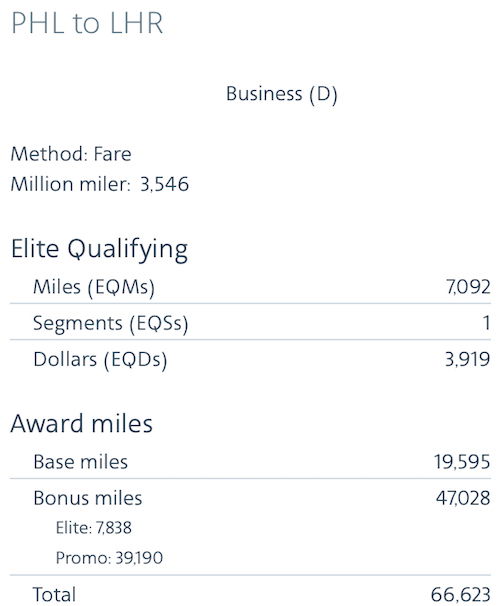 Interestingly it looks like he earned this many miles without having even reached the max of 75,000 miles per ticket (before the triple miles promotion). He's an AAdvantage Gold member, so since he earned 50,665 base miles, that means his ticket cost around $10,133 before taxes and fees. It makes me really sad to think about companies spending that much on a ticket on American (then again, it's not like there are any great options nonstop between Philadelphia and London). I think that also explains how airlines are making money on transatlantic flights in spite of transatlantic economy fares being so low. Just a handful of people booking those kinds of fares can lead to a flight being very profitable.
So yeah, I think 172,261 miles is the most I've ever heard of anyone earning on a single ticket. That's enough miles for a roundtrip award ticket in Japan Airlines first class between the US and Japan. That's pretty incredible.
Has anyone ever earned more miles for a roundtrip ticket?