I've been enjoying my time in Casablanca so far, and the city has exceeded my expectations. Most people I know who had visited Casablanca said it was a dump, while I've heard Marrakech is more interesting. I've found Casablanca to be quite interesting (not that I'd choose it as a vacation destination, but given that there are cheap business class fares published out of here, I could see myself returning).
Matthew and I stayed at the Hyatt Regency Casablanca last night, which was nicer than I was expecting.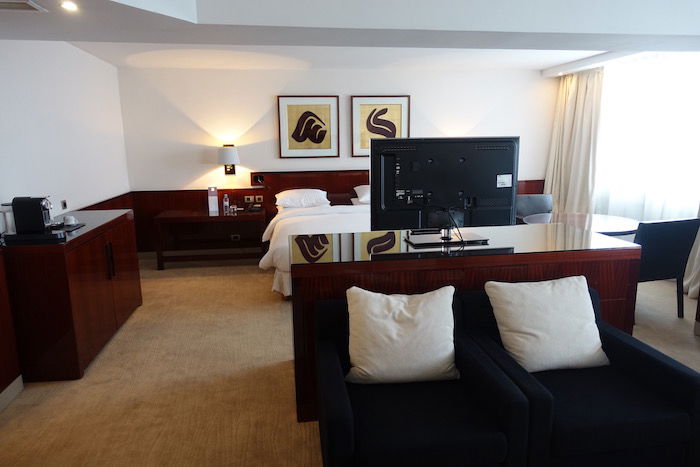 After doing some sightseeing earlier in the day, we had dinner at the Moroccan restaurant at the Hyatt, Dar Beida, which was incredible. It had traditional Moroccan decor, and the food was fantastic.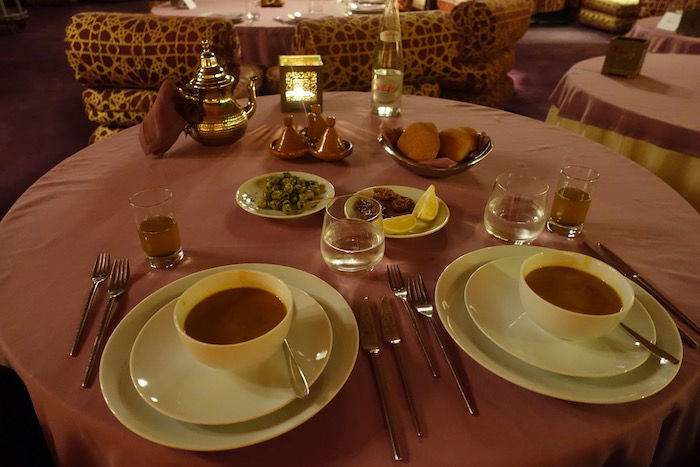 Oh, one more detail — we were the only people at the restaurant. Literally. The restaurant was big, but there were no other guests.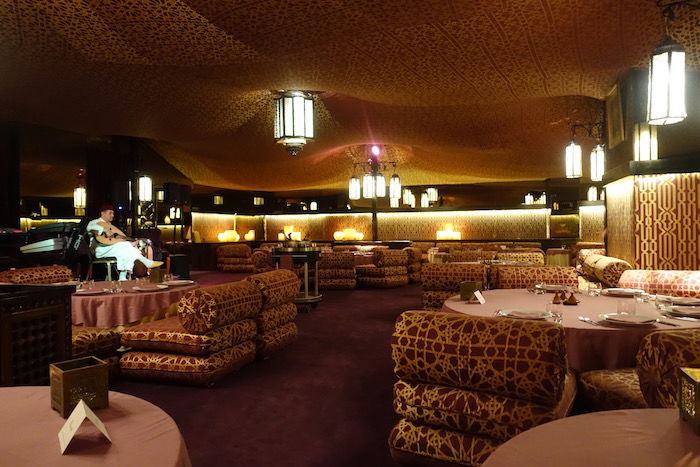 There was live entertainment, and at first there was just one guy playing music. Okay, I thought it was a bit awkward that he was playing just for us, but it added to the atmosphere.
Then they brought out a six person band. Okay, now this is really awkward.
Then they brought out a belly dancer, which is where things got really really awkward.
She was very attractive, and was wearing a very skimpy outfit (even more so than I've usually found to be the case with belly dancers… not that I have that much experience, other than at a few restaurants). While I don't have much experience in this department, I imagine her bra was a couple of sizes too small. She had more assets than the national bank of Qatar.
It's a bit awkward when someone is dancing just for you, so I asked Matthew "are we supposed to just look at her the whole time, or would she be offended if we go about our business as usual? And if we keep looking at her, wouldn't that seem creepy?"
She danced to a couple of songs, and we were always hoping it would be the last one. Not because we didn't appreciate the dancing as such, but just because it's awkward as hell when you have someone dancing just for you (unless you're paying by the minute, in which case I suppose that's how it works).
Then she came over to our table and started dancing right in front of us. She was maybe 3-4 feet from us. She'd intentionally shake her chest and sort of bend over. It was the closest thing I've experienced to getting a lap dance. It was awkward as hell (have I mentioned that yet?). Was she trying to solicit tips? If so, did she want us to slip money in her bra, or…?
Was I supposed to stare at her, or could I just look away? I had the hardest time not cracking up, to be honest. I don't know if it was more awkward for me, or Matthew, who is straight and has a wife.
I realize that belly dancing as such is part of the culture, but this was unlike any belly dancing I've experienced before. For that matter, I really don't get how such dancing is part of a culture in a country that's 99% Muslim. How does a belly dancer wearing almost nothing and literally shaking her breasts a few feet from my face conform to the concept of "modesty" for women?
Anyway, I just had to share, because the whole situation was so funny and awkward. Perhaps it was one of those "you had to be there" situations.
Here's Matthew's slightly straighter perspective on this "incident."
Would it have been rude to just look away, or were we supposed to stare? Is there a polite way to ask her to stop?