Well this is turning into an adventure. Last week I wrote about how British Airways was offering 150 Avios per dollar spent on match.com memberships when going through their shopping portal.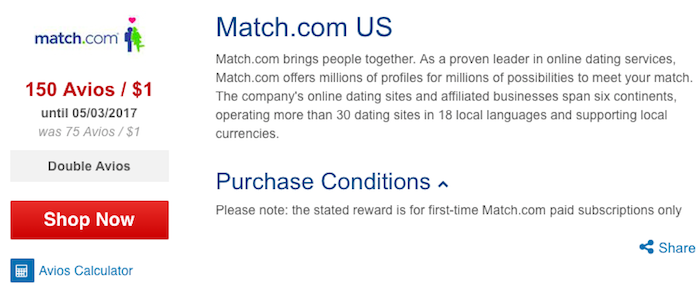 This seemed like an incredible opportunity to generate tens of thousands of Avios for ~0.67 cents each. While we've seen some shopping portal glitches in the past, that didn't seem to be the case here. The British Airways shopping portal had been offering 75 Avios per dollar spent on match.com subscriptions for quite a while, and they were having a limited time promotion where you could earn double Avios with all retailers.

So perhaps they hadn't fully considered the implications of awarding 150 Avios per dollar spent, but I don't think anyone would argue this was a fat finger mistake on their part, or anything. Within a day or so of making a purchase, British Airways' shopping portal began to show pending Avios for purchases, which is great.
However, unfortunately the pending Avios were only based on the base package price, rather than the entire membership fee. That's unfortunate, given that for many of us over half of our purchase was the membership add-ons.
Match.com seems to be canceling memberships
I've received several reader reports over the past few hours suggesting that match.com is sending out membership refund emails, despite no such request being made:
Your Refund has been Processed

Per your request, we have processed a refund for $572.57 on your Match.com account. As a result, your subscriber benefits – which includes sending emails to other members – end on 03-05-2017. This refund request should be received by your bank or credit card company within the next 72 hours.

In addition, the auto-renewal feature on your account has been turned off so you will not be charged again. You may continue to use your Match.com account as a subscriber until 03-05-2017, and after that as a "free member" to search and send winks.

Warm Regards,
Match.com Customer Care
I'm not sure what exactly is triggering this. I've received these reports both from people who have purchased bundled packages, and also those who purchased non-bundled packages. So I'm not sure if they're canceling new accounts that were opened last week but that don't have any activity yet, or what.
I haven't received such a notice, while a family member did, so this doesn't seem to be totally consistent.
Now what?
I'm not terribly surprised by what's happening here. Many people who want to cancel for free are being told they can't, while many others who didn't want to cancel are being told their accounts will be closed and they'll receive a full refund. So what do I recommend at this point?
If your account was auto-canceled, I'd just let it be. Getting them to reactivate and post the Avios to your account will be a lot of hassle.
If you're in a similar situation to me and haven't received a refund, I'd recommend waiting until tomorrow and then filing a claim for missing Avios through the online shopping portal. That's because you have to wait at least five days before filing a claim.
This can be done by logging into the online shopping portal with your Executive Club account, then clicking on "My eStore." Then at the bottom of the page you should see the missing Avios claim form.
I don't think it's too much of a stretch to suggest this could be resolved favorably. British Airways doesn't seem to be disputing that the payout is 150 Avios per dollar, but rather they're just restricting what's eligible, despite no such mention in their terms.
However, ultimately this may come down to what match.com is willing to pay British Airways for.
If you took advantage of this deal, was your account canceled? If not, are you planning on filing a missing Avios claim tomorrow, or what's your plan?