Overall I've been impressed by the way that Marriott and Starwood have handled their merger. They introduced reciprocal status and points transfers from the day the deal closed, which is something we've never seen before from loyalty programs of this size. The new Marriott program that's kicking in as of August also exceeds my expectations. That's not to say that I'm happy about Marriott's takeover, but it's still better than I was expecting.
However, I am finding myself pretty disappointed by the final stretch leading up to Marriott's new program. Marriott's new loyalty program is kicking in as of August. That's potentially just over two weeks away, yet they still haven't announced when in August the new program will launch. It could be August 1, or it could be August 31, we don't know.
Clearly they were in a rush to introduce a new combined program (I'm guessing this has to do with their combined credit card agreements), and I feel like this has led to an unrealistic timeline for them, at least if they still want to communicate with members and provide proper notice of changes.
The single question I'm getting most often
"What happens to existing certificates issued through Marriott's Hotel + Air Packages?" I get this question several ties per day, and for good reason. We're potentially weeks away from a new program being introduced, and they still haven't told us. I find this to be ridiculous. So the only answer I can give is "I don't know."
I reached out to a Marriott spokesperson again today to see if they had any update, and got the following response:
Award certificates are important to our members, and as we work to bring the programs together, it's something we are working through. When we have more information, we will definitely let you know.
Why Marriott's Hotel + Air Packages matter
In late May I wrote a post outlining the incredible value of booking Hotel + Air Packages before August. Historically this is the best use of Marriott points, though this redemption is being devalued significantly as of August. So this is your last chance to book these packages at the old rates.
These packages allow you to redeem points for a set number of nights in a certain category of hotel, plus a certain number of miles in select frequent flyer programs.
To give one example, you can redeem 270,000 Marriott Rewards points for 120,000 Alaska miles (I just mention Alaska miles because I consider them to be among the most valuable) plus a seven night stay at a Category 1-5 Marriott Rewards property.
270,000 Marriott Rewards points is equivalent to 90,000 Starpoints. One popular use of Starpoints is that you can convert them into airline miles at a 1:1 ratio, with a 5,000 point bonus for every 20,000 points transferred. So assuming you value one Starpoint at 1.25 airline miles, that means 90,000 Starpoints is worth 112,500 Alaska miles. In other words, booking a Marriott Hotel + Air Package is a better value for getting miles, not even factoring in the seven nights of hotel stays you get.
Why there's so much confusion
The point of confusion here is regarding what happens to these certificates when Marriott's new award chart kicks in. Currently Marriott Rewards has Categories 1-9 and Tiers 1-5, and when you book a travel package you can decide which of those tiers you want (the more expensive the tier, the more points are required).
As of August Marriott is adopting a new award chart, which puts all properties in Categories 1-8 (and Category 8 only kicks in starting in 2019, so for the rest of the year Category 7 is the highest):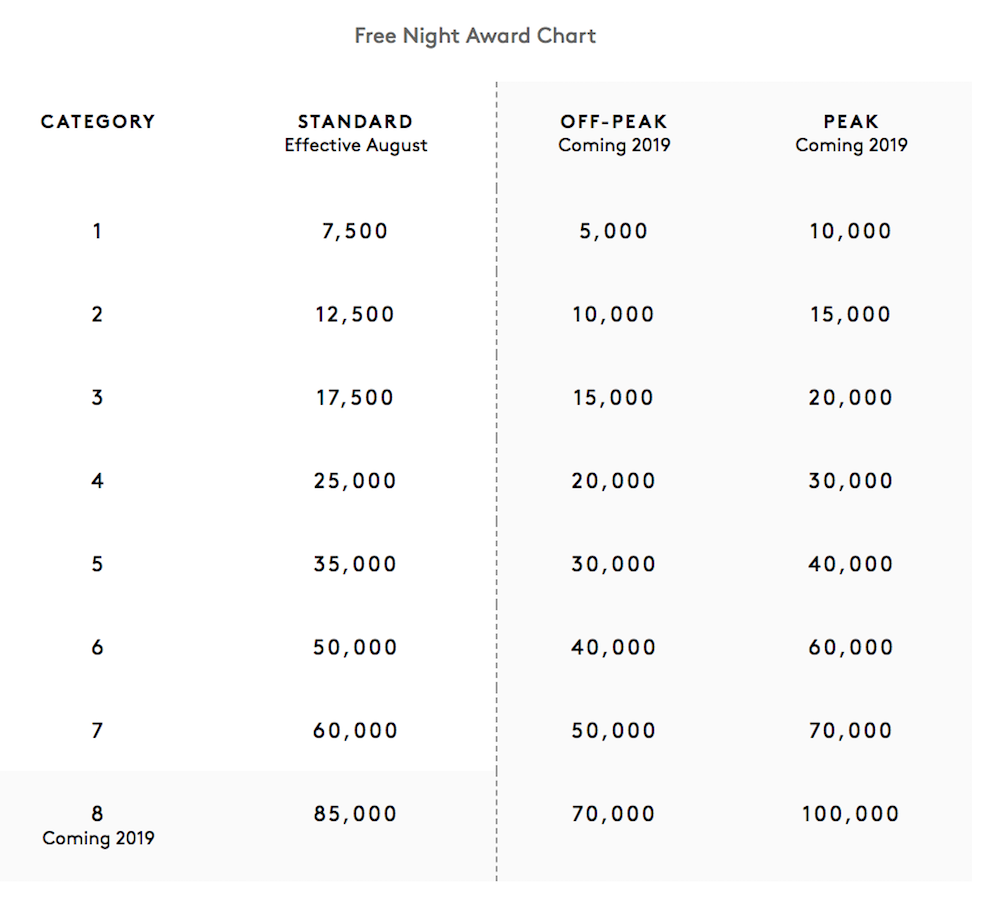 So this raises the question of what happens if you issued a current Category 1-5 certificate? The old program had more categories, so will this remain a Category 1-5 certificate? Will it become a Category 1-4 certificate? Or what?
People seem to assume there are a few possible outcomes here:
Marriott will honor existing certificates, and will transfer over the award levels generously; in other words, a Category 1-5 certificate might still be valid at the new Category 1-5 hotels, which includes a lot more properties
Marriott will honor existing certificates, and will transfer over the award levels less generously; in other words, a Category 1-5 certificate might only be valid at a Category 1-3 or Category 1-4 property
Marriott may just award members points and invalidate the issued certificates, due to the program changes; the question is how many points they'd award
Personally my guess is that they'll honor certificates in a way that's quite generous, and I say that because I think it's the only reasonable option they have. Invalidating certificates that have already been issued would be unreasonable, unless they're issuing a lot of points. This is also why I think they may be holding off on communicating with members, since they don't want a lot of people to book these speculatively.
My strategy with Travel Packages
I have a very healthy balance of Starpoints, and personally my plan is to issue several Travel Packages, even if they don't explain how the certificates will transfer over. Why? Because I'm already earning more airline miles on these transfers than I'd earn with the program otherwise, and the only question is what type of hotel I'll be able to redeem the certificate for.
Actually, what I'd like to do is book at least one Travel Package for one of the higher end hotels, so I can book a week at the St. Regis Aspen or St. Regis Deer Valley or St. Regis Maldives, for example. What I'm trying to decide is how expensive of a package I'd need to book to accomplish that. Since Category 7 will be the highest category for the rest of 2018, would booking a Category 7 package cover it? Or should I book a Category 8 or Category 9, or Tier 3-5 package? Unfortunately there's no way to know.
Bottom line
It's disappointing that Marriott still hasn't revealed how Travel Packages will transfer over to the new program. Since this is a question I get multiple times per day, I figured it was worth posting an update that we still don't know how these certificates will convert over with the new program.
Regardless of how they convert over I think think these are worthwhile for those who want airline miles. The reason I'm holding off is because I'd love to redeem for seven nights at one of Marriott's top properties (specifically, a St. Regis), and I'm trying to decide how expensive of a package I have to book in order to get that.
What's your strategy with Marriott's Travel Packages?