As much as I'm not thrilled about Marriott's takeover of Starwood (or perhaps more accurately, I don't like competition being eliminated), there's no denying that the leadership at the company has been doing a fantastic job with the integration.
Since the day the merger has closed, Marriott has allowed members to match status between programs, and transfer points at a fair ratio. Marriott has also announced some improvements to their program that nicely match what Starwood offers.

Marriott is planning on eventually integrating all three loyalty programs (Marriott Rewards, Ritz-Carlton Rewards, and Starwood Preferred Guest) into a unified loyalty program, though that's happening in August of 2018. You can read our ultimate guide to the new Marriott and Starwood program here.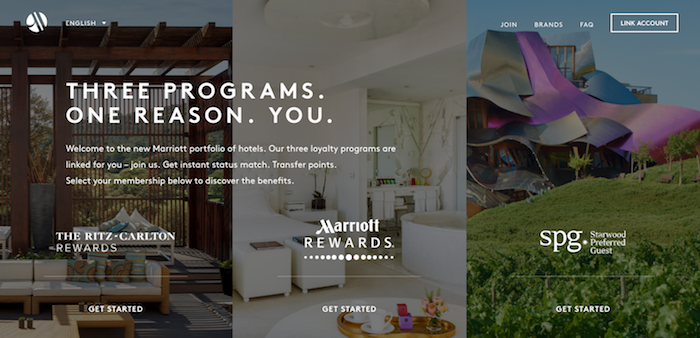 While I'm a bit worried about what the future of the program looks like, there's some news out today that I'm happy to see.
Marriott has a new SVP of Loyalty
David Flueck has been appointed Senior Vice President of Loyalty for Marriott. Since the merger closed he has been Senior Vice President of Loyalty for Starwood, and prior to that he was Vice President of Global Revenue for Starwood. Going back several years he worked in loyalty at Starwood, and he was behind many of the positive program changes that SPG made in 2012.
In other words, he's a Starwood guy, which I quite like, since I'm also a Starwood guy. 😉
Per the press release:
Prior to leading SPG®, Flueck oversaw Starwood's Global Revenue Management team where his team grew global market share through a proprietary revenue management system that leveraged machine learning and big data capabilities. Prior to joining Starwood, Flueck was a consultant for the Boston Consulting Group. Flueck has an MBA from the University of Chicago, and a degree in economics from the University of Colorado. 

As part of the new leadership structure, Thom Kozik will continue in his role as Vice President of Loyalty, leading Marriott Rewards and The Ritz-Carlton Rewards, and reporting to Flueck. In addition, Kozik will take on added responsibilities for cutting-edge strategic initiatives.
Now, I don't want to draw too many conclusions upfront here, though I do find it quite interesting that Marriott has selected a Starwood executive to lead the combined loyalty program. It gives me some hope about what the future of the program will look like.
Marriott's loyalty focus this year
I had the chance to speak with David this afternoon to get a bit of an update on the future of the program. What I found most interesting is where his priorities are right now. He has three things that his team is working on, in the following order:
The top priority for this year is cross-pollinating programs. This means improving the programs to add additional benefits. We've seen Marriott add Starwood's Ambassador service and Moments packages, etc. Furthermore, we'll see Starwood introduce mobile check-in at more properties, which is an area where Marriott has excelled.
The next priority is creating one program. I think this one is pretty obvious. On the call I also asked about what the timeline is for all three programs being integrated into one. David said that 2018 is still the target, though early 2018 is unlikely. They'll communicate further information as they have it.
The third priority is working on all their partnerships. We're talking American Express, Chase, Delta, United, Emirates, China Eastern, etc.
Bottom line
The Marriott loyalty team has a big task ahead of them. At the end of the day the new combined Marriott Rewards program doesn't have to be as rewarding as Starwood Preferred Guest was, given that Marriott will have hotels just about everywhere. In many ways, a great loyalty program is a way to make up for not having a great global footprint.
So I'm hoping for the best with the future of the program, and am excited to see that a former Starwood executive is leading these efforts.
Congrats to David, and good luck!