As most of you guys probably know, American pilots have been staging "sickouts" and delays over the past week that have caused huge problems with American's reliability. It's completely apparent that it's happening, and I'm not trying to take sides here, other than to point out that it is happening.
Florida Senator Marco Rubio was trying to get back to Washington last night, and Tweeted about his experience with American (Tweets are in reverse chronological order, so you might want to start at the bottom):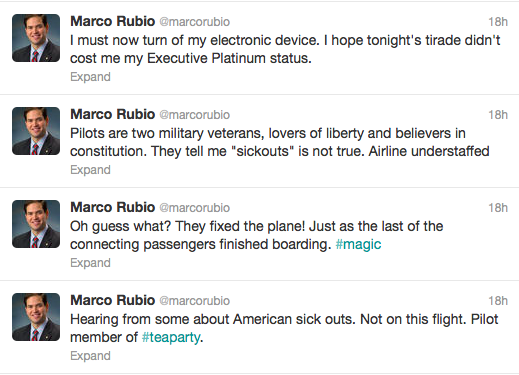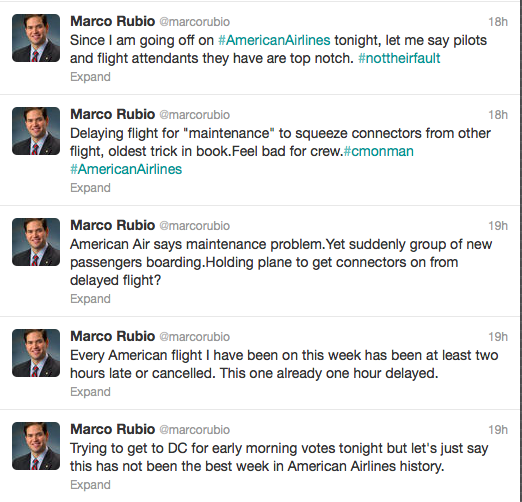 Politics aside, I have to wonder what the fact that the pilots are believers of the constitution and lovers of liberty has to do with the flight being on-time.
This is pretty funny to me cause he's convinced they were delaying flights for late arriving passengers and not due to sickouts and other "maintenance" issues. And I guess the sickouts aren't happening, since both of the pilots said so. The guys over at Airline Pilot Forums hint otherwise:
Like this one:
And as always, the way to go is follow the FAR's to the letter, as well as company rules… like giving T-storms 20 nm space, thorough pre-flights, conscientious write-ups, economical taxi and flight speeds, meticulous check list procedures, no-fault go-arounds, etc etc etc.

Of course, fatigue is a hot-button topic w/NASA and the FAA. Got to wathc those mental health issues too. And it's a good time to finally get that carpal tunnel surgery.
Or this one:
They are about to implement "overfly shall be cancelled by underfly" policy. Gee, wonder how pilots will get around that? 😉 My understanding is that NWA tried that and their pilots started "BOB" (Block Or Better) and management stopped it shortly thereafter.
To which someone else responds:
Underfly? What the hell is Underfly? There shall be no such thing!
To clarify the above, "underfly" is when the actual flight time is less than scheduled, and I assume as of now they still get paid for the scheduled flight time. If they're late, on the other hand, they get paid for the extra time. "Overfly shall be canceled by underfly" would mean that if the first flight is 15 minutes early and second flight is 15 minutes late, they would just get normal pay (as opposed to pay for an extra 15 minutes).
Or this one:
IF you are a member of the traveling public and NOT management, then allow me to just state that the cheap airfares (subsidized by employee wages…….of course, just like the high fuel bills that the airlines are/have been facing) have caused us to lose a lot of sympathy towards the flying public. Although, I sense that again IF you are part of the traveling public and not management, then most of your travels involve business and not the $199RT to FL.
Or this one:
Remember to always run the IMSAFE checklist. Are you prepared mentally? Feeling stressed due to BK? Emotionally unstable?

IMSAFE………..
Or this one:
Well ya know sometimes you have to double check that flight plan. Especially on those RNAV departures. You don't want to cause a potential mid air collision. Safety first.
Or this one:
Instead of DIRECT anywhere, just request "FLIGHT PLAN ROUTE"! 😉
Or this one:
Got a good laugh the other day when center said to an American flight "I noticed you guys are declining short cuts a lot lately, is there a reason for that?" They came back with "hmmm dunno;)".
The most apparent thing must be that the taxis I've had on American over the past week have been the slowest of my life. I don't think I passed five miles an hour on the taxi to the runway or gate this week. I guess that's what they call "economical?"
Anyway, here's to hoping operations smooth out for everyone's sake.
(Tip of the hat to David)