Malaysian low cost carrier Malindo Air is under fire for how they conduct interviews for prospective female cabin crew. During interviews they make females strip down to their bras, to see if they have any visible marks anywhere. This is apparently because their uniform is somewhat see through, and you wouldn't want someone serving you or looking after your safety if they have any "scars of pimples." That would just be too much to handle. Per Malay Mail Online:
It is the right of the employer to request potential flight attendants to expose their chests to interviewers, said Malindo Air public relations and communications director Raja Sa'adi Raja Amrin.

"It is not an issue. We have the right to conduct such body checks on them. I think most airlines do the same," he said.

"We need to see if they (applicants) have scars, pimples or tattoos that could be seen through the uniform. Our flight attendants wear a corset inside and if it is covered by the corset, it is okay."

"We need to know if there are scars or any marks as you can see their legs when they walk," he said.
It's bad enough that they have this policy, but does Malindo Air really think that "most airlines do the same?" They're definitely not the only airline, but it's a very limited number of airlines that have such a policy.
This has caused several Malaysian politicians to demand that Malindo Air change their policy and apologize, per a follow up article:
"I demand Malindo apologise to Malaysian women, especially those who desire to be a stewardess.

"If they want to operate out of Malaysia, they should respect Malaysian women," she said during a press conference at the Parliament media area today.

DAP's Batu Kawan MP Kasthuri Patto and Kulai MP Teo Nie Ching were also present during the press conference.

Siti Mariah also demanded that the Women, Family and Community Development Ministry and the Transport Ministry take action to "put a stop to this rubbish."

"Stewardesses need to be presentable and charming but not sexy," she said.
Shortly after Malindo's policy was exposed, AirAsia put out a recruitment flyer stating that they won't "ask you to strip down." Well played, AirAsia.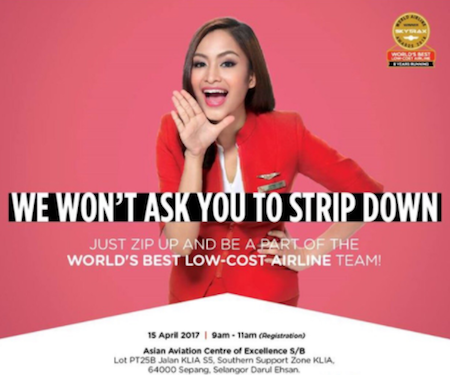 Unfortunately female flight attendants being objectified is still very much alive in some parts of Southeast Asia, so Malindo Air isn't alone. Nok Air has published calendars with Playboy and Maxim models, and VietJet has had their flight attendants strip down into bikinis for publicity stunts (that airline is even owned by a woman).