In addition to the two horrible tragedies that have occurred with MH370 and MH17, I certainly also sympathize with the airline as such. They're in a horrible situation, both financially and in terms of morale.
I give them credit for trying some creative things to get passengers on planes, though it seems they may have crossed the line with the contest they launched earlier in the week, entitled "My Ultimate Bucket List." Through the contest, travelers in Australia and New Zealand were asked to enter the destinations that are on their "bucket list," for a chance to win a roundtrip ticket.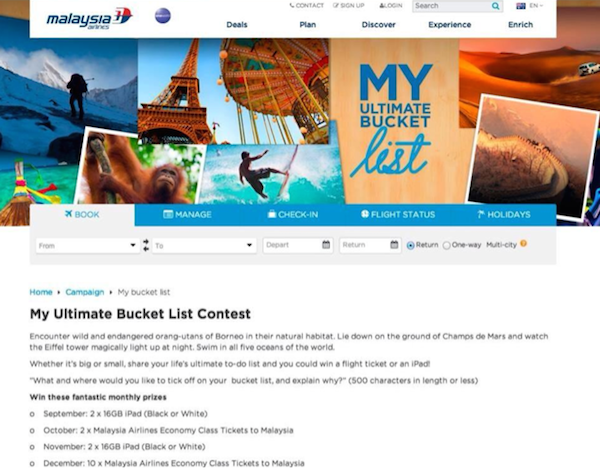 Via The Sydney Morning Herald:
Malaysia Airlines has provoked a storm of controversy by asking customers to list the things they would most like to do before they die.

The airline, which lost two planes this year in disasters that claimed 537 lives, committed the marketing gaffe when it launched a "My Ultimate Bucket List" campaign on Monday.

But with the world still reeling from the twin catastrophes of the MH370 and MH17 crashes, social media users swiftly began mocking the marketing ploy.

The campaign called on Australian and New Zealand residents to write their own bucket list and enter it into a competition to win flights to Malaysia and iPads.

It has since been rebranded around "your ultimate to-do list".

"The competition had earlier been approved as it was themed around a common phrase that is used in both countries," the airline said in a statement.

"The airline appreciates and respects the sentiments of the public and in no way did it intend to offend any parties."
I first saw this yesterday, and have to admit that it took me a few minutes to figure out what was wrong with it. I hadn't really slept for two days and had flown 10,000+ miles nonstop, so that may have something to do with it. But it took me a while to connect the dots.
What do you think — was it in poor taste, or are people overly sensitive and reading too much into things?
(Tip of the hat to sjs)