I'm on a bit of a crazy trip at the moment (I'm excited to eventually share the reasoning), and am en route from Asia to Europe. Long story short, I saw a flight with four Cathay Pacific first class award seats, which is exactly what we needed. This was two days before departure, and not a single seat was taken in the first class cabin at the time.
For those of you not familiar with Cathay Pacific, they have just six first class seats on the 777. Typically they make up to one award seat available in advance, and then closer to departure they'll often release more seats. You often see an extra seat, and sometimes even see two seats closer to departure.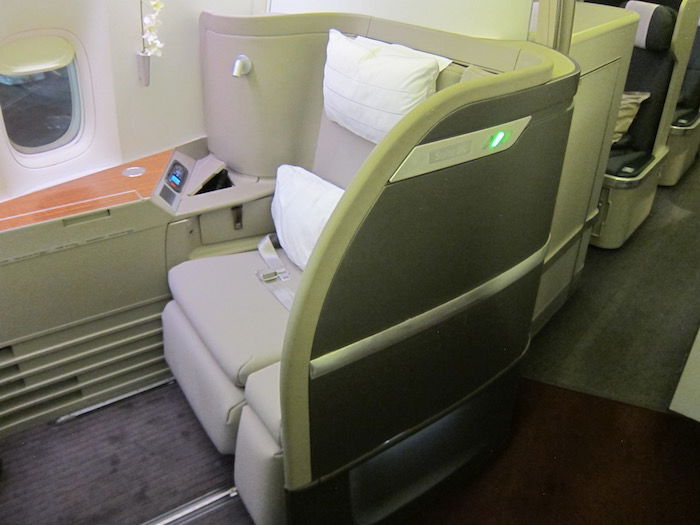 However, four seats at a time — and more specifically, a completely empty first class cabin two days before departure — is extremely rare.
So I phoned up American AAdvantage to book, given that it's not bookable online. As usual, I don't want to tell the agents how to do their jobs, so I typically ask them to check availability, rather than telling them I found availability that should be bookable for them. The call went something like this:
Me: "Hi, I wanted to inquire about Cathay Pacific first class award availability between Hong Kong and London for February 15 for four people."
Phone Rep: "For four people?!"
Me: "Yes, I know that's rare, but I'm hoping there's space on the afternoon flight."
Phone Rep: "Oh. My. Gosh. There are four first class seats on CX___. I've never seen that before in my life. I can't believe this."
Me: "Wow, that's amazing!"
Phone Rep: "You don't understand, I've never seen this before."
Me: "Great! Any chance I can briefly put this on hold?"
Phone Rep: "I can't usually put tickets on hold this close to departure, but I'm so excited that I'll do it."
So we went through the booking process, and then at the end of the call I said "thanks so much for your help, this is great."
"No, thank you. You made my night. You don't understand how excited I am."
Hah! With award availability often getting tough to find, you've gotta love when even airline agents get excited when they find availability. It's great to feel like you're on the same "team" as them.